I am Messi, let Virat be Ronaldo: AB de Villiers on sharing the mutual respect with the Indian skipper
He also admitted that they have some chemistry while playing together.
Updated - Oct 21, 2018 5:09 pm
5.4K Views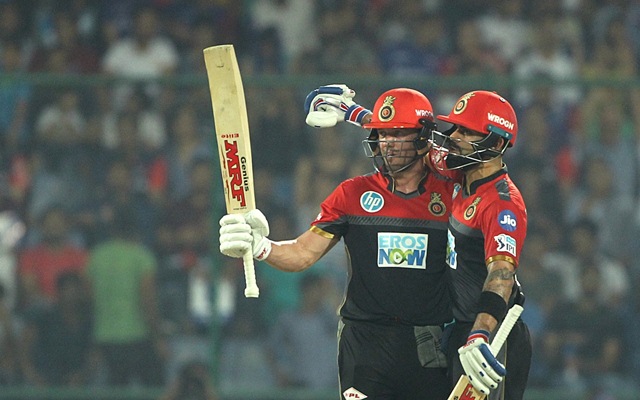 While Virat Kohli is the best batsman in international cricket today, till the time his mate AB de Villiers was an active cricketer was still regarded as one of the greats. They are two very different batsmen but a nightmare for the bowlers. The duo played along for the Royal Challengers Bangalore and thus share a great bond and respect for one another. Kohli has often said that de Villiers is the best batsman and the South African has called the former the best.
De Villiers recently said that he has thoroughly enjoyed every bit of time he's spent in the RCB camp and batting alongside Kohli. He admitted that they do have some amount of chemistry between them and is evident when they bat together. AB thinks it is because they mutually understand one another's game. The Proteas great said that if nothing else it is their mindset that is the same, they believe in enjoying the game.
"There is definitely some chemistry about us batting together. We have a similar mindset about the game which we enjoy," was quoted as saying on October 21.
Happy being Messi; Let Kohli be Ronaldo
He also said that Kohli likes Football star, Christiano Ronaldo and AB is happy being Lionel Messi. "It's nice to bat with someone who understands the way you play and also the mutual understanding. He likes Ronaldo so let him be that and I'll be Messi, will take that gladly," the former South African cricketer said.
AB having retired from international cricket will continue to feature in T20 Leagues around the world. IPL is one of his priorities and his fans will continue to get to see him in action for the next few seasons as well.
Talking further about Virat and his growing stature, de Villiers said he "learn from (his) mistakes" and added, "He is a really good captain and getting better. That is the scary part. As a batsman he has got areas where he can improve and that is also scary, so all in all, he is in a great place in his work."