'I don't think it's Quinton de Kock's fault' – Fakhar Zaman holds himself responsible for his run-out in the second ODI against South Africa
Zaman also reckoned that he has no regrets of missing out on a double century.
Updated - Apr 5, 2021 9:02 am
24.3K Views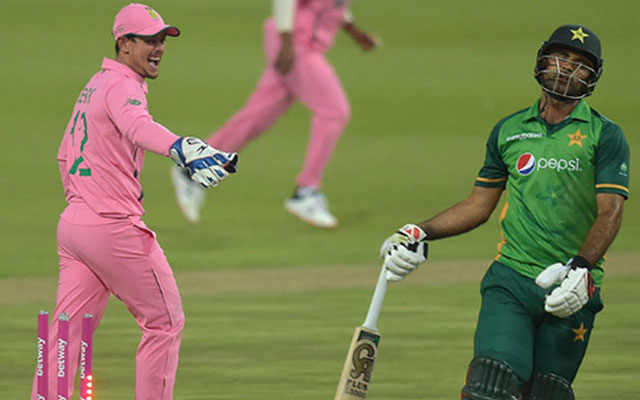 Follow us on Telegram
Fakhar Zaman, the Pakistan batsman, didn't put the blame on Quinton de Kock for his run out during the second ODI against South Africa at the Wanderers Stadium in Johannesburg. Zaman scored a 155-ball 193 with 18 fours and 10 sixes before getting out in the last over of the visitors' run-chase.
In the first ball of the final over, Fakhar set off for two runs, but a direct hit from Aiden Markram from long-off caught the batter short at the striker's end. While the batsman was completing the run, De Kock seemed to have made a gesture that the throw was going at the non-striker's end.
Zaman, thereafter, slowed down and looked back only to find himself short. Even as he wanted match referee Andy Pycroft to take a call, he took the blame upon himself for his dismissal.
The rest is up to the match referee: Fakhar Zaman
"The fault was mine as I was too busy looking out for Haris Rauf at the other end as I felt he'd started off a little late from his crease, so I thought he was in trouble. The rest is up to the match referee, but I don't think it's Quinton's fault," De Kock was quoted as saying in ESPNcricinfo.
Temba Bavuma, meanwhile, lauded De Kock for the smart piece of work under pressure. Bavuma, who dropped Zaman once in the 47th over, said that the Pakistan opener's wicket was crucial in the context of the game.
"It was quite clever from Quinny. Maybe some people might criticise it for maybe not being in the spirit of the game. But it was an important wicket for us. Zaman was getting close to our target. Yeah, it was clever from Quinny," Bavuma mentioned.
If De Kock's action was deliberate, there was a possibility of five penalty runs against the Proteas with the ball having to be re-bowled.  Law 41.5.1 mentions that "it is unfair for any fielder wilfully to attempt, by word or action, to distract, deceive or obstruct either batsman after the striker has received the ball".
Zaman also reckoned that winning the game for his country was more important than getting the double century. The left-hander has a top score of an unbeaten 210 against Zimbabwe back in 2018.
"I don't regret not getting the double, I regret losing the match. If we had won this it would've been amazing so my regret is about that. The situation was such that I was only focusing on getting the win, not the double," Zaman added.
Follow us on Google News