I had decided not to take financial help from BCCI after retirement, says Kapil Dev
Not depending on the BCCI's pension, Kapil Dev set up his own business that deals with floodlights which provides employment to the 40 people.
Updated - Sep 19, 2019 3:02 pm
1K Views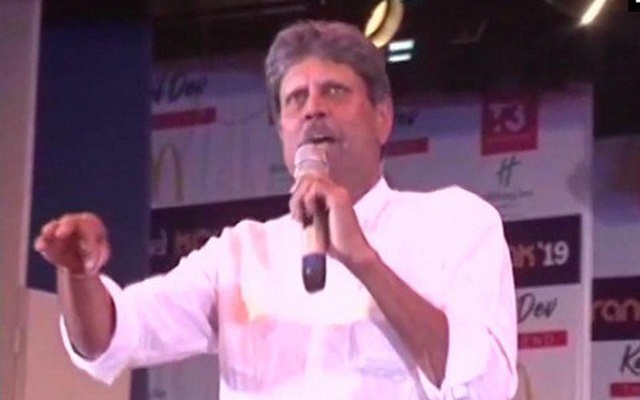 Follow us on Google News
He might have been the first Indian captain to win a cricket World Cup at any level but Kapil Dev has not been a frontline man with the cricket administrators over the years. The legendary cricketer had links with the rebel Indian Cricket League because of which he had come under the BCCI ban.
It was lifted later after Kapil snapped his ties with the short-lived rebel league. Off the ground, still day, the man remains one of the most loved ones. India's million cricket fans still salute the former cricketer as the one who had earned India's reputation on the world stage for the first time.
Today, Kapil Dev, 60, has a family of three and he earns his living through public appearances, product endorsements, cricket analysis and giving motivational lectures. He also runs a business today named Dev Musco Lighting Pvt Ltd that installs floodlights at sporting venues with technical support from an American company.
It's 25 years since Kapil last played for India
Speaking to the Hindu, Kapil Dev recently revealed one striking aspect related to his livelihood. He said he doesn't depend on the Board of Control for Cricket in India for his financial support. It's 25 years since Kapil played last for India and yet he doesn't take a paisa from his pension and proudly announces that it goes to a charity home.
But why doesn't he use the board's pension?
According to the Hindu report, Kapil had once seen during his playing days that a former national captain was waiting outside the room of the BCCI secretary to get his allowances.
"The secretary was sleeping and could not be disturbed. I was disturbed and decided that day that I will not depend on the BCCI for financial support after my retirement," the former cricketer, one of the best all-rounders the game has produced, was quoted as saying.
"I have not taken a penny from the pension; not a penny," he added.
But that hasn't seen Kapil Dev compromising with his lifestyle standards. He said that cricket had given him a grand life and he got used to it. "There was a certain standard of living I had developed and did not want to miss it when I stopped playing. I wanted to give the best to my near and dear ones," he said.
He hence set up his own business that deals in floodlights and today, it provides employment to some 40 people who the ex-cricketer considers among his family. Kapil is assisted in his work by Romi to whom he is married for almost 40 years now. Their daughter Amiya is 23-year-old. In his international career spanning 16 years, Kapil scored over 9,000 runs and took 687 wickets.
Follow us on Telegram