I have left it grassy and thereby the pacers will have an advantage: HPCA chief curator
Updated - Mar 23, 2017 1:11 pm
39 Views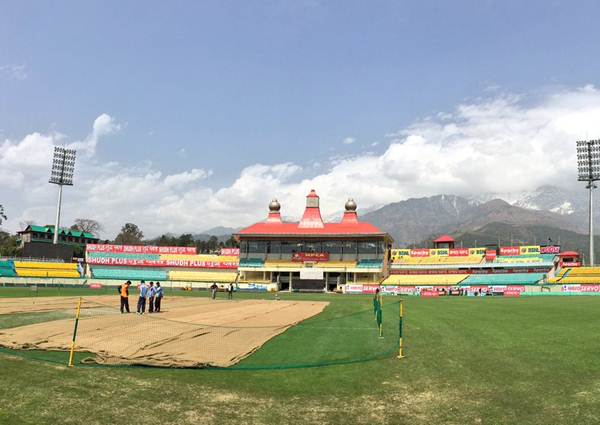 Ranchi pitch had been heavily criticized by the Australian media for its appearance stating it looked 'evil'. The Dharamsala pitch looks fantastic, right in the center surrounded by a lush green 75-yard boundary. The Himachal Pradesh Cricket Association handled stadium has produced some bowler friendly wickets. The ground has hosted three One Day Internationals, eight Twenty20 Internationals and all of them have seen a fantastic contest.
The chief curator of HPCA stadium was of the opinion that the pitch he has produced is as always a bowler friendly pitch. It will have ample bounce and carry to interest a fast bowler for five days. When asked about the spinners he said that they will not have much to play on.
Sunil said while talking to the Indian Express, "That is how the nature of the pitch has been here. I have left it grassy and thereby the pacers will have an advantage. It will be fast and so they will play an important role in the match."
Ahead of the 3rd Test, the Australian media had blamed Virat Kohli for getting involved in the preparation of the pitch. There were many other allegations as well and not only on Kohli but also on the curator of the JSCA stadium. When asked about the same, Sunil was intelligent enough to dodge any accusations.
He said, "My job is to prepare a true pitch and I have done that. My team has worked hard with me and there is no question of favoring any team."
In the Dharamsala Test, the batsmen have a fantastic outfield for their help just like they had in Ranchi. The curator terms it as playable for the batters and it will test their ability to the fullest. "The true character of a batsman will be revealed when they bat on this pitch. The fast outfield will earn batsmen value for their shots," opined Chauhan.
It will be interesting to see how both the teams' lineup, the pitch clearly favors the seam bowlers and Australia will be itching to get on the pitch as it is just what they wanted. Seam bowling is what the Australians excel at and India will be thoroughly tested during this final Test as nothing less than win earns them the Trophy.