'I knew he wasn't operating in the best version of himself' – Gary Kirsten recalls his first meeting as India head coach with Virat Kohli
Kohli made his international debut in 2008.
Updated - Jul 14, 2020 10:33 am
845 Views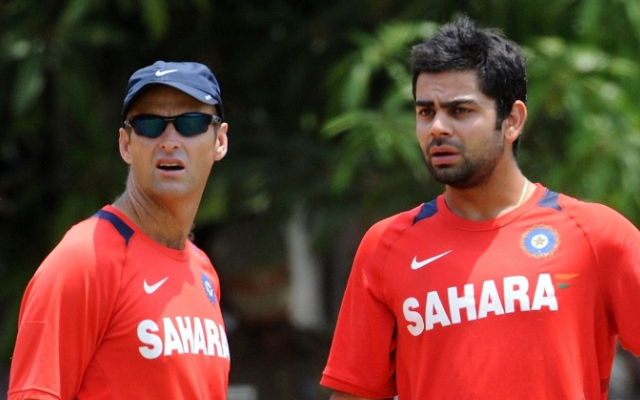 Virat Kohli is undoubtedly world's best batsman across formats in modern day cricket. He is the captain of the Indian team in all the three formats and is no wonder a force to reckon in all the aspects of the game. However, it wasn't the same when the man was taking baby steps in international cricket back in 2008. Gary Kirsten was also only a few months into his head coach role of the team at the same time.
In a recent conversation, the former South Africa opener recalled his first ever meeting with Virat Kohli and iterated how he wasn't operating in the right manner then. The current Indian captain was fast-tracked into the Indian team only a few months after he led the U19 team to triumph in the World Cup.
Kirsten stated that he knew the Delhi cricketer possessed great talent but needed to channel it in a right way. The relationship between the two also grew in the same manner. "Our relationship was formulated around him as a young player coming in, and me trying to say to him that he has a long way to go and to build in some consistent behaviours into the way he played this game.
"When I met Virat first up, he had great abilities and talent and he was a young guy. But I kind of knew straight away that he wasn't operating in the best version of himself. So we had a number of discussions," Gary Kirsten said while speaking on The RK show on Youtube.
Gary Kirsten remembers Virat Kohli's maiden ODI ton
The 52-year-old recited one of his conversations with Virat Kohli from the ODI series against Sri Lanka where the latter scored his maiden ton in international cricket. In one of the earlier matches, Kohli was holed out at long-on after getting a start and soon, Kirsten was in his ears for his throwing his wicket away.
The man changed his temperament right away and next time around, made sure that he didn't repeat the mistake eventually going past the 100-run mark for the first time at the highest level. "I'll never forget one when we were playing an ODI series against Sri Lanka, and he was batting beautifully and he was on 30-odd not out. He then decided that he would try and hit the (bowler) over long-on's head for six. And he got holed out.
"I just said to him, 'If you're going to take your cricket to the next level, you need to hit that ball down the ground for one. You know you can hit a lot of balls up the ground, but there's a lot of risk attached to that.' I think he took that on board, he got a hundred in the next one-day in Kolkata," Kirsten further added.