'I like to give it back the moment someone dominates me' – Venkatesh Prasad recalls his sledging moment with Aamir Sohail
To give a befitting response to Sohail and 'give it back to him', Prasad revealed that without about the consequences, he backed himself to deliver with the ball.
Updated - Jul 14, 2020 4:51 pm
234 Views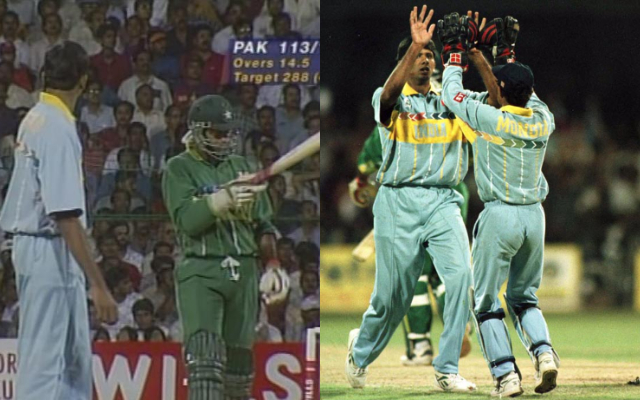 Any encounter between India and Pakistan guarantees thrill and excitement. There have been many instances where the pressure of an India-Pakistan match has led to a heated exchange between two players on the field.
One such instance happened in the 1996 World Cup during the high-octane clash between the arch-rivals. India pacer Venkatesh Prasad had a few words exchanged with Pakistan opener Aamir Sohail during Pakistan's unsuccessful 288-run chase.
The Men in Blue had managed to post a dominant total of 287 runs on the scoreboard on the back of Navjot Singh Sidhu's stellar 93-run knock. In reply, Pakistan flagged off their run-chase with a flying start as openers Saeed Anwar and Aamir Sohail wreaked havoc on Indian bowlers.
Just when it looked like Pakistan would wrap up the chase early, Sohail let emotions get the better of him. In the 15th over, Sohail came down the track and smashed Prasad to the extra-cover boundary. He then pointed towards the cover boundary, indicating Prasad that he would smash the next delivery in the same region.
However, Prasad, had a strong reply under his sleeve as he sent Sohail's off-stump for a toss on the next delivery. To plunge more misery on Pakistan, they suffered a batting collapse and went from 113 for 1 to 239 for 9.
Prasad, while speaking with Ravichandran Ashwin on his YouTube show, DRS with Ash, recalled the incident and said that it was difficult for him to maintain his cool when the Indian bowling unit was getting thrashed.
"If I have to sort of talk about that particular incident, the point is it was a World Cup quarter-final game. If you lose, you are out of the tournament. Also, it was India-Pakistan, you know how the feeling is generally. With the expectations and hype given by the media, then it was very important for us to win to qualify for the semi-final," Prasad said.
I just backed myself and kept my cool: Venkatesh Prasad
"It was actually sort of a slap (via the off-side), he came down the track and hit the ball towards the point and extra-cover region. I didn't expect that coming. It was a high-pressure game. 35,000 people in the stadium. He came down the track and gave himself a bit of room and hit me for a boundary, he showed his bat and showed his fingers towards the place where he hit the bat.
He said, he doesn't accept that but he told me and I could hear him. We are quite close, I had completed my follow-through, he said 'I am going to hit you there next ball'. I just heard him say that, I just used a couple of words and went back. There was a lot going through," added Prasad.
Being not as quick as Srinath, Prasad revealed that would never wish for a bowler to dominate him. To give a befitting response to Sohail and 'give it back to him', Prasad revealed that without about the consequences, he backed himself to deliver with the ball.
"As such, they were smashing us and no one could believe what was happening. I, for some reason, though I was not as quick as Srinath, I would never want a batsman to dominate me. It's been my character. The moment someone dominates me, irrespective of who it is, I would like to give it back.
This is what I have practiced all my life. Bowl in the corridor, don't give width to the batsman and bowl stump to stump. And I just backed myself, kept my cool of course, didn't really go back to what happened in the previous ball or what's going to happen the next ball," revealed Prasad during his interaction with Ashwin.
Here's the video: