I struggled with depression over the last 5-6 years: Nick Compton
Nick Compton played 16 Tests for England between 2012 and 2016.
Updated - Jun 20, 2020 1:21 pm
101 Views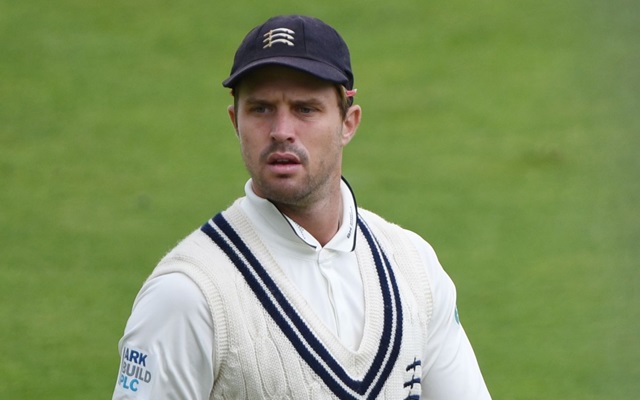 Mental Health has been a topic which in recent terms has been talked about quite frequently. Late last year, Australian all-rounder Glenn Maxwell had taken a break from cricket amidst what was a good season for him, citing his mental health as a reason. After this, a few more cricketers have come up and revealed their struggles with mental health.
In a recent interaction, former England cricketer Nick Compton has admitted of being in depression. He revealed that after being dropped from the England Test team he suffered from depression for the next five or six years. He made his Test debut in 2012 during England tour of India. He was with the team for a year after which he was dropped ahead of the 2013-14 Ashes series in Australia. He made a brief comeback in late 2015 and was dropped again in 2016.
"There always comes a point in one's career when things can't be more difficult. And there's no doubt that when I was left out of the England team, I did struggle with depression over the last 5-6 years. It's something that creeps up on you, something that's not easily understood by yourself & others. So, it's taken some time to come terms to that & make the transition to a new life," Compton said in a conversation with sports presenter Dr. Yash Kashikar on his Instagram live show 'Say Yash To Sports'.
I don't mind talking about it & helping young players: Nick Compton on mental health
Compton recounted the issues with injuries that crept upon him. He revealed that it became hard for him to keep himself motivated. He recounted that getting dropped for the second time was a tough thing for him.
"I have had a lot of injuries and everything just suddenly got on top of me towards the end of my career. So, I found it very hard to motivate myself. The disappointment of England selection and being dropped for the second time was tough. But, I think everyone goes through it and it's about finding my next passion, connecting myself to the second part of my career & moving forward," Compton added. 
The 36-year-old further said that it is better for young cricketers to have a conversation about mental health. He said that he doesn't mind discussing these aspects with young players.
"So, it's something I don't mind talking about & helping young players. I think the more we open up and discuss it, the more it takes the burden off your own shoulders & normalizes the fact that we are humans and we struggle. Whether it is sports, business or whatever. That's just life," Compton added. 
Former England batsman played 16 Tests scoring 775 runs at an average of 28.70. During his career, he scored two centuries and two fifties. Both his centuries had come during the New Zealand tour in 2013. His first-class record is great though. He has scored 12168 runs at an average above 40 in 194 first-class games.