I think there is no problem between me and Mithali Raj, says Harmanpreet Kaur
The controversy started after Mithali Raj was left out of the team for the ICC Women's T20 World Cup semi-final match against England.
Updated - Jan 4, 2019 5:43 pm
232 Views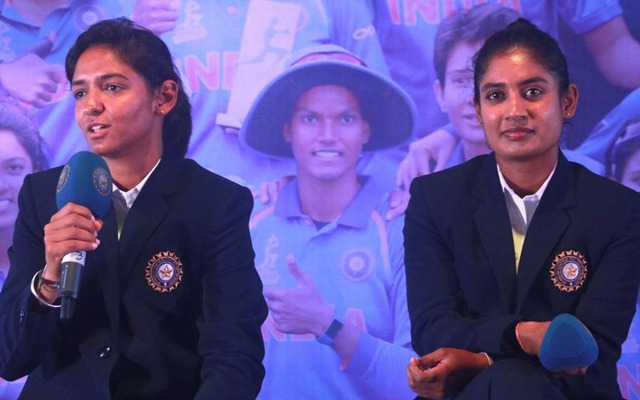 Things were going smoothly for the Indian women's cricket team after they qualified to the final of the 2017 ICC Women's Cricket World Cup. The Indian fans came to know that their female superstars are as good as their male counterparts, and all of a sudden, names like Mithali Raj and Harmanpreet Kaur was heard on everyone's lips. However, one bad incident during the World T20 in 2018 tarnished everything, but now, after a long silence, Kaur has stated that they have moved on.
It was on 20th July of 2017 when Indian women's team defeated the mighty Aussies. With her unbeaten knock of 171 from 115 deliveries, Kaur hit the headlines, as did Raj for her excellent captaincy. But in another semi-final of another ICC event a year later, Kaur was the skipper and she left the veteran Raj out of the team. India lost the game by 8 wickets against England and that sparked a nationwide controversy as Mithali too voiced her views.
Now, around a month and a half later, the 29-year-old from Punjab has confirmed that she and Raj have moved on. "I have met (with Raj) and spoken to her after all these events and we seemed to have moved on. I don't think there has been any problem between me and Mithali. I can speak for myself. You have to speak to her and ask if she has a problem with me," said Kaur, as quoted by India Today.
"No player is bigger than the team. When a team is doing well, all the members have to think on these lines only. I still feel that the situation should not have come to this but sometimes such things happen. I don't think the issues should have been highlighted so much. But everyone has their personal views and I won't comment on that," the owner of over 2220 ODI runs further stated.
The influence of Ramesh Powar
After knowing Mithali Raj's side, all harsh comments were directed towards Ramesh Powar, the then coach of the Indian women's team. Harmanpreet Kaur opened up about the influence of the former Indian skipper in their team by saying, "Earlier our team was too dependent on senior players. The thinking was that the senior players had to take all the workload. But during the recent ICC T20 World Cup, coach Ramesh Powar told all of us that each and every player in the team is not only equal but equally important."
[interaction id="5c2f1a28a09b67822d3f7664″]