I throw people when I like them, broke Yuvraj Singh's back doing so: Shoaib Akhtar
The former pacer revealed that he didn't harm the players intentionally but it was his way of showing love towards them. 
Updated - Aug 7, 2020 3:34 pm
789 Views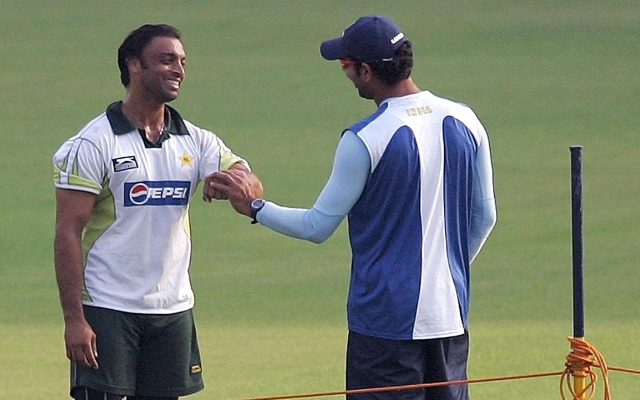 Follow us on Telegram
India's encounter with arch-rivals Pakistan during a cricket match has always been a thrilling experience for both players and the fans. The relation between the two nations has turned sour now due to which the teams play against each other only in the ICC tournaments. However, earlier India and Pakistan used to indulge in bilateral series' and the players used to share a good camaraderie with each other.
India and Pakistan cricket players have some interesting tales which are part of cricketing folklore. Players like Shoaib Akhtar, Harbhajan Singh, Yuvraj Singh, Sachin Tendulkar, Shahid Afridi were known to be good friends outside the match field. Recently, Pakistan speedster Akhtar revealed an interesting anecdote depicting his relationship with the Indian players.
Speaking on BBC's Doosra podcast, Akhtar said that he caused injuries to a lot of players including Yuvraj Singh and Shahid Afridi. The cricketer revealed that he didn't harm the players intentionally but it was his way of showing love towards them.
"I don't wrestle, it's my way of showing my affection to other people and I basically crossed the line. When I like someone, I throw them. I broke Yuvraj's back, have previously broken Shahid Afridi's rib by hugging him, and I made Abdul Razzaq stretch his hamstring a bit too much. So my way of loving people is a bit wild. It was just me being stupid in my younger days but I never realized my own power," said the 44-year-old.
Shoaib Akhtar once bashed me and Yuvi: Harbhajan Singh
In the past, former Indian off-spinner Harbhajan Singh had narrated an incident where the Pakistan cricketer had beaten him and Yuvraj inside a hotel room. The Rawalpindi Express could easily overpower the Indian cricketers due to his hulk-like body.
"Shoaib once threatened me he would come to my room and beat me. I told him come, let's see who beats whom. I was really scared. He is a great hulk. He once bashed me and Yuvi (Yuvraj Singh) inside a room. Since he was heavy, it was difficult to catch him," Harbhajan had said.
Akhtar had confirmed the incident saying that Harbhajan had made a big deal of it as it was nothing serious and it was all in fun and games.
Follow us on Google News