'I want to do what's best for the team'- Marcus Stoinis on opening for Melbourne Stars in the upcoming BBL season
Stoinis said that the reasons for his axe were communicated to him by Trevor Horns and coach Justin Langer.
Updated - Dec 16, 2019 2:13 pm
103 Views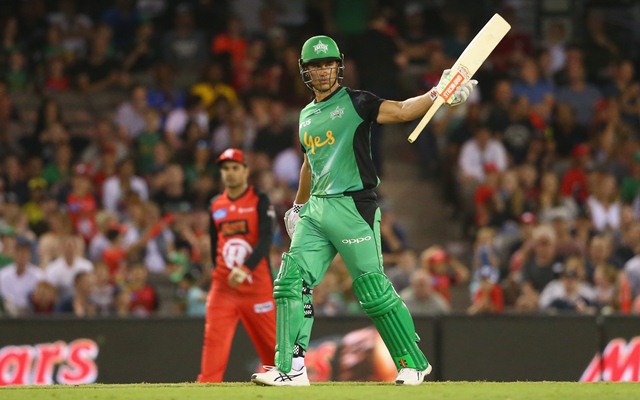 Follow us on Google News
Until the beginning of this year, Marcus Stoinis was one of the hottest properties as an all-rounder in world cricket. He was opening the batting for Australia in T20I cricket besides serving as a seam-bowling option. He even had a lucrative Indian Premier League contract with Virat Kohli's Royal Challengers Bangalore.
However, a string of underwhelming performances-both in the IPL and in the World Cup- left Stoinis in the wilderness. He was not only released from the RCB set-up but was also dropped from the national sides' T20 squad for the series against Pakistan and Sri Lanka as Australia opted to go in with a spin-bowling all-rounder Ashton Agar over him.
One of the reasons for the rise in Stoinis stock as a T20 all-rounder was his success while batting at the top of the other for his BBL franchise Melbourne Stars where he made 533 runs ar 53.5. However, with David Warner and Aaron Finch locked in as openers, opening the batting for Australia is no longer an option for the all-rounder and his best bet is to slot in as a seam-bowling all-rounder in the middle-order. However, the Stars' cricketer is set to open for his franchise in the upcoming season as he wants to do what is right for his franchise.
"I can't see myself changing too much from there just because you want to do right by your franchise. We want to win games and I want to do what's best for the team and then you just go from there I guess." Stoinis said as quoted by ESPNCricinfo.
Marcus Stoinis prepared to play any role for his team
Stoinis said that the reasons for his axe were communicated to him by Trevor Horns and coach Justin Langer. The right-hander hasn't had a chat with either Langer or Horns about his place in next years' T20 World Cup but is confident he can play any role that his team requires.
"No, I haven't spoken to them about it. I'm sure I'll get a call from JL [Langer] or someone to speak about that side of things maybe. But for me, look, I've batted (Nos.) 1, 2, 3, 4, 5, 6, I've bowled in the powerplay, I've bowled at the death, I've bowled in the middle, I've fielded in the slips, I've fielded on the boundary, I've fielded at cover. Something I pride myself on is being adaptable. I've played a lot of cricket in multiple positions so I should be okay" Stoinis said.
That said, with Josh Hazlewood injured, a shock Test recall to the squad isn't ruled out either for Marcus Stoinis with Langer floating the idea of playing five bowlers in case the MCG track was flat. The all-rounder was called-up for the Sri Lankan Test series last summer but was eventually consigned to be the 12th man.
"Test cricket is still my goal. That's where I want to play. I've played a lot of Shield cricket this year, the most I've played for 3-4 seasons and it's good to remember how to block the ball and spend some time in the middle." Stonis said on his Test cricket ambitions.
Watch: Wahab Riaz's perfect yorker in MSL 2019
Follow us on Telegram