'I wanted to smash James Anderson's head with my bat' – Saeed Ajmal recalls his career-best knock
Ajmal scored only one fifty throughout his international career.
Updated - Apr 14, 2020 9:11 pm
3.7K Views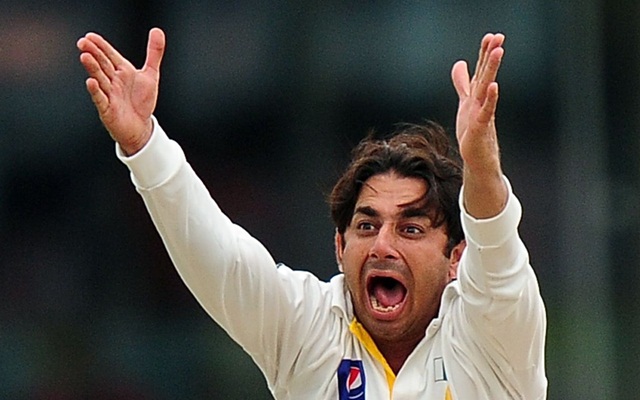 Follow us on Telegram
In 2010, Saeed Ajmal scored his first and last fifty against England at Edgbaston in Birmingham. He recently recalled an instance of how he managed to pull off an amazing knock against strong bowling unit that consisted of bowlers like James Anderson, Stuart Broad and Steven Finn.
Saeed Ajmal, the former Pakistan spinner remained in the headlines on the back of his brilliant spin bowling while he was playing in international cricket. In his illustrious career, he accounted for a total of 447 wickets across all the formats. But, he got only one fifty including T20Is, ODIs and Tests. However, it was special in every case as he managed to score it in England against a quality bowling unit.
Saeed Ajmal recalls how he managed to smack fifty against England
The former spinner recalled on how he managed to pull off that his career-best knock against three Lions. He said that when the hosts' took the field, their fast-bowler James Anderson came to him and said that if he was ready to face bouncers in the game. To which Ajmal said that he doesn't understand English.
The former player felt that Anderson was just joking as he was a tailender but that never happened. Ajmal had to face several bouncers and got hit for six or seven times on his body. So, he got aggressive and told his partner Zulqarnain that he will now take the charge against Anderson.
The 42-year-old added that he got pumped up and wanted to smack the head of James Anderson. Soon, he started coming out of his crease to score boundaries. And, he ended up getting success in his approach due to which he scored his maiden fifty.
"When they [England] took the new ball, Anderson came up to me and said 'Are you ready for bouncers?' and I told him that I don't know English. I thought he is joking since I am a tailender and he would probably bowl straight and get me out," said Ajmal in a YouTube video.
"But they fired a barrage of bouncers at me. When I got hit by six or seven bouncers, I told Zulqarnain [Haider] that I want to smash Anderson's head with my bat. Then I decided to go for my shots. I tried to step out of my crease and hit a couple of bouncers. Then the ball started coming on to my bat and I ended up with a fifty." he added.
Follow us on Google News