I will love to Coach the Indian team: Rahul Dravid
Updated - Sep 13, 2014 1:31 pm
57 Views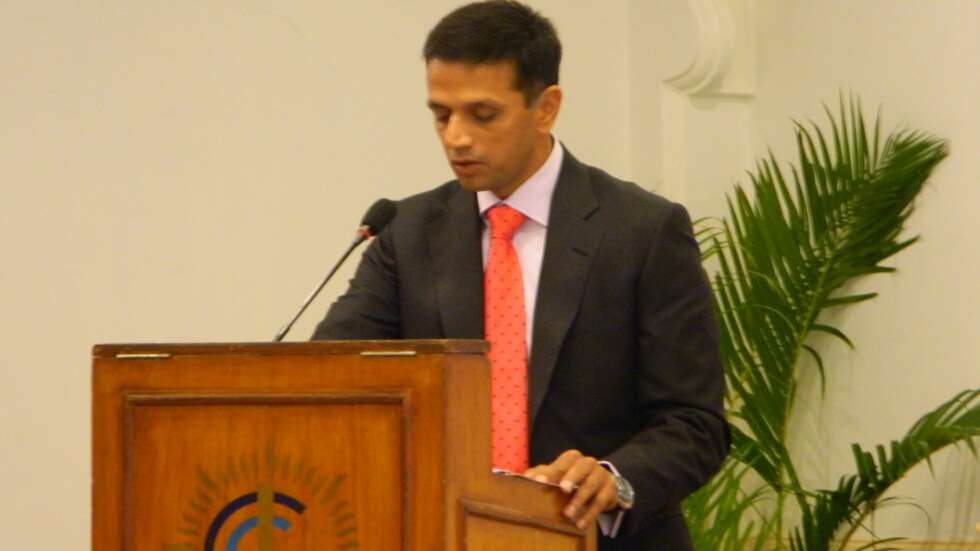 Follow us on Telegram
Rahul Dravid the former Indian skipper was the guest speaker for this year's Dilip Sardesai memorial lecture. At the CCI, Dravid spoke in detail about the Oral Traditions of cricket and how he had learnt so much through it. Also emphasizing the fact that it still remains and is practiced by quite a few players and instilled into them by coaches. When asked would he like to coach the Indian team he said, "I would absolutely love to."
When someone like Rahul is speaking it is immense knowledge flowing from a higher level to the lower, i.e. form the speaker to his audience. The crowd which was a combination of former MCA cricketers, a few former Indian players too and Harsha Bhogle famous commentator. During his speech he took the every one along him to the journey starting from when he was a kid to the present day scenario.
By the end the listeners too were given an opportunity to ask Rahul, if they had a few question. The question and Rahul's answer follow:
Harsha Bhogle takes the lead asking Rahul the first question: Was Sehwag unaware of the Mankad-Pankaj Roy opening record of which you were just four runs short which is also the only record held by the Indians?
People came to me and say, how could he play such a shot, you were close to the record. But the fact that we reached here was because Sehwag played that way.
When it comes to record, if I had told him about Mankand and Pankaj Roy, Viru would've said 'aann' But I was aware of it, I was counting it down; I was hoping he would give me the strike I would hit around for a single or Viru will hit a boundary. But he went for an upper cut and got out.
Is oral tradition followed in international cricket?
Yes, I would say IPL has played a big role in it. Many times Kevin Pietersen at RCB used to talk to me about playing spin, particlularly left-arm spin, I would tell him try doing this or that. Another example is Pravin Tambe who started playing the IPL into his 40's. He would spend a lot of time talking to and observing players like Brad Hodge and James Faulkner how they bat in the death over's. Someone like Sanju Samson will seek out help from AB de Villiers. These conversations do happen and it should be encouraged more.
Which is your most memorable knock outside the subcontinent?
The two innings that gave me the most satisfaction was scoring two fifties against West Indies at Jamaica in 2006. The series was tied at 0-0 and I felt pressured as the captain. To go and bat on such a terrible wicket, you know that this match won't last more than three days. I did score that double ton at Adelaide but these two fifties gave me a lot of satisfaction.
If Indian players feel the need to play county cricket, do you think it is also necessary to get foreign players to play in our domestic cricket?
I don't know whether there are restrictions. You should open up the doors to allow foreign players to come here. Though it should not be like six foreign players playing in the XI but, to an extent yes they should open up if players are willing to come and play.
As a batman do you think the Doosra is a fair enough delivery or the off spinners are just chucking with it?
I think ICC has a rule in place. When they reviewed a lot of old footage they found a lot of former cricketers were doing it too. Glenn McGrath also had a bend at the 15 degree angle but let me make it clear McGrath wasn't chucking. What I am glad about is they are strict about this. They also have kept it consistent. ICC is doing a good job with vigilance, monitoring, checking the bowlers all the time. It is not that once you are cleared its done there is a constant eye on every bowler and which is good.
We shouldn't look at chucking as a crime it's just a technical fault that the bowler does. It's like no-ball when you over step you are told to go back and ball again within the line. Nobody says you are cheating. You should allow them to go back correct their action and come back.
As there is so much debate these days do you think the ODI format is in danger?
I think ODI cricket is seriously struggling. Apart from the ICC events, the Champions Trophy or the World Cup ODI will lose its place. Too many matches should be cut off and more focus should be on the two big tournaments.
Do you think wives/girlfriends should be allowed to travel along with the players?
Yes, absolutely, I am a married man too what else could be my answer(Rahul and the crowd share a laugh).I think wives, girlfriends should be allowed to travel with players the guys these days play 10-11 months in a year not allowing them along will be a bigger issue. So, yes wives, girlfriends, any gender (laughs) should be allowed. You can't start blaming the wives and girlfriends for poor performance.
Rajdeep Sardesai son of late Dilip Sardesai also a re-known journalist himself asked Dravid do you think you'll be a future India coach?
I think there's a time and place for everything. I've enjoyed being in media and mentoring Rajasthan Royals. But yeah in future I would love to be a coach of an Indian team or even the Rajasthan Ranji team for that matter.
Follow us on Google News