I will walk away rather than being a burden on the team: Misbah-ul-haq
Updated - Apr 18, 2016 10:46 am
43 Views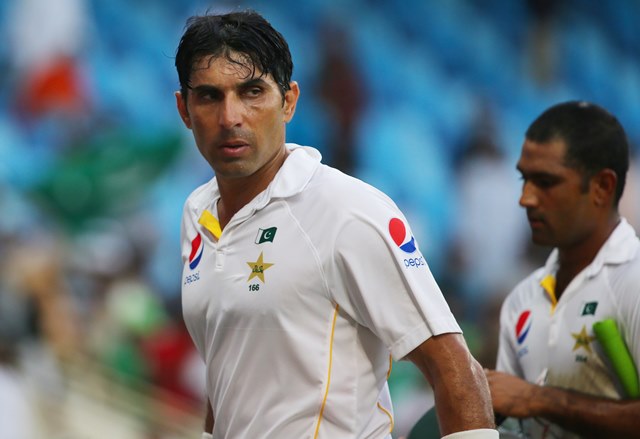 It seems that Pakistan Test captain Misbah-ul-Haq has no immediate plans to quit the game as he has indicated a willingness to play on at least until the Australia tour, later this year. The senior cricketer, who will turn 42 next month, said he was hopeful touring Australia if he remains fit to play.
"If I manage to play the England series then I should also play the upcoming West Indies, New Zealand and Australia series as well, mainly because (there are) close gaps (between series)," he told ESPNCricinfo on Sunday (April 17). "Although I am certain about my will of playing all the series, it will also be subject to my form and fitness as if it goes down then I will walk away rather than being a burden on the team."
Misbah, who is currently recuperating from a calf injury, is currently preparing for the four-match Test series against England, scheduled to begin on July 14. He initially planned to retire from international cricket at the end of last season but stayed on due to a request from Pakistan Cricket Board (PCB) until the tour of England.
A veteran of 61 Tests, Misbah has been instrumental in the team's rise in the longest format of the game and wants the team to undergo a smooth transition after his retirement. He said that that a player should retire on a high and he will leave cricket with respect.
"I want to contribute and this is why I am planning to play a certain length of time so that youngsters are ready to take my place. I hope by the time I leave, the Pakistan Test team is in safe hands and standing solidly on its own feet. If the team remains intact, when a new captain replaces me it shouldn't feel any different.
"In my view, a player should retire on high. If he retires on a high he will leave cricket with respect. One should think about leaving the game with respect rather than leaving it when he is forced to leave," Misbah added.
A unique feat awaits the fine Pakistani cricketer who retired from ODIs in 2015. Misbah will become the first cricketer since John Emburey in 1995, to play Test cricket beyond the age of 42 if he takes field in the opening Test of the England series. The first game of the four-match Test series will be played at Lord's. The series will be followed by five ODIs and a lone Twenty20 International.