'I wish I could have them here' – Andre Russell as his wife Jassym Laura and daughter Amaziah are stuck in Miami amid lockdown
Andre Russell is unable to meet his newly born daughter and wife due to the travel restrictions.
Updated - May 6, 2020 2:06 pm
1.7K Views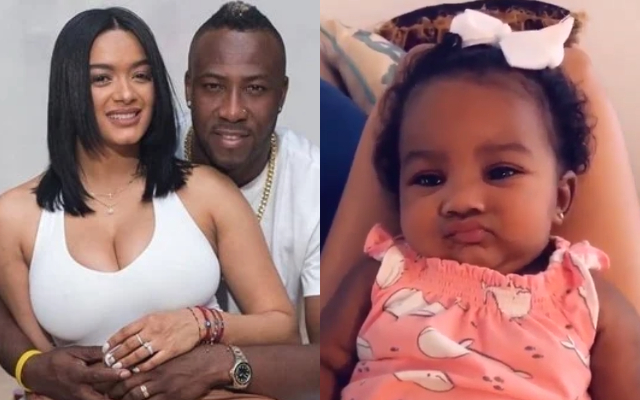 Andre Russell, the hard-hitting all-rounder from West Indies is finding it hard enough to spend his time without his wife Jassym Lora and newborn daughter Amaziah in lockdown. The 32-year-old recently revealed that he wants to meet them as soon as these travel restrictions are lifted.
The West Indian all-rounder was all set to play for Kolkata Knight Riders in the 13th edition of Indian Premier League (IPL). But the BCCI had to postpone the tournament for an indefinite period looking forward to the alarming conditions that are not fit for any type of cricketing series or tournament.
In a recent interaction, Andre Russell said that his wife and newly born daughter are in Miami. The seaming all-rounder added the fact that he always remains in their contact, who cannot do much due to the current travel restrictions. It is known that when government enforced restrictions on foreign travel, at that time, his wife and daughter were in Miami and couldn't manage to head back to their homeland.
"She [his daughter] and Jassym, they are both in Miami. I stay connected to them and talk to them. I wish I could have them here, but with all these travel restrictions, we cannot do anything," Russell said in an interview with TV presenter Sanjana Ganesan.
Andre Russell eagerly waiting to play in IPL
The 33-year-old recited that no one wants to go through these situations that is tremendously hampering the lives of people across the globe. He is also hopeful of things coming back to normalcy in a month or two. "It's not really a situation anyone would want to be in. This is affecting the world, and it's affecting me, preventing me from hitting sixes. I hope this thing calms down in a month or two and we can go back to normal life again," he added.
Andre Russell also said that he is eager to feel the excitement of facing the crowd of Eden Gardens once again in IPL that has been postponed by BCCI, "When I walk out [there] before facing a ball, the welcome I get is love, and yes it puts pressure on me. But it's a good kind of pressure," he added.