I won't mess with Virat Kohli right now: Arzan Nagwaswalla [Exclusive Interview]
Soon after making it to the Indian team, the Gujarat-born scripted history as he became the first Parsi member since 1975 to don the Indian colors.
Get every cricket updates! Follow us on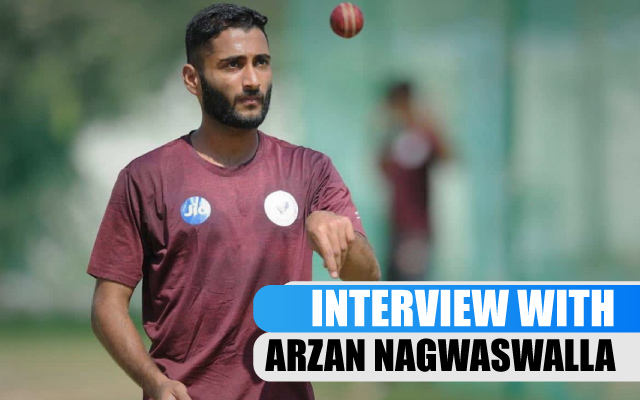 Early in May, the 23-year-old Arzan Nagwaswalla became the focal point of interest in the cricket fraternity as the Board of Control for Cricket in India (BCCI) picked him as a net bowler for the World Test Championship (WTC) Final and the five-match Test series against England. He is among the four standby players present with the Indian team in the UK alongside Abhimanyu Easwaran, Avesh Khan, and Prasidh Krishna. 
Soon after making it to the Indian team, the Gujarat-born scripted history as he became the first Parsi member since 1975 to don the Indian colors. Interestingly, Nagwaswalla wasn't even born when Farokh Engineer, the last Parsi cricketer to feature in a cricket match for India, played his final Test in 1975. 
However, there is more to Nagwaswalla than just being the youngest member of the Parsi community to break into the Indian team. Though the left-arm seamer was unknown to many before he was picked for the UK tour, Arzan is a notable personality in India's domestic circuit. Playing for his domestic team Gujarat, the youngster has churned performances after performances to catch the eye of the Indian selectors.
Starting his domestic career in 2019, Arzan has thus far represented Gujarat in 16 first-class games picking a stunning 62 wickets at an economy rate of 3.02 and an average of 22.5. The 23-year-old also essayed the role of a net bowler for five-time champions Mumbai Indians in IPL 2021 and got the chance to pick the brain of one of the finest Indian seamers, Zaheer Khan. 
Arzan Nagwaswalla took his time out of his chock-a-block schedule and had a chat with CricTracker for an exclusive interview. The youngster spoke about his growth as a cricketer, his experience of bowling in the nets to some of the finest batters of the modern world, and various other aspects of the game and life. 
Here are the excerpts from Arzan Nagwaswalla's interview:
What is the first thing that you do when you wake up? 
Getting fresh and then having breakfast. 
The best moment of your career so far is? 
It is the moment that I am currently living. 
One thing that you would like to steal from MS Dhoni?
His cricketing mind.
A celebrity you have a crush on?
There are so many crushes right now. I have been crushing on Disha Patani for a while. 
View this post on Instagram
A batsman from the past you would like to bowl to? 
I would like to bowl to obviously Sachin sir because he has been one of the greatest cricketers. 
A Parsi dish you would want everyone to taste at least once?
It would be dhansak. It is a very famous Parsi dish and it's very delicious. 
What is the weirdest habit in the Gujarat dressing room? 
I don't think so there is any habit of any particular player. Everybody has their own way of managing things like somebody likes to keep it clean and somebody likes to keep all their cricketing gears spread over everywhere. So, there is no weird habit of anybody. 
Any funny incident you can recall from the Gujarat dressing room? 
Once we were in a meeting at an age-group level, not the senior team. The meeting was quite serious as we lost an easy match. Our coach was angry at us for the same. It was very silent in the room and suddenly one of our support staff members farted. It was a hilarious moment as everybody started laughing and forgot about the senior conversation. 
Who is your best friend in the cricket world? 
It would be one of my teammates from the Gujarat team. We are from the same district, so we play quite a lot of local cricket together. His name is Tejas Patel and we always stick around together. 
An IPL team you would like to play for?
I would obviously like to play for Mumbai Indians as I was their net bowler during the 2021 edition. I am very much familiar with everybody in the Mumbai Indians camp, so I would like to play for them only. 
Who is your cricket idol? 
My cricket ideal is Zaheer Khan. I have said it like a million times now.
A holiday destination you would like to visit? 
This is my first trip abroad and I am pretty much in love with this place. So, I would like to visit here only (England).
What is the last thing you purchased? 
I purchased a backpack. 
One thing that angers you the most?
I never get angry. It's hard to recall the last time when I got angry at anybody or anything. I don't get angry easily but I would be at myself only if I don't ball according to my satisfaction. 
What is a vegetable you hate? 
Bottle guard. 
The most famous person's number on your mobile phone? 
I have the number of Virat Kohli right now. 
Few words to describe the moment you received the World Test Championship final call-up?
First of all, it was very surprising and it was very overwhelming. 
Are you a better dancer or singer? 
I would prefer to sing. 
50 ODIs or 100 Test matches. What would you pick? 
Both of them. If I have to pick one only, then I will go with 100 Tests because it will take a lot of years and a lot of determination to play. 
One cricketer you would never want to mess with? 
I won't mess around with anybody actually but if I have to pick one, then I won't mess with Virat Kohli right now. We all know how he is on the field but off the field, he is quite opposite of that. So, on the field, I would not mess around him. 
Who is the laziest cricketer you have ever come across? 
He is one of my teammates from my state team only. Usually, whenever we call him for a meet-up, he will always tell us that he will be there in ten minutes. However, he will take half an hour at least. I won't take the person's name but he is the laziest cricketer I have come across. 
According to you which is the best cricket stadium in the world? 
I have not travelled the world. In India, now everybody will tell that it's the Motera Stadium because it's so big. I have played some practice matches in the stadium, so it will be one of the best stadiums now. 
One record you would like to achieve? 
This particular record of playing 100 Test matches. I would be very glad if I can achieve it. 
You are the first Parsi player since Farokh Engineer to come to the Indian team. When you look at your cricket career and the journey you have had, what kind of feelings you have? 
It's been quite an amazing journey for me till now. Particularly because I have been playing first-class cricket for four years and I have gotten an opportunity to be with the team over here. So it would be a very small and exciting journey till now and it will get more and more exciting as I move forward. Previously there were many Parsi cricketers who have played for India. Now, it is after so many years that a Parsi player has been selected for the team. Everybody in my community also is very very proud and everybody has called to congratulate me. They have told me how proud they are. So it feels really nice. It's like giving back something to the community. 
Arzan Nagwaswalla's career stats
| | | | | | | | | | |
| --- | --- | --- | --- | --- | --- | --- | --- | --- | --- |
| Format | Mat | Inns | Wickets | BBM | Avg. | Econ | SR | 5w | 10w |
| FC | 16 | 28 | 62 | 10/114 | 22.53 | 3.02 | 44.6 | 4 | 1 |
| List A | 20 | 20 | 39 | 6/54 | 21.76 | 5.22 | 24.9 | 1 | 0 |
| T20 | 15 | 15 | 21 | 6/54 | 16.38 | 6.97 | 14 | 1 | 0 |
Which is your go-to delivery in the Test format. Any other variations that you wish to add to your bowling? 
Yeah definitely. I would like to add so many variations to my bowling. My go-to variation in which I am very comfortable is a bouncer in all the formats and not just red-ball format. 
Who inspires you the most in the Indian team?
Previously I was very much inspired by MS Dhoni's story because he also came from a small town. He led India to various glories. Recently, I can look up to T Natarajan's story who has come up from a very small village and has made a debut in all the formats. Apart from this, there are quite a few stories to look up to.
You have the experience of bowling in the nets to some of the finest batters like Virat Kohli, Rohit Sharma, and Cheteshwar Pujara. What has that experience been like to you? 
It is a good experience till now. Whenever we have practiced and whenever I have bowled to them, it has been really great and really exciting. You cannot give them an inch to score. You have to be spot-on as many times as possible. So, it's pretty challenging and exciting as well. 
One player, who has had the most impact on your game?
It would be Parthiv Patel because I have made my Gujarat debut under him and he knows me since then. He has seen me bowl in each and every match. He has been there, he was our captain. He has given me a lot of advice during that stage which I think is very much helpful to me right now as well.