ICC come out with verdict on the Steve Smith DRS fiasco
Updated - Mar 8, 2017 9:18 pm
101 Views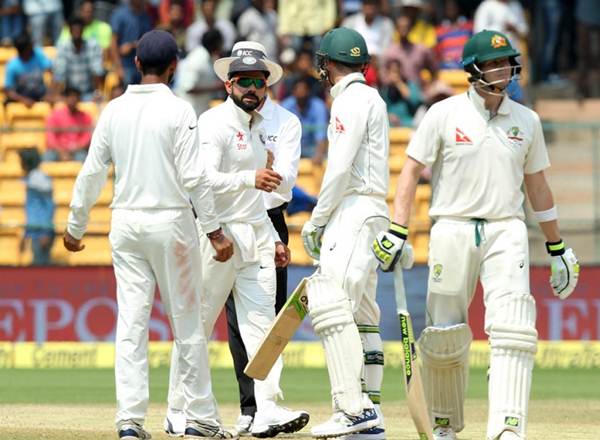 Match referee for the India v Australia Bengaluru Test, Chris Broad, has recently come out with his verdict on the Steve Smith DRS fiasco that bagged the headlines yesterday. It was during the Australian second innings on day 4 when Smith was given out lbw by the on-field umpires. Smith then walked down to the non-striker batsman Peter Handscomb to discuss about the referral. The two batsmen shared a brief chat before they were seen looking towards the dressing room for a hint on whether they should the review or not.
Indian players including Virat Kohli saw this and were quick to barge in the scheme of things asking Smith not to do so. Umpire Nigel Llong intervened as well and Smith eventually walked off the ground without reviewing the decision. The actions of Smith were highly condemned by the Indian skipper in the post match conference. Kohli quoted that this was not the only time when he had seen his Aussie counterpart do so.
"I saw that two times happening when I was batting out there. I pointed it out to the umpires as well that it has happened twice I have seen their players looking upstairs for confirmation and that's why the umpire was at him," said Kohli.
Former Indian cricketers like Sourav Ganguly and Chetan Chauhan backed the words of Kohli and went on to say that the Aussie skipper needs to be punished for his actions. On the other hand, the Cricket Australia expressed that the accusations made by Virat Kohli were purely outrageous in nature. Amidst all this, the verdict of the man who matters finally came to the fore.
In a conversation with The Telegraph, match referee Chris Broad noted that the umpires had no discretions by the visiting side players in respect to the DRS usage. He added that there will no penalty or punishment handed over to Steve Smith in this case since the on-field umpire Nigel Llong intervened before Smith could take a clue from the dressing room.
The International Cricket Council (ICC) also released their statement on the match. They remarked that the match was a splendid one and confirmed that no action will be taken against any player in relation to the code of conduct.
"We have just witnessed a magnificent game of Test cricket where players from both teams gave their all and emotions were running high during and after the match. We would encourage both teams to focus their energies on the third Test in Ranchi next week. Ahead of that, the match referee will bring both Captains together to remind them of their responsibilities to the game," ICC Chief Executive David Richardson quoted.