ICC warns players to keep on field behaviour in check during the World Cup 2015 or get banned
Updated - Feb 11, 2015 4:12 pm
30 Views
ICC warns players to keep on field behaviour in check during the World Cup 2015 or get banned: The International Cricket Council (ICC) in its bid to keep the game of cricket clean and with the world having its eye on cricket as the biggest event the ICC Cricket World Cup 2015 draws closer the ICC has decided to be strict and go down heavy on players who get dirty with on verbal altercations during the World Cup 2015.
It also went on to the extent of specifically naming four players across participating teams. The ICC also made it clear that any player who breaches the Code of Conduct will be treated as a serious offence and may lead to them getting banned.
David Richardson the ICC chief executive said players who already have a poor record of on-field behavior could face immediate match bans if they are found guilty of a single breach of the ICC's code of conduct during the Feb 14 – March 29 ICC Cricket World Cup tournament.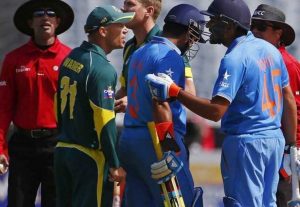 Follow us on Telegram
David Richardson told reporters, "That issue has been addressed at all the pre-event team briefings, "I suppose it started a few months back already that the behavior in some matches by some players was deemed to be unacceptable and not a good example to young fans watching the game.
"I think there's been something like 12-13 code of conduct charges laid in the last few months in bilateral series.
"So the crackdown had already started. I think the teams are going to be told that the umpires intend to remains firm, that the penalties handed out by the match referees will be perhaps a little bit more serious or higher than before but that hopefully everyone will be treated equally and fairly.
"For a first offence, you'll likely end up with a fine which no players likes, handing back most of his match fee.
"But certainly a repeat offence, not only in this tournament but some players already sitting with offences behind their name, will be punished with a suspension."
This could result in players like Indian opener Shikhar Dhawan, middle order main stream Virat Kohli being in the line of fire as they have already been booked for offence in the past along with a few Australian players specifically opener David Warner who was involved in more than one verbal battle during India's tour of Australia this summer.
Along with players' form the teams playing in the world cup 2015, there are a few players who will always be watched with a careful eye, Bravo from the West Indies team will also require to be watchful of his behavior.
The ICC has asked the on field umpires and the match referees officiating the match to keep a check and make note of any unwanted, unacceptable behavior during the world cup.
"We don't necessarily want to follow the way that football goes. A lot of these decisions are taken after a measured response by match officials reviewing footage of the match afterwards."
Follow us on Google News