If a cricketer survives Mumbai cricket, he is certainly destined for bigger things: Shardul Thakur
Updated - May 24, 2016 9:06 am
38 Views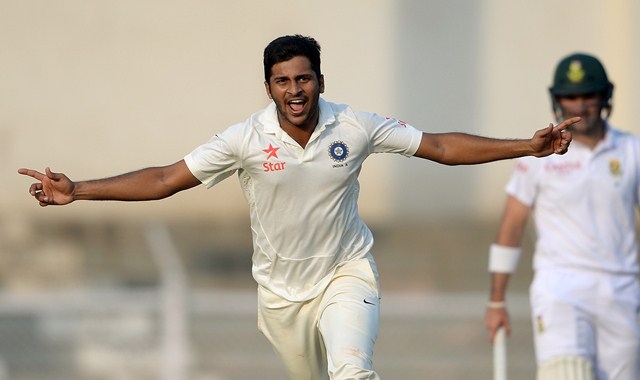 Shardul Thakur, the Mumbai seamer, states that it's the rigours of Mumbai cricket that has helped him get his maiden India call-up. According to him, the standards of Mumbai cricket are very high and being good is not the only quality you require to play for Mumbai at any level.
"I strongly believe that the cricket culture in Mumbai is such that if a young cricketer can survive its rigours, he is certainly destined for bigger things. It is Mumbai cricket and the Mumbai Ranji Trophy team that has helped me get a national call-up," 24-year-old Shardul told PTI during an interaction.
"In Mumbai, being good is not enough. You have to be more than good enough to play for Mumbai at any level. That's what has been instilled in me since I came to Mumbai. Whether it is my personal coach Dinesh Lad, Mumbai U-25 coach Vilas Godbole, senior team coaches like Praveen Amre and Chandrakant Pandit, they have always told me about the standards that a Mumbai cricketer needs to set," said Shardul, who has 133 first-class wickets in 37 games.
Shardul Thakur had fantastic Ranji season where he took 41 wickets, playing a vital role in Mumbai's road to victory in the Ranji Trophy this season. He feels that his consistency worked in his favour and helped him get noticed.
"This year, we were a very young Mumbai team that won the Ranji Trophy. I believe my consistency worked in my favour. I had some good spells. Getting eight wickets in a Ranji Trophy final would not have gone unnoticed. Also, since Mumbai are always in contention every year to win the Championship, it helps that you get a chance to perform in crunch matches. This always helps in growing in confidence," said Shardul.
His stint at the Kings XI Punjab has helped him get in touch with Aussie great Mitchell Johnson, who has shared his own experiences with the Mumbai youngster.
"Johnson did not give me any specific tips as such but we did have some interactions during my Kings XI Punjab stint. I had asked him about some of his specific spells in international cricket as to how he planned and all. He did share his insights," he added.
Till now, Shardul's overseas experience has been being part of KXIP in Dubai and some practice games in Sri Lanka but he would like to speak to senior players like Rohit Sharma to get an idea about what kind of pitches he can expect in the West Indies.
"Obviously, I will speak to the senior players to get an idea about what to expect in the Caribbean. I will definitely do my homework before leaving for the tour."