If I can do something good in Sri Lanka, my father's soul will get peace: Chetan Sakariya
Chetan Sakariya also revealed the personal loss he was going through when he received the Indian team call-up.
Updated - Jul 6, 2021 3:14 pm
1.2K Views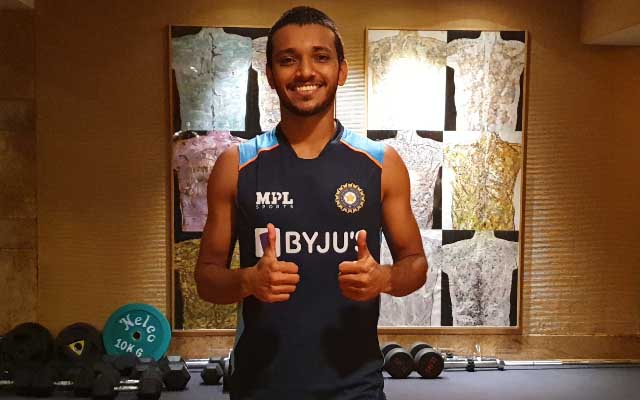 Follow us on Google News
Indian Premier League has given several stars to the Indian team. It has given an opportunity to players to get used to the high-pressure atmosphere and perform at their level best and get ready for international cricket. Each season we have seen young players coming up and showing their skills. 2021 was no different. 
In the IPL 2021 season, fans witnessed a special young talent, Chetan Sakariya. The left-arm pacer played for the Rajasthan Royals and impressed several former cricketers and pundits. From Ashish Nehra to Sunil Gavaskar, everyone had a thing or two to say about the youngster hailing from Saurashtra. 
His performances in domestic cricket earlier this year, helped him to get a contract in the IPL. And later, his IPL performances propelled him to get an opportunity for the Indian team which is currently touring Sri Lanka. Young Chetan, who hails from Bhartej in Gujarat, has already taken 41 wickets in 15 first-class matches and his IPL performance was a stamp on him being ready for the next level. 
If there is any problem, I will inform Chintu Bhaiya first: Chetan Sakariya
The youngster has had a roller coaster ride this year. He lost his brother in 2021 and then his performances in the domestic cricket and IPL had given the family a little bit of joy. It takes immense courage to get over a personal loss and perform well on the field. Sakariya showed temperament. But, when he received his India call-up, his family was still mourning his father's loss. 
The news for his Indian call-up wasn't celebrated by the young Shakariya as his family was still going through the mourning of his father. Chetan in an interview with Ananda Bazaar Patrika said, "I was thinking about how to take care of my mother. I have tried to keep myself mentally strong through meditation though. If I can do something good in Sri Lanka, my father's soul will also get peace."
Sakariya also revealed that he got a call from his Saurashtra team senior, Cheteshwar Pujara, who he affectionately addresses as Chintu bhaiya. "Chintu (Pujara) bhaiya has said, there is no reason to be under pressure. In this way, it is difficult to reach this place. So if there is any problem, I will inform Chintu Bhaiya first," Sakariya said. 
Follow us on Telegram