'If I did pick up Coronavirus, I'd be alright: Jack Leach
Jack Leach made his debut for England back in 2018
Updated - Mar 22, 2020 5:18 pm
355 Views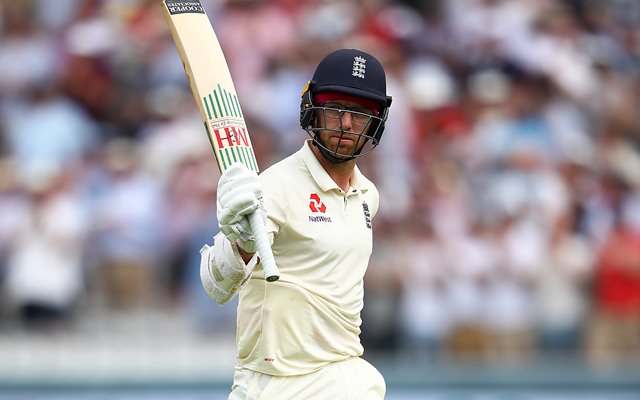 Jack Leach, the off-spinner from England has been fighting with a disease called Crohn's from the age of 14. Its been around six months that he played his last international game. Now, when he was picked in the national team for Sri Lanka tour, the outbreak of COVID-19 emerged as an obstacle that postponed the two-match Test series until further notice.
The 28-year-old made his debut back in 2018 and so far he has played a total of 10 Tests grabbing a total of 34 wickets. The stats look pretty amazing for the off-spinner. He had a good stint in 2019 Ashes and emerged as the replacement for Moeen Ali in the side.
However, Leach had suffered horrific consequences due to Crohn's disease on his tour to South Africa. He was hospitalised and was sent back to the country as he was not medically fit to play in the Test series against Proteas. It took time for him to recover form the same.
Jack Leach looks optimistic 
After England's tour of Sri Lanka has been postponed, Jack Leach has opened up over the same saying this situation has made him realise how important is cricket for them and it is frustrating to stay away from it.
He also opined on his cricket career saying that he wants to achieve a lot in international cricket like other cricketers. Now, he needs to use his skills more often to do something special. He feels that his past experiences with different disease have made him strong. And, he will overcome if he gets infected with Coronavirus. However, at the moment he is thinking about society and the people, who are in weaker conditions than him.
Jack Leach also added the fact that he is not much concerned about his position in the Test team. At the moment his focus is to give his best. He took this situation quite positively and concluded saying that he played his last game six months ago. And, he has added more time to his cricket career. One thing that keeps him motivated is his focus to play cricket in the forties as well.
"Those experiences, and the fact that I'm young and fit, make me confident that if I did pick up the coronavirus, I'd be alright. That said, I obviously want to avoid it; I don't want to be part of the bigger problem. I'm trying not to think about myself, but about society, of people who are in weaker positions than I am.
"There are lots I still want to achieve in international cricket. But there are hundreds of cricketers who also have that. We're all in the same boat. I don't really think about my position in the Test team at the moment. From a positive point of view, I've not played cricket for six months, so I could be adding time to my career. I want to play in my forties. That's one thing in my mind to keep me motivated," Jack Leach said as quoted by Daily Mail.