If there is a direct hit, there should be no runs after that, I would like to change this law: Dinesh Karthik
The ICC recently brought forth a number of changes in the laws, keeping in mind the COVID-19 pandemic.
Updated - Aug 23, 2020 8:26 am
427 Views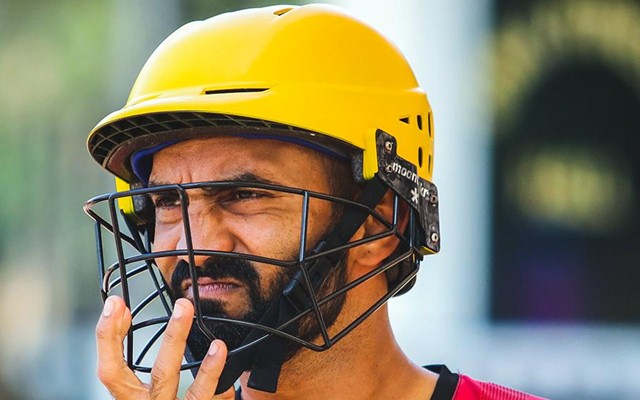 Follow us on Google News
Dinesh Karthik, the veteran Indian cricketer, reckons that the International Cricket Council (ICC) should formulate a few laws, brining in "common sense". Karthik, who last played for the Men in Blue back in the 2019 World Cup, reckons that the changes will eventually take place with time.
The 35-year-old said that runs resulting from direct hits aren't fair for the fielding team. Quite often it has been seen that fielders throw down the stumps, but the ball ricochets away, allowing the batsman to get the extra single or double. At times, the ball races away to the boundary as well.
As per Karthik, churning out direct-hits is an art and one shouldn't discourage it. Due to the fear of conceding overthrows, fielders often back out from throwing. Karthik mentioned that umpires should call it a dead-ball if the ball hits the stumps.
I feel it's a great skill to be able to hit the stumps: Dinesh Karthik
"I have a few opinions on laws that can be definitely changed. The laws have been around for some time and a lot I understand is to do with the fact that they call tradition of the game, but I think somewhere they need to bring in common sense as well. Few of the laws can definitely be changed. That's my opinion and I feel it will happen in time," Karthik was quoted as saying to Cricket Next.
"One simple law that I would like to change is if there is a direct hit, there should be no runs after that. I think it makes no sense for the ball to hit the stump and then be given runs for that. I feel it's a great skill to be able to, you know, hit the stumps," he added.
Due to the COVID-19 pandemic, the ICC has already brought forth quite a few changes, one of which is disallowing the use of saliva to shine the ball. As far as Karthik is concerned, he made his debut in 2004, but has never been able to cement his position in the national team. He is now set to lead the Kolkata Knight Riders (KKR() in the 2020 edition of the Indian Premier League (IPL).
Follow us on Telegram