'If you take out aggression from Kagiso Rabada, it's like taking a knife to a gunfight' Dale Steyn
Steyn also asserted that to avoid any further ban, the 22 year old pacer was forced to tone down his aggression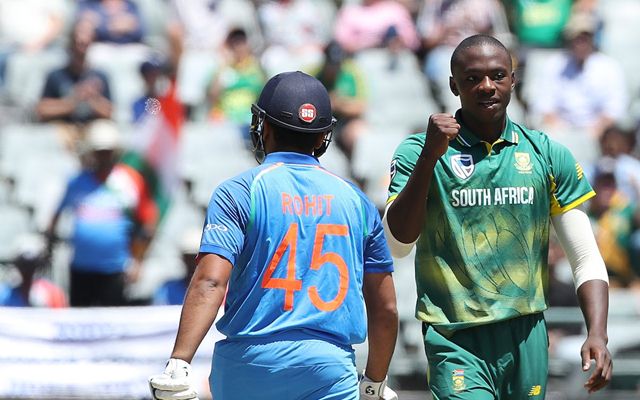 Follow us on Google News
The first test between Australia and South Africa got over with the visitors registering a scintillating 118 run win. The Aussies have been known for their sledging and they haven't taken any back seat in the Durban game as well. In fact, even off the field as the David Warner – Quinton De Kock incident suggests.
South African pacer Dale Steyn wasn't amused with the demerit points that Kagiso Rabada attained in the earlier tours. He felt that in a series like that, Rabada's fiery presence would've been a perfect response to the Aussies. Speaking to the South African radio station KFM, he asserted that to avoid any further ban, the 22-year-old pacer was forced to tone down his aggression.
If you take out aggression from Rabada, it's like taking a knife to a gunfight 
In the videos that surfaced from the altercation between Warner and De Kock, Rabada could be seen heaving himself in though he didn't speak anything. Steyn felt that if someone could be intimidating in the Proteas side, it was Kagiso Rabada. However, the last few incidents have made him a little bit careful.
"One other guy that actually gets involved is Rabada – he really does get stuck in. But I think after some of his last few incidents where he got into trouble – he got a ban and a fine and everything like that – he kind of has the handcuffs around him right now, which is a little unfair because if you look at the way some of the Aussies are going about it." He was quoted as saying by ESPN Cricinfo.
Steyn was referring to the ban he received in the second Test against England. If Rabada ends up getting three more demerit points, the fast bowler may well be banned for a couple of tests. Thus, Steyn felt it was unfair for the South Africans. He remarked that by toning down his intimidation, they were taking out a competitor in Rabada.
"I'm not standing here and complaining, and I hope I don't get a fine for saying that – but you kind of feel that you are taking out our best competitor, especially with that kind of presence, if you take him out of the game, it's like taking a knife to a gunfight really. It's a little bit unfair."
Will be back on a cricket field by the end of next week
Dale Steyn was high on the prospects of making a return to the field. The pacer has been out of action following his heels injury in the Indian series. Before that, he was absent from international cricket for more than a year owing to a shoulder injury. However, this time around, he sounds a tad bit confident to stay. He will be playing some first-class cricket to pass a statement to the selectors ahead of the third test.
Follow us on Telegram