I'm going to have to carefully plot my ODI comeback: Stuart Broad
Updated - Jun 17, 2016 9:59 am
28 Views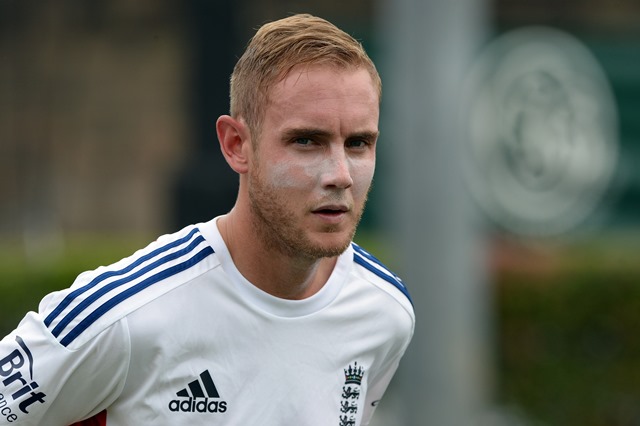 Stuart Broad looks highly determined to fight for a place in the England ODI squad. Broad, currently one of the best in the Test format, has only played twice since the 2015 World Cup and was also ignored for the ODI squad announced earlier this week.
The right arm seamer, however, looks in no mood to give up on playing white-ball cricket for his country again and says that he will contemplate taking part in overseas domestic competitions to try and convince the selectors before next summer's Champions Trophy.
Trevor Bayliss, England's head coach, has left the door open for Broad, who retains hope of playing in the 2017 Champions Trophy and 2019 World Cup, competitions that will both be held in England and Wales. However, Broad's involvement with the Test side, and England's busy schedule has prevented him from gaining any significant practice in the shorter formats.
"It's tricky because I haven't played any white-ball cricket," he said of his omission from the group to play Sri Lanka. "I think I saw a quote saying this squad had been picked on merit and I can't argue with that at all because it's not as if I've gone out there and taken a certain amount of white-ball wickets. I'm going to have to find a way to do that.
Also, read – Faiz Fazal's father terms his son as a complete cricketer
"I'm going to look at scheduling, whether it's home or abroad, to try to play some white-ball cricket and there might be a decent opportunity after Christmas this year because there's not a lot of Test cricket then until I think July. The only way I'll get back is by playing white-ball cricket and that's the only way my skills will improve, too."
Broad is targeting winning a place in the North v South series of matches the England & Wales Cricket Board have arranged in the UAE next March, which will be used to trial one-day players.
"I'm going to have to carefully plot how to do it and the schedule next year might massively work in my favour because I think the Royal London Cup is going to be played more in a chunk at the start of the season and I think the Twenty20 competition is played in a chunk too – whereas this year there's no 50-over cricket for me to play to put my name in the hat. If I suddenly have a belting six weeks of 50-over cricket people might say, 'Actually this bloke can bowl with the white ball. He has got a hundred-odd ODIs behind him and he could still be in the frame.'"
"I'm still only 29 but because I've played a lot of my cricket with Belly and Jimmy who are a bit older I sort of get put in that category," he said. "A lot of people have played at World Cups at 32 and that's certainly not an old age for a cricketer so I've got huge goals to be a part of that and have to pick some stuff to get involved in."