The impact of climate change on cricket in England
Since the year 2000, 27 per cent of England's home One-Day Internationals have been impacted by rain and played with reduced overs.
Updated - Apr 18, 2019 3:25 pm
1.9K Views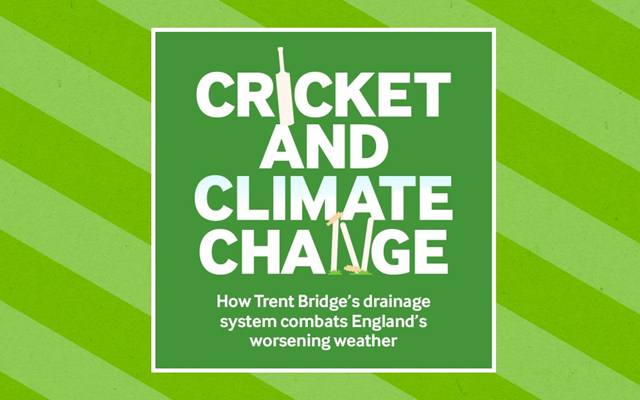 Follow us on Google News
As recently as the summer of 2012, three of England's 13 ODIs were abandoned due to rain, while no result was possible in two of their seven Test matches with West Indies and South Africa. In the 1930s, county cricket clubs in England were headed for financial ruin after a succession of wet summers. Twenty years later, persistent rain saw desperate clubs experiment with blankets, rubber mats and suction machines.
Since the year 2000, 27 per cent of England's home One-Day Internationals have been impacted by rain and played with reduced overs. The problem has got worse since 2011 and the percentage of matches affected by rain has doubled, what's worse is that five per cent of the matches were abandoned.
A report published by Climate Coalition, the UK's largest climate change action group in February this year suggests that cricket will be the worst hit among sports by the impact of climate change in England. It states that "wetter winters and more intense summer downpours are disrupting the game at every level."
This was further emphasised by Glamorgan Head of Operations Dan Cherry, who is of the opinion that Climate change can "fundamentally change the game."
"The less cricket we play, the fewer people will watch it, the less they will come to the ground and pay to enter, the less chance there is for young people to be inspired," said Cherry.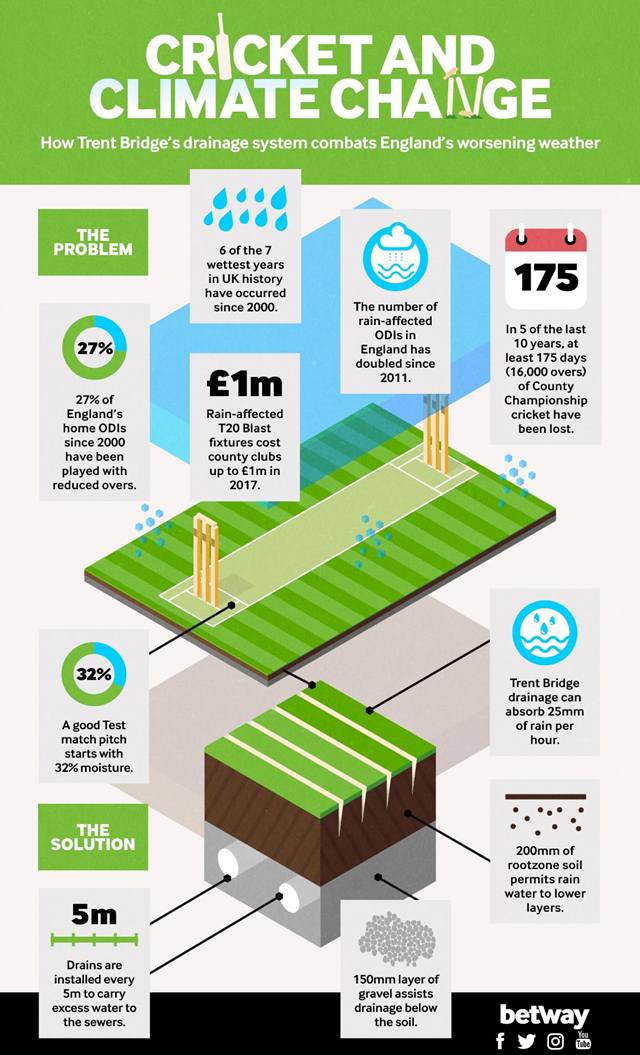 The weather in the country has been really inconsistent and thus it is tough to identify and predict based on trends.
"In this country, you're relying on the weather," says Steve Birks, head groundsman at Nottinghamshire, who are available at  5/2 to win the 2018 County Championship.
"One week it's 27 degrees, and the next it's central-heating weather again. You can't rely on it being red hot for a week."
British weather has always been famously unpredictable. Yet Birks, who will prepare the Trent Bridge pitch for England's Test match with India in August, reveals there are subtle differences now.
"The rain is getting tropical, it is getting heavier," he says. "We're getting thunderstorms more often when it rains – I think that's when you can tell the difference. But then that's when the new outfield comes into its own.
ECB had granted £600,000 to renovate the outfields of stadiums in Trent Bridge, Swalec Stadium and Headingley back in 2008. The renovation work included building a new turf surface, drainage facility and the sprinklers.
"The drainage at Trent Bridge is now second only to Lord's," he says. "It can take up to 25mm per hour in most places on the square.
"Beforehand, it was just a clay-based outfield with land drains in. Now it's got a rootzone up to 150mm, drains every five metres, and pop-up sprinklers in between drainage. It really takes it away."
Former England captain Kevin Pietersen in 2014 said that the new drainage system was rather too efficient and thus the pitch for England's Test match with India had become "dry and lifeless".
Birks had apologised then after the players complained about the dry pitch. But he says that it had nothing to do with the drainage, as it is designed in a way to allow the surface to retain as much moisture as is required.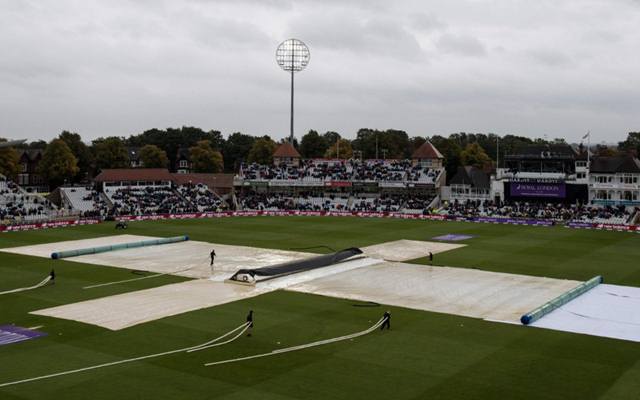 "We knew the 2014 pitch was coming to the end of its life, but it's trying to fit in when you're going to dig it up," he says. "When you dig it up and take it away, you can't play on it for two years.
"They deal with it in Australia, where the temperatures are twice as hot as here. Last year we mowed the square slightly longer, so that plenty of moisture stays in it.
"Our pitches start with maybe 32 per cent moisture in. That's plenty."
Birks understands, however, the extra scrutiny that comes when the national team is in town. "There is a lot more pressure when you're dealing with England," he says. "You want the pitch to be fair. Whatever England ask for you try and give them."
Rain playing spoilsport in matches has not only hampered the games but also had an impact on the finances. "We lost our first ODI last year because it rained all day," says Birk. "It's a massive financial hit, particularly if it's an ODI."
Birks is certain that more measures will be in place to tackle climate change in the future however at this point in time he sounds confident that the infrastructure they have Trent Bridge's infrastructure can withstand the elements.
"Our new drainage system can take most of the storms we've had so far," he says. "Whatever gets thrown at us, it's our job to deal with it."
This article was first published here.
Follow us on Telegram