IND v AUS, 1st Test, Day 3 Review: India handed damning defeat
Updated - Feb 25, 2017 3:35 pm
33 Views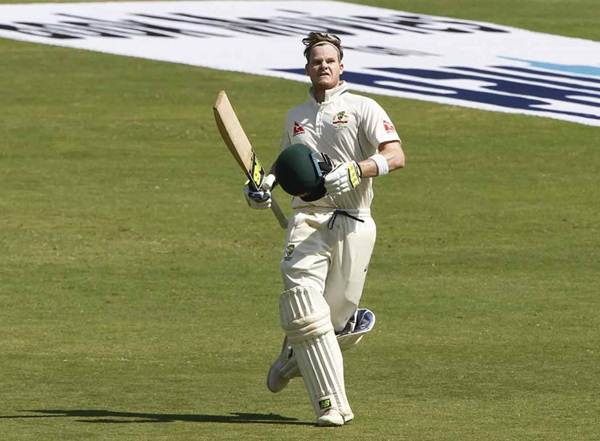 India have been handed the daunting task of chasing down a massive target of 441 if they want to have a chance of securing a win in the first Test match in Pune. This comes after the Indians were bowled out for a paltry 105 in the first innings. However, the morning of the third day's play was something that was all about Steve Smith and the Australian resistance.
The day began with the Indians requiring the six wickets to ensure that they would not be requiring to bat out of their skins to ensure a win. This win would now have to come with at least three batsmen coming into their own and smashing their way to three figures. However, the manner in which Steve Smith batted on the day was certainly something that has seen him come of age with what has been his first century in the subcontinent and in Asia.
However, the manner in which the others batted in and around him was also something that ensured that was quite impressive. Of course, the Indians did not have the best of luck, especially having lost their reviews on the morning. Steve Smith was perhaps the one with nine lives as he went ahead and ensured that it was quite clearly something he deserved, that little bit of fortune to get him going on the day.
While Smith was batting quite well on the day, it was Mitchell Starc who ensured that the extra and quick runs were added towards the end of the innings. What was more impressive was that he was backing himself against the spin of Ashwin and Jadeja on a track that was turning a country mile. This was also something that brought about his demise as well, but the fact is that the runs were on the board.
At the moment, it would certainly take a herculean effort for the Indians to come out with a win. They will take the second session of play. The Indians came out to bat in the second session of the day when they came ahead and began to chase the daunting target of 441.
Initially, it was the openers who were dismissed after their leg before decisions. This eventually ensured that they also ist their two referrals before the others had a chance to use the same. Once again, it was Steve O'Keefe who was able to make make the Indians pay for not being prepared enough as he began skittling through. Virat Kohli let one that rattled his off stump before the tail was eventually exposed.
The fact was also that the left arm spinner would eventually get all the wickts that would ensure that he not only picked up the man of the match award, but 12 wickets in an impressive win, Australia's first in a long time.
Brief Scores:
Australia, 1st innings: 260 all out
India, 1st innings: 105 all out
Australia, 2nd innings: 285 all out ( S Smith 109; R Ashwin 4/119)
India, 2nd innings: 107 all out (C Pujara 31; S O'Keefe 6/35)