India Red v India Blue, Duleep Trophy, Final, Day 4 Review: Sundar guides India Red to ultimate glory
India Red beat India Blue by 163 runs to win the Duleep Trophy.
Updated - Sep 29, 2017 1:16 am
683 Views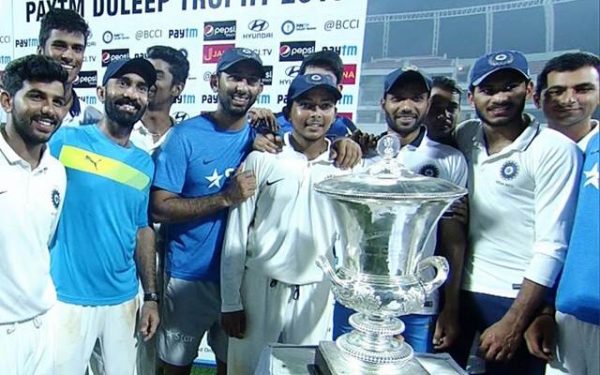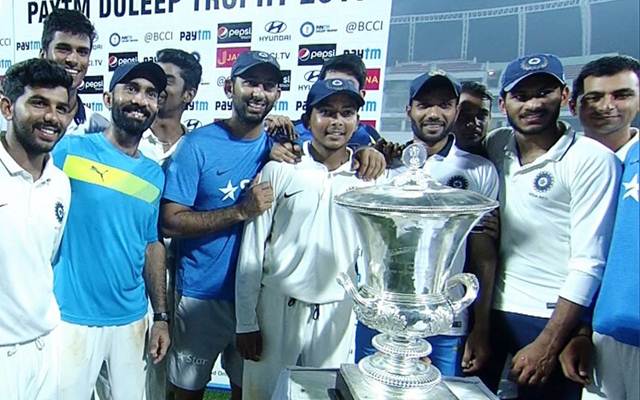 Young all-rounder Washington Sundar's all round heroics helped the India Red side to clinch the Duleep Trophy. Prior to the commencement of the match, the Reds were given no chance by the pundits against the star studded India Blue side. But the way the India Red responded in the game is worth appreciating. They were given a brilliant start in the first innings as they posted a mammoth 483 on the board.
Tons from Prithwi Shaw and Dinesh Karthik set the tone for their big score. Also, Washington Sundar contributed with a timely 88. In response, the India Blue side were rocked by some immaculate bowling from Vijay Gohi land Sundar on day 2. However, opener Abhimanyu Easwaran held the fort for them in the game and scored a fighting 127. Gohil and Sundar bagged 5 wickets each to see the Blues bundle out for 299, giving the Reds a crucial first innings lead.
In the second innings, the Reds faced a dramatic batting collapse with Bhargav Bhatt and Akshay Wakhare bagging four wickets each. By the end of the day 3, the Reds struggled with 183/7 on the board. However, they had a mammoth lead of over 350 to their credit. In addition to that, they had Washington Sundar at the crease. Sundar could not contribute much on the day 4 and India Red bundled out for a mere 208.
Sundar dents the run chase
Chasing a target of 392 on the fourth day of the match was never going to be easy. But considering the batting heavyweights that India Blue boasted of, nothing could be predicted about the end result. Much to the disappointment of the Suresh Raina-led India Blue, the big names faltered on the day. Easwaran and Ishan Kishan got starts but could not capitalize.
Manoj Tiwary (38) and Raina (45) looked set for a brief while as they added 80 runs for the third wicket. Once they were dismissed by Sundar, the innings seemed to crash big time. Sundar ran through the middle order. A late flourish of 51 off 41 balls from Bhargav Bhatt was not enough as Sundar finished with figures of 6/87. India Blue were bowled out for 229 to hand the India Red side a big 163 run win.
Brief scores:
India Red 483 (Prithvi Shaw 154, Dinesh Karthik 111; Bhargav Bhatt 4-154)
India Blue 299 (Abhimanyu Easwaran 127; Washington Sundar 5-94, Vijay Gohil 5-121)
India Red 208 (Baba Indrajith 59; Akshay Wakhare 4-66, Bhargav Bhatt 4-77)
India Blue 229 (Bhargav Bhatt 51; Washington Sundar 6-87)