India Team analysis for 2015 World Cup: A tough road for the defending Champions
Updated - Feb 9, 2015 8:45 am
46 Views
India Team analysis for 2015 World Cup: A tough road for the defending Champions: In our series of analyzing Cricket teams for the upcoming World Cup, we have come to the last chapter of the series. Before we wind up today, we will analyze the defending Champions India. For an Indian fan, memories of MS Dhoni lifting the World Cup in 2011 are still fresh. India mastered the home conditions in 2011 to become the Champions. India has been in Australian condition for a while now, but even after spending close to three months in those conditions India has been winless. Having said that, still the fans around the world will expect a good show from India. Let's have a look at the Indian squad.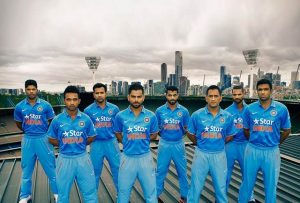 Follow us on Telegram
Batting
Led by captain MS Dhoni India has Shikhar Dhawan, Virat Kohli, Ajinkya Rahane, Suresh Raina, Ambati Rayudu, Suresh Raina, Ravindra Jadeja and Stuart Binny as all-rounders. This looks like a good batting line up but only on a flat batting surface. They have been exposed on bouncy tracks as India is even struggling to play 50 overs in Australian conditions. India has problem a plenty with Rohit Sharma struggling with an injury and Shikhar being badly out of form. Shikhar's slump in form has come in at a very wrong time for India. His bad form has disturbed the team balance and forced MS to think of other options. If we look at India's modus operandi in ODIs, it has been to bat the opposition out of the game. India heavily relies on its batsmen to win the games and at the moment this batting unit looks very fragile in front of good bowling unit. It's like the sharpness of the weapon has been blown away, making the weapon totally blunt. The only good thing for India is that all the weakness has come out before World Cup which gives them a chance to come back. There has been huge debate on what spot will Virat should play for India. In my opinion he must bat at 3 as the openers are not able to provide India a good start and Virat being the premier batsman has the ability to rise on the big occasion and lead Indian batting out of these blues. India must put an emphasis on not losing early wickets and hope for a feast from Raina and Dhoni in the last 10.
Bowling
Well, who is the leader of Indian bowling attack? Some people might say Ishant Sharma, to be very frank I will say this bowling unit is leaderless. There seems to be no one who can inspire the other bowlers with his performance. In 2011 World Cup India had Zaheer Khan as its lead bowler taking wickets with his guile and spin of Yuvraj who bowled superbly in middle overs. But at the moment, India's bowling unit lacks genuine wicket takers. Traditionally also, India has never been a good bowling unit. Though the conditions are suitable for fast bowlers, India should not consider playing three fast bowlers. Simply because Indian pace attack lacks the discipline to extract anything from the surface. Looking at the recent games, India might look to play Binny, Shami, Ishant or Mohit (in case Ishant fails fitness test) and two spinners in from of Jadeja and Ashwin. I will vouch for India playing all three spinners Jadeja, Ashwin and Axar not because pitches will assist spinners but for the reason these three are India's best bowlers. India's winning formula could be in playing three spinners as disciplined and economical overs from them will help in reducing opposition total. In my opinion this must be India's strategy against all non-Asian teams.
X-Factor
The Only X-factor in Indian team is Virat Kohli. Although he failed in recently concluded Tri series, but he is the man for big occasion and has the ability to win the game of his own.
Best Result
Winners (1983), Winners (2011)
Overall
It's a tuff road for India and I don't see a semifinalist in them. But being a true fan I hope my heart rules over my mind and Indian Cricket Team proves me wrong.
Follow us on Google News