India v England 1st ODI – England Player ratings
Updated - Jan 16, 2017 1:34 am
29 Views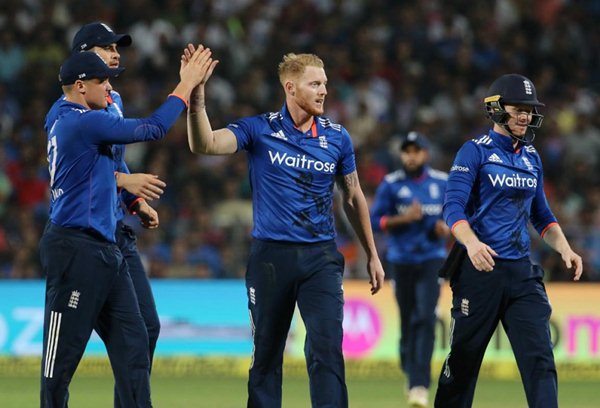 What's better than starting a series full of surprises with a game on a pitch that is bound to surprise you? It looked good to bat on but was expected to trouble the batsmen initially. But it eventually turned out to be hard on the bowlers. From England's Roy, Root, and Buttler to India's Kohli, Jadhav and Pandya, the batsmen only defied that notion.
England set their highest ever target against India in ODIs on this one, and India chased it down. The brilliance shown by the two English all-rounders in the death overs gave England the opportunity to post a mammoth total, and the masterclass from Virat Kohli and Kedar Jadhav only elated the Indian spirits. And they overhauled the total with 3 wickets in hand.
Jason Roy- 8/10
Alan Wilkins tweeted during the match, "Jason Roy illustrates England's fearless attitude and aggressive one-day mindset. Puts immediate pressure on Virat Kohli to balance attacking fields, with slips, and defensive fields." And he did exactly that, by providing the team an aggressive and attacking outlook.
Roy is known to score 54% of his runs between 1-10 overs. And rightly during that period, he registered his 50 in just 36 balls. He looked ready from the word go and gave them a good start. He scored 73 off 61 at a strike rate of 117.86. He provided a chance in the 18th over, where he was dropped by Umesh Yadav. But he had to succumb to the Jadeja-Dhoni's brilliance in the very next over.
Alex Hales- 2.5/10
Alex Hales looked duller in comparison to Roy from the moment they both stepped in. He scored a mere 9 runs off 18 and was run out, courtesy Bumrah's brilliant direct hit that was thrown from about 70m away. Hales had failed to fire and pretty much did not look like he was up for a big one since the very start. While Roy looked good on the other end, Hales had been struggling against the seamers throughout. Even when he was run out, Hales was slow. A dive rather than a full stretch could have probably saved his wicket.
Joe Root- 8.5/10
Though a little hesitant initially, he continued to push the ball between gaps more often than not. He got slower after his partnership with Roy ended, but he looked steady. The moment the Morgan-Root partnership was settling in, Root was left to build from scratch a new partnership one more time as the skipper departed. The approach started to look different as Buttler joined him and they switched gears.
Despite all partnerships he was involved in were coming to an end when Root started to settle, his reputation as a consistent player remained unharmed. He knows how to convert scores and in that process, he scored his 18th ODI 50 off 72 balls. He played the anchor role pretty well. His 78 from 95 balls was the need of the hour for England, and it's safe to say that if Root did not stay on, things would go downhill for England.
Eoin Morgan- 4/10
Morgan has been in good form lately, considering his performances in the BBL. Though he was looking to let that continue, he was dismissed on 28 off 26. Though the umpire remained unmoved, the decision was reviewed by Kohli and Co. and it was a good one, credit to Dhoni's apt judgment. The English skipper tried to steer away the shortish delivery bowled by Pandya. It got a slight edge which fell into the safe hands of Dhoni behind the stumps. Morgan looked promising and should have continued to build a partnership with the already-set Root, making it easier for the middle order, but he gave his wicket away a little too easily. His captaincy post 30 overs also seemed a little haywire.
Jos Buttler- 4.5/10
Buttler was looking dangerous. But his 31-run cameo was of not much help keeping in mind his ability to do more. The partnership between Root and Buttler had just started to worry the Indian skipper when Hardik Pandya bowled a good over and provided a much-needed break through. A short ball that first touched the shoulder and then the grille, followed by length delivery that was hit right into the hands of Shikhar Dhawan.
Ben Stokes- 9/10
To rate him more than Root and Roy would perhaps be scandalous, but Stokes deserves that extra point because an all-rounder hitting all across the ground with that ease is a rare sight. Also because it was the second fastest 50 for England in ODIs against India. The reason for the colossal total is due to the death over hitting between Stokes and Moeen Ali, with dominant contribution from Stokes.
He looked in a different form altogether as he made the bowlers dance to his tunes. A strike rate of 155 is commendable, especially when it's for the cause of a top-notch performance and moreover, contributing for posting a difficult-to-chase score. The small-boundary ground saw unorthodox shots all across it from him. He also remained the captain's go-to bowler and took 3 wickets, including that of Virat Kohli, breaking a crucial partnership.
Moeen Ali- 6/10
The need for a productive partnership was very necessary throughout. The Stokes-Ali partnership was not the conventional kind that was long and steady, it was more about unorthodox power-hitting. This partnership worked for England more than anything else. His 28 off 17 at the strike rate of 164.71 was a blitzkrieg of sorts. His batting sped the momentum for the Brits and gave Ben Stokes the confidence to fire on the other end while he himself did the same. With 105 runs scored in the last 8 overs, Ali's contribution must be applauded for the handy cameo that pushed the England total to 350. However, he remained wicketless and ineffective with the ball.
Chris Woakes- 2/10
All of 7 wickets were taken by the seamers, each shared 2 wickets at least. Woakes was the only one who remained wicket-less. He bowled 8 overs and conceded 44 runs at an economy rate of 5.50. Though he was the most economical out of the 7 bowlers, he didn't look threatening and eventually failed to provide a breakthrough. Hence, an unimpressive performance.
David Willey- 4/10
England were looking good initially, and one could credit Willey for the temporary joy for the English team. He dismissed the opening pair cheaply and things looked good for him especially the delivery that took Rahul. His failure to provide breakthroughs after initial overs was the main reason for his expensive bowling figures on the scoreboard. Though he picked 2 wickets and conceded 47 runs, an economy rate of 7.83 is not very commendable.
Adil Rashid- 2/10
The pitch didn't have anything for spinners, and it's understandable that they might not be the best for providing the team with wickets but conceding 50 runs in 5 overs at an economy rate of 10.00 is pretty disappointing for a spinner with a reputation. The leggie looked predictable throughout. Many would agree that a partial contributor for England's defeat was his expensive bowling.
Jake Ball- 5/10
Despite having 3 wickets in his name, Jake Ball could have done better. Though it's a little harsh on him to turn the tables when a 200+ run partnership has built and the batsmen have settled, his morale dropped and it started to show the most in the death overs.  With 67 runs conceded at an economy of 6.70, Ball would be pretty disappointed.