India vs Australia, 2nd ODI, Kolkata: Who Said What
Asked Mahi bhai what I should bowl, he said 'tujhe jaisa lagta hai wo daal: Kuldeep
Updated - Sep 21, 2017 10:13 pm
11.6K Views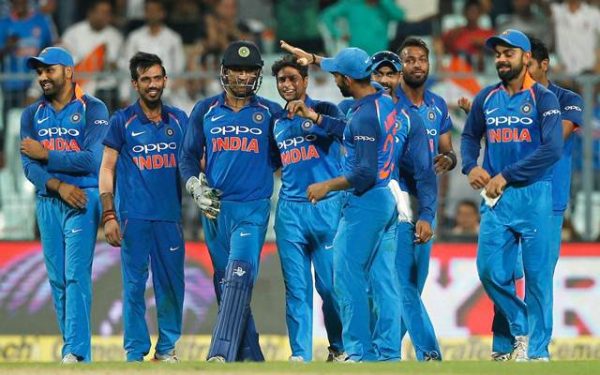 After days of persistent rains threatening the chances of the game to be taken place, India and Australia locked horns for the second match of the 5-match series at Eden Gardens, Kolkata. Virat Kohli won the second consecutive toss and elected to bat first for the second time also in the series.
Rohit Sharma's fairytale relationship finally took a pit stop as he was dismissed cheaply. After the dismissal of the opener, Ajinkya Rahane (55) and Virat Kohli(92) stabilized the innings efficiently with their stand. Both batsmen looked a class apart, through the covers, initially as they smashed a handful of boundaries through the region during the powerplays.
India managed to reach a total of 252 after a minor collapse. Australians received a couple of early blows as they found Bhuvneshwar Kumar too hot to handle. Yuzvendra Chahal got some important breakthroughs in the middle but it was just Marcus Stoinis and Steve Smith looking to play big.
The star of the show was Kuldeep Yadav who picked up a hattrick in the middle overs to hit the final nail in the Australian coffin. With the help of this 50 run victory, India takes a 2-0 lead in the series. Virat Kohli picked up the man of the match award for his knock.
Virat Kohli
The Man of the match, Virat Kohli, believed that the Indians were a few runs short of the required total and but were hopeful had they picked up early wickets.
We didn't feel like we had enough on the board at the break. But we knew if we had a good start we have a good chance of defending it. We knew if we don't take wickets it would be difficult. To be honest, the wicket wasn't easy to bat on throughout the day. Bhuvi's spell became even more important because we knew the wrist-spinners would do damage in the middle. The deliveries he got the batsmen out with were unplayable.
Kohli lauded the efforts of Bhuvneshwar Kumar who picked up three wickets and conceded only six runs in the thirty-seven balls he bowled. He concluded by claiming that there was no particular drive to perform well against the Aussies but as he thrives to score runs every time.
You can count on Bhuvi for getting the breakthroughs. Two young spinners bowling with a lot of heart, speaks volumes about their characters. Really augurs well for us how the team is shaping up. I always try to create that kind of motivation for myself. Sometimes things don't come off for you but I try and stay in the same zone. It wasn't easy to bat, plus the bowling attack was quality as well. Came off today, so it looked nice. Didn't come off in Chennai, so it didn't look nice.
Steve Smith
Losing captain Steve Smith believed that the total was achievable but the batsmen were disappointing in their efforts. He felt that none was able to provide support to Stoinis who looked in exceptional touch today.
We were pretty happy with 250, thought we pulled things back pretty well. Did a really good job there. Batters though made poor decisions, and you can't do that against a quality team like India. Stoinis was good at the end there, just needed someone to bat with.
Smith went on to state that it was essential for one of the top four players to score a century. The skipper concluded by appreciating the efforts of the Indians who he feels have got all their bases covered.
One of the top four needs to go on and make a hundred, just making poor decisions under pressure. To reduce India to 250 on that was pretty good. Need to get those partnerships; if we do that then we should chase these totals down comfortably. They've got all bases covered, don't they?
Kuldeep Yadav
Kuldeep Yadav literally had to pinch himself to make sure of what he has achieved today. He revealed that MS Dhoni wanted him to bowl wherever and whatever he desired when Kuldeep asked for advice.
Not really (could never dream it). Initially I was struggling to bowl in a particular area. It's a game of cricket, everything happens. Last match, where I was hit for three sixes in an over, was a learning experience. Asked Mahi bhai what I should bowl, he said 'tujhe jaisa lagta hai wo daal (bowl what you want)'. This is special for me, changed the game for us. Really proud moment.