India vs Australia: Umpires fail to notice Glenn Maxwell violating 'fake fielding' rule
The margin of victory for India would've been 13 runs had the umpires noticed it.
Updated - Mar 6, 2019 12:41 pm
80.8K Views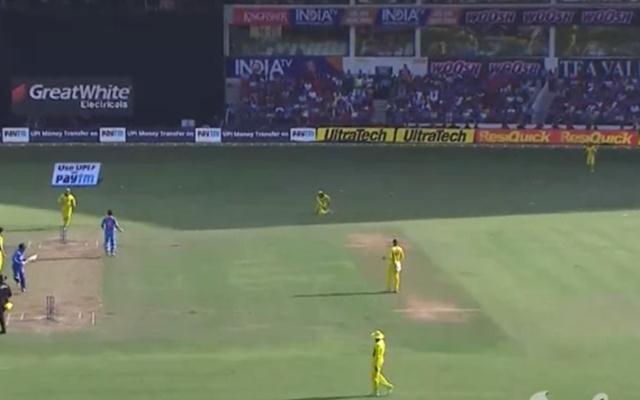 India and Australia were once again involved in a thriller in the second ODI in Nagpur on Tuesday. The hosts kept their nerves when it mattered and won the game by just eight runs in the end. However, the margin of victory could've been 13 runs for India had the on-field umpires noticed Glenn Maxwell violating the 'Fake Fielding' rule. In that case, India should've been awarded five penalty runs to their total but that wasn't to be.
The incident took place in the 42nd over when Ravindra Jadeja and Virat Kohli were batting together. Nathan Coulter-Nile came steaming in and delivered the third delivery of the over on a good length area. Jadeja, who was on strike, came down the track and used the bowler's pace to steer the ball through the right of backward point fielder Maxwell.
The fielder tried his best to stop the single. But during his attempt, Maxwell showed if he had grabbed the ball and acted like he was throwing the ball to the wicket-keeper. Instead, the ball had travelled to the third-man and the batsmen took a comfortable single.
Violation of law 41.5
Glenn Maxwell had clearly violated the law 41.5 which deals with "deliberate distraction, deception or obstruction of a batsman". The law states, "it is unfair for any fielder wilfully to attempt, by word or action, to distract, deceive or obstruct either batsman after the striker has received the ball."
The Australian cricketer had clearly tried to do the same and accordingly, the Men in Blue's final total should've read 255 instead of 250.
Having said that, the law also further states that it is upto the on-field umpires to decide whether the fielder's actions were deliberate to distract the batsmen in the middle. "It is for either one of the umpires to decide whether any distraction, deception or obstruction is wilful or not," the law further states.
Now it could be argued whether Glenn Maxwell's fake throw attempt was deliberate but all the things would've come into discussion if the umpires had spotted the incident.
Here's the video:
— Dhoni Fan (@WastingBalls) March 6, 2019