India vs South Africa, 2020: 3-match ODI series – Approaching Milestones
All the approaching milestones to look out ahead of the ODI series between India and South Africa.
Updated - Mar 11, 2020 7:32 pm
736 Views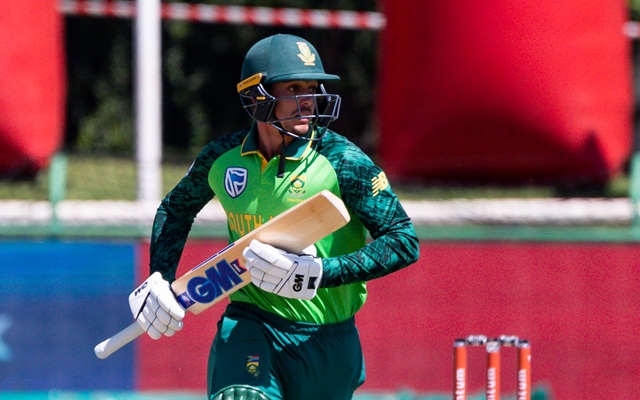 South Africa will be clashing off India in an ODI series on Indian soil for the first time since their series win in the 2015 tour. The 3-match ODI series starting on Thursday in Dharamshala will be India's last International assignment prior to the IPL.
The series will be marked as the returning of ace all-rounder Hardik Pandya after his back surgery. Shikhar Dhawan and Bhuvneshwar Kumar are also making a comeback after suffering injuries in the ongoing home season. South Africa will be stepping into this series after whitewashing Australia at home with youngsters in their squad.
All the approaching milestones to look out ahead of the ODI series between India and South Africa:
91 – Yuzvendra Chahal has claimed 91 wickets in his 52-match ODI career thus far. Chahal needs to pick those nine wickets in this 3-match series to become the fastest Indian to reach 100 wickets in ODI cricket.
---
150 – Quinton de Kock (149) and David Miller (147) need one and three sixes respectively to complete 150 sixes in International cricket. Only four players have struck 150+ sixes across all formats for South Africa in Internationals.
---
248 – The 2nd match that Virat Kohli plays in this series will be his 250th appearance in ODI cricket. He will then become only the 8th Indian player to feature in 250 ODI matches in career.
---
957 – Hardik Pandya needs 43 more runs to complete 1000 runs in ODI cricket. Hardik has claimed 54 wickets in his 54-match ODI career thus far.
---
4865 – Virat Kohli needs 135 more runs to become only the 2nd to aggregate 5000 ODI runs on Indian soil after Sachin Tendulkar (6976). Only two other players have amassed more than 5000 ODI runs in a country – Ricky Ponting (5521 runs in Australia) and Jacques Kallis (5186 runs in South Africa).
---
10815 – Faf du Plessis has scored 10815 runs in his International career thus far. Du Plessis scored 10753 of those runs while playing for South Africa and needs 247 more runs to become the 7th South African to reach 11000 International runs for them. Faf also scored 62 runs across three games for the ICC World XI team.
---
11867 – Runs Kohli has aggregated in his ODI career across 239 innings he batted. Virat needs 133 more runs to become only the 2nd player form India with 12000 ODI runs and the fastest in the World to reach the milestone.
---
21901 – Virat Kohli is only 99 runs away from completing 22000 runs in International cricket. Kohli will then become the 3rd Indian to reach 22000 International runs and also the quickest to achieve this milestone.