India vs Windies: Sanjay Bangar comes out in KL Rahul's support after his failures
Rahul has managed only four runs in his two outings so far.
Updated - Oct 14, 2018 12:42 pm
3.9K Views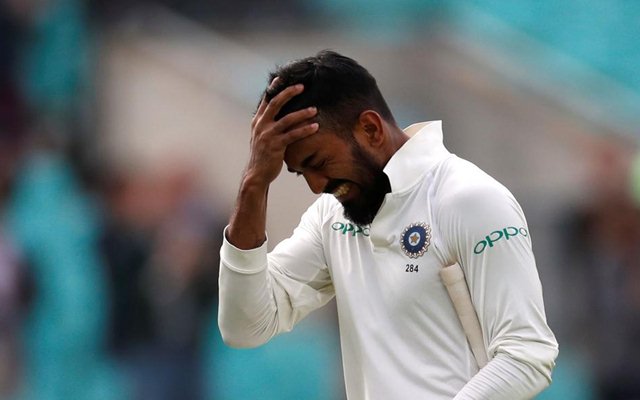 While the world is in awe of Prithvi Shaw's exceptional batting in his debut series, KL Rahul's form has continued to be a concern for Team India. In the two innings against the Windies so far, the opener as mustered only four runs. More than anything, his mode of dismissals are worrying and with Australia tour coming up, it was important for him to gain some confidence. However, the batting coach Sanjay Bangar has backed the talented batsman to come good soon and also felt that his mind shouldn't be clouded.
After skittling Windies for 311 runs early in the morning, Rahul had a great chance to bat big on a good wicket. But his footwork was tentative and never got going during his 25-ball stay in the middle. Even the ball which he got out wasn't a great delivery. Jason Holder pitched the ball outside the off-stump and the batsman was unsure about his approach which allowed the ball to hit his willow and chop on to the woodwork.
Sanjay Bangar, in the press conference after the third day's play, went on to dissect Rahul's dismissal and also explained how a batsman thinks when he is struggling.
"I just felt today's dismissal wasn't really related to the ball coming in because it was probably a fourth stump ball he was looking to leave it. Yes, he has had issues with balls coming in to him, he's working on it really hard. But at times, batsmen tend to think a lot about away going balls and at times forget to concentrate about straighter balls or those which pitch generally on stump line. Those are things we've been working on," he said.
He should get past 15-20 runs
Bangar didn't see KL Rahul getting out early as a bigger concern. He felt that if the cricketer struggles to convert his starts, then it is a concern. At The Oval, he got a start in the second innings and went on to smack 149 runs proves that the 26-year-old has got the potential.
"If he gets past the 15 or 20 mark – even in the previous game he got out pretty early and even in this game he got to play a few balls but (didn't make it big) – if those dismissals happen after he crosses 20 or 25, then it is a more serious cause of concern. The second roadblock is he needs to get a start. If he falters, then it's a concern," India's batting coach added.
The 46-year-old, however, went on to say that such a lean patch more than often not creates a doubt in your mind and it is important for the team to stay with him.
"When such a (lean) patch comes, it's very important for the team and even from my point of view, to make sure that his mind is not clouded quite a lot. That can generally happen a lot at this level – when you start to doubt your own abilities and methods. To convince him that 'yes, your methods have been correct, maybe you can get away from your approach a bit or batting plan a bit'," Bangar concluded.
Keep following CricTracker for more news and updates.