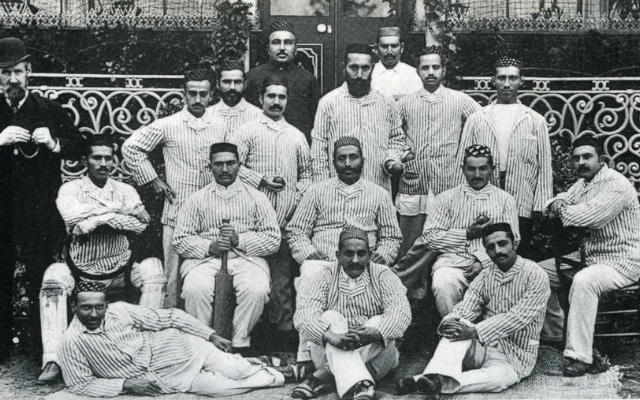 The Indian cricket team today boasts a massive fan following all across the globe. The nation is one of the powerhouses of world cricket. However, the beginning was not as glorious as India's current state in the cricketing fraternity.
Cricket was introduced to the Indian subcontinent by British sailors in the 18th century, and the first cricket club was established in 1792. With time, several cricket clubs sprung up in the country and began competing against each other while some Indian players even went on to play for England.
The Indian men's cricket team made its first-ever tour in 1911 captained by Bhupinder Singh of Patiala. However, they only played English county teams and not the England cricket team on the tour. Following that, India was invited to the International Cricket Council in 1926 and became the sixth team to be granted Test cricket status as they played their first-ever Test against England on June 25, 1932 at Lord's.
Team India Test History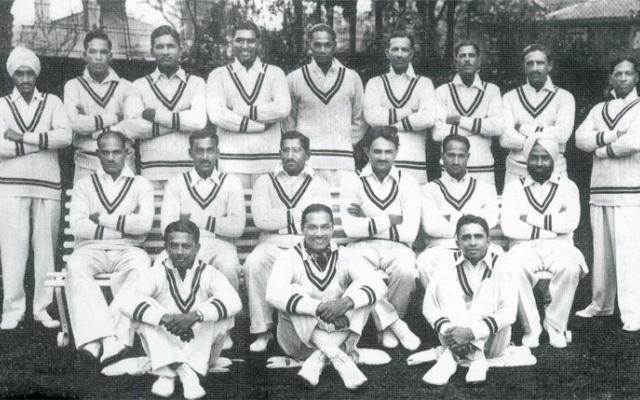 The first-ever captain of the Indian Test team was CK Nayudu who was considered as the greatest Indian batter during his playing days. After making their debut, India had to wait another 19 years to get the first win under their belt as they beat England in their 25th Test in Chennai in February 1952. The win also helped the side to draw its first-ever series.
On the other hand, the first series win came against Pakistan in 1952 at home while the first overseas Test series win came against New Zealand in February, 1968. Till the final of the World Test Championship 2023, India had played 570 Tests and won 172 out of those and lost 176 with one game ending in a tie while 221 ending as draw.
| | |
| --- | --- |
| First Wicket | Mohammad Nissar |
| First Five-wicket haul | Mohammad Nissar (5/93) vs England, 1932 |
| First Hundred | Lala Amarnath, 118 vs England in December 1933 |
| First Double Hundred | Polly Umrigar (223) vs New Zealand at Hyderabad in 1955-56 |
| First Triple Hundred | Virender Sehwag (309) vs Pakistan |
| First Hat-trick | Harbhajan Singh vs Australia, 2001, Kolkata |
Team India ODI History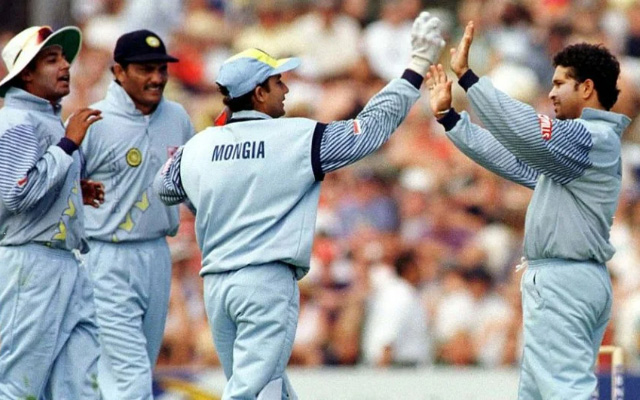 India made their ODI debut on July 13, 1974 as the Ajit Wadekar-led side took on England in a two-match ODI series. Their first ODI victory came against Pakistan at their home on October 01, 1978. They further clinched their first-ever ODI series by beating England by 2-1 on January 27, 1982.
India's biggest achievement in ODI cricket came a year later when they won their first-ever ODI World Cup in 1983 led by Kapil Dev. The second major trophy was added to the cabinet when they won the first-ever edition of the Asia Cup in 1984. Another chapter of Indian cricket history was written when they won the World Championship of Cricket in 1985 under the leadership of Sunil Gavaskar. Three more Asia Cup titles (1988, 1991, 1995) were won before the end of the 20th century.
The 21st century brought with it more glory with the Men in Blue winning the ICC Champions Trophy twice (2002 and 2013) and their second ODI World Cup in 2011. On the other hand, two more Asia Cup titles (2010 and 2018) were also added to the Trophy cabinet. In the 52-year-long history of the ODIs, the Men in Blue rank on the second spot in terms of most matches won having 539 wins under their belt from 1029 matches (till July 12, 2023).
| | |
| --- | --- |
| First POM | Mohinder Amarnath vs Pakistan, October 01, 1978 |
| First Wicket | Eknath Solkar (Dennis Amiss) |
| First fifty | Ajit Wadekar |
| First Five wicket haul | Kapil Dev (5/43) vs Australia, 1983 WC |
| First Hundred | Kapil Dev – 175* (138) vs Zimbabwe, 1983 WC |
| First hat-trick | Chetan Sharma vs New Zealand in 1987 |
| First Double Hundred | Sachin Tendulkar vs South Africa, 2010 |
Team India T20I History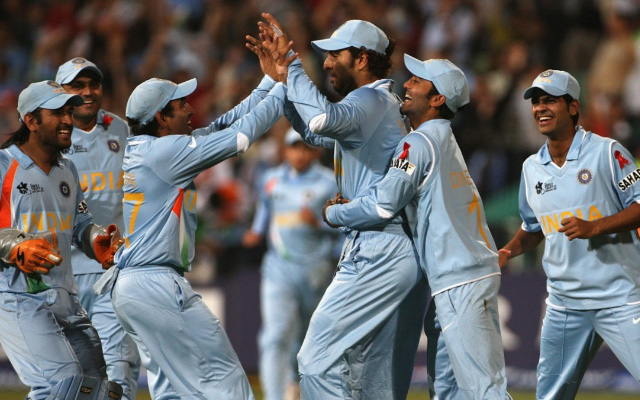 India played their first-ever T20I against South Africa on December 01, 2006 in Johannesburg and started the journey on a winning note by beating the Proteas by six wickets under the leadership of Virender Sehwag. Having played just one T20I, India straight away competed in the inaugural T20 World Cup in 2007 and were crowned the first "World Champions" of the newest format under the leadership of MS Dhoni.
Following that, they finished as the runner-up in the 2014 edition and also went on to win the first-ever Asia Cup contested in the T20 format in 2016. Notably, India are the second most successful team in T20Is (in terms of matches won) with 127 wins to their name from 199 matches (till July 12, 2023) and have the best win/loss ratio among the top ten teams.
First POM
Dinesh Karthik 31* (28) vs South Africa, 1st

December 2006

First Wicket
Zaheer Khan (Loots Bosman)
First fifty
Robin Uthappa (50 off 39) vs Pakistan, T20 WC 2007
First Fifer
Yuzvendra Chahal (6/25) vs England, 2017
First Hundred
Suresh Raina (101 off 60) vs South Africa, T20 WC 2010
First Hat-trick
Deepak Chahar vs Bangladesh, November 10, 2019
The powerhouse that the Indian cricket team is today in world cricket, several more successful years are waiting for the Asian Giants ahead. The Men-in-Blue are eager to end their ten-year-long drought of an ICC trophy to once again stamp their authority on the cricketing world.
Top Achievements of the Indian Cricket Team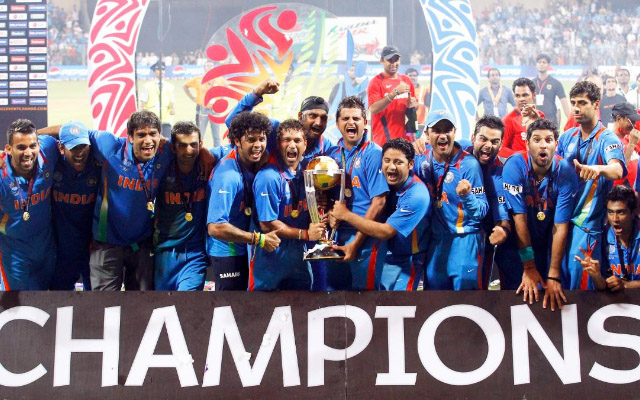 | | | |
| --- | --- | --- |
| Trophy | Year | Captain |
| First Test series win in NZ | 1968 (3-1) | Mansur Ali Khan Pataudi |
| First Test series win in West Indies | 1971 (1-0) | Ajit Wadekar |
| First Test series win in ENG | 1971 (1-0) | Ajit Wadekar |
| ODI World Cup | 1983 | Kapil Dev |
| Asia Cup | 1984 | Sunil Gavaskar |
| World Championship of Cricket | 1985 | Sunil Gavaskar |
| Asia Cup | 1988 | Dilip Vengsarkar |
| Asia Cup | 1991 | Mohammad Azharuddin |
| First Test series win in Sri Lanka | 1993 (1-0) | Mohammad Azharuddin |
| Asia Cup | 1995 | Mohammad Azharuddin |
| Champions Trophy | 2002 (co-champions) | Sourav Ganguly |
| Natwest Series | 2002 | Sourav Ganguly |
| First Test series win in Pakistan | 2004 | Sourav Ganguly |
| T20 World Cup | 2007 | MS Dhoni |
| CB Series (IND vs SL vs AUS) | 2008 | MS Dhoni |
| Asia Cup | 2010 | MS Dhoni |
| Test Mace | 2010, 2011 | MS Dhoni |
| ODI World Cup | 2011 | MS Dhoni |
| Champions Trophy | 2013 | MS Dhoni |
| Asia Cup | 2016 | MS Dhoni |
| Test Mace | 2017, 2018, 2019 | Virat Kohli |
| First Test series win in Australia | 2018-19 | Virat Kohli |