Indian cricketer Virag Mare breaks Guinness world record
Updated - Dec 25, 2015 3:58 pm
74 Views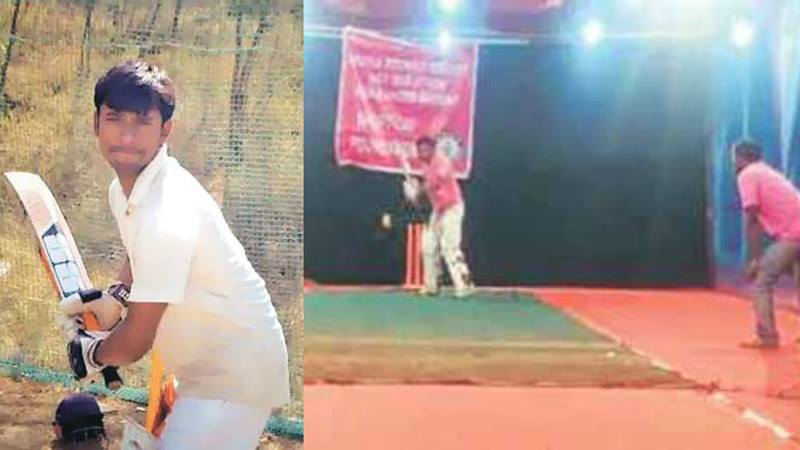 The pool of talent in cricket in the young generation, especially in India, is very high. It's just skills and exceptional talent that selectors eye on while selecting the teams. Latur's Virag Mare was one such exception who wanted to make it big in cricket and aimed big. He achieved the unthinkable when he took a two-hour in breaking the Guinness World Record for the longest net session previously held by English duo, Dave Newman and Richard Wells who had previously set the benchmark at a straight 48 hours of net practice.
His journey involved a lot of struggle and fight to become big. To try out his luck he had also met the one of the greatest coaches in India Ramakant Achrekar in Mumbai back in 2008. He did get the opportunity to train in Achrekar's academy, but he had to quit the coaching due to financial constraints.
He shifted to Pune to pursue higher studies and started a vada pav stall to fund his studies and with all these difficulties surrounding him, his passion for the game never died out.
In 2013, when Mare heard of the record set by a 22-year old British graduate at the Oval Cricket Ground when he set the record at 26-hours breaking the previous record of an Australian, Mare dreamt of breaking this record and started his preparations for it.
"I used to practice at SP College ground for hours. Sometimes, people who came for morning walks found me practicing even in the evening. Many tried to stop me, suggesting that spending too much time on the ground would negatively affect my stamina. I used to practice at home with a hanging ball," said the 24-year-old in an interview.
But when he thought that he was ready to break the record, the English duo of Richard Wells and Dave Newman, both from Sleaford in Lincolnshire of UK set the record at 48 hours and two seconds playing straight from January 30th to February 1st. After hearing this, his disappointment was overcome by his determination to get this record to his name and his practice sessions became more intense.
The Guinness rules for the record were as follows:
During the record attempt, the cricketer would face actual bowlers as well as the bowling machine. As per Guinness rules, the bowling has to be at a consistent rate.
After each successful hour, the player can take a break of five minutes to re-energize. The breaks can also be accumulated and used once.
Playing at the Mahalaxmi Lawns in Karve Nagar, Mare started playing at 9.30 am on December 22. To achieve the record, he was supposed to bat a little beyond 9.30 am on December 24. However, Mare went ahead and batted for 50 hours thus completing his long lasting wish of establishing his name in the cricket fraternity. "I don't have words to express my emotions. The reason why I am able to talk merely 2-3 hours after I broke the record because I love this game. I had worked really hard to fulfill this dream," he said. There was a point after 27 hours, when Mare felt weak and thought of giving up the idea, however, when he saw his father who had come from Latur to support him, he felt motivated. Mare completed the record at 11.30 am, finishing 50 hours, five minutes and 51 seconds, facing 2,447 overs, i.e. 14,682 balls. "We had thought of crossing the 15,000 balls mark. But he was already very tired. It would've been wrong to stretch him beyond his limit," said Ramdas Potale, his friend, and organizer of the event.
Mare batted for five hours straight before taking a break of 25 minutes. No Guinness official was present during the record attempt as the fee for an official witness was $500 and he didn't have the funds for it. He has video graphed the entire attempt and has now sent it to the official Guinness World Records headquarters in London. It will take another 2-3 months for the record to be validated, but his will and perseverance towards his passion towards cricket has not only made his country proud but also has raised the bars in the evolving skills in the cricketing arena.