Indian fans criticize Mitchell Johnson for mocking Virat Kohli; the pacer reacts
Mitchell Johnson is not going to keep calm.
Updated - Mar 7, 2020 2:48 pm
4.8K Views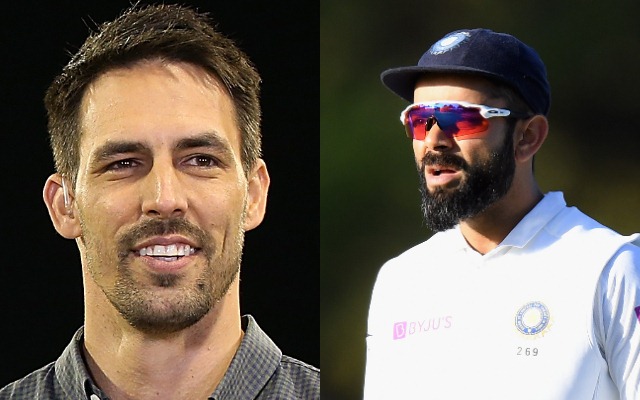 Mitchell Johnson, being the animated character that he really is, has often sledged or trolled several cricketers during his playing days. As if that's not enough, he continued with his antics on social media platforms nowadays. Recently, he mocked Indian captain Virat Kohli's statement during the passage of play at Christchurch against New Zealand.
When Team India was at the cusp of a 0-2 whitewash at the hands of New Zealand, it was when Virat Kohli mentioned about seeking revenge for the ignominy against New Zealand, when they will tour India in his mother tongue. Virat Kohli was heard saying: "I will teach these guys a lesson when they will tour India."
The bold and courageous statement was clearly heard through one of the stump mics placed at the pitch. Kohli's statement might have made Indian fans happy but it left Mitchell Johnson in stitches. "This made me laugh," Mitchell posted this caption on Instagram, with one of the articles on Virat Kohli regarding his statement. Soon after that, Indian fans targetted Mitchell Johnson on social media.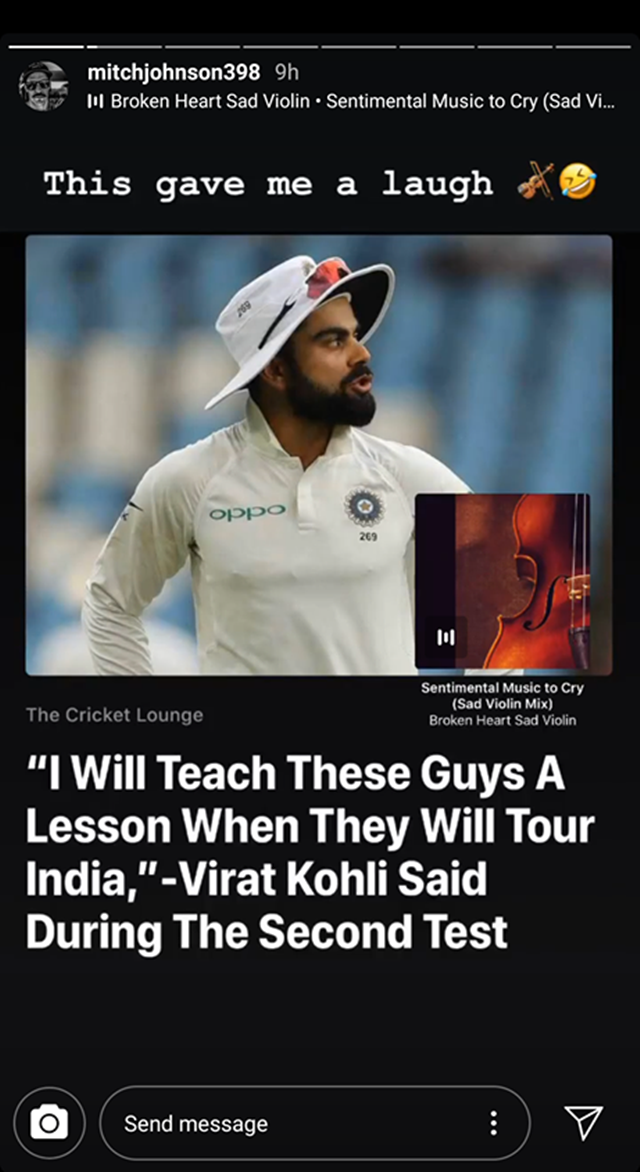 Mitchell Johnson reacts on Instagram
After coming across all the hateful messages and replies, the former Australia paceman took to his official Instagram handle to post a message to the Indian fans. "I've been hearing lately from some people to "stay in your limit" well no thanks. If I "stayed in my limits" I would never have played for Australia, I wouldn't be the person I am today. I'll continue to challenge myself and grow thanks," an excerpt from Mitchell Johnson's Instagram post read.
Mitchell Johnson posted an inspiring quote that reads, "Either push your limits or suffocate in your comfort zone. Not why me, Say Try me."
Some years ago, there was an epic rivalry between India's Virat Kohli and Australia's Mitchell Johnson. Former Australia pace spearhead sledged Indian captain Virat Kohli on the field and the latter did the talking with the bat by scoring runs for the team. The rivalry got intense during India's tour of Australia in 2014 when Johnson stunned Kohli with a deadly first-ball bouncer that went on to hit the batsman's helmet at Adelaide Oval.
In the same Test match, Mitchell Johnson, on his follow-through, hit Virat Kohli on his arms while aiming at the stumps. Kohli who experienced pain after picking up a blow asked Johnson to try to hit the stump instead, from the next time onwards. Kohli, in his typical style, did the talking with the bat as he smashed back-to-back centuries in the same Test match