Indian fans flay ICC for 'trolling' Kohli over mic drop episode after India's loss
Kohli had mocked Root's bat-drop celebration after running him out in Edgbaston Test.
Updated - Aug 5, 2018 10:50 am
5.1K Views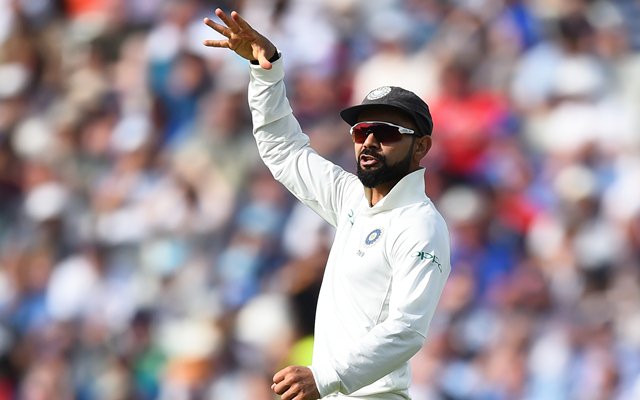 Follow us on Telegram
The first Test between India and England in Birmingham might be over but the mic-drop episode continued to feature in public discussion. None other than the International Cricket Council (ICC) came up with a post on the same after India lost the match by 31 runs despite being at an advantage.
The cricketing governing body posted a picture of the two captains – India's Virat Kohli and England's Joe Root – with a dropping microphone below, seeming to be from the latter's hand. The caption "Root out" came up with a fisted hand sign and a microphone.
The mic-drop episode continued into Day 1 of the first Test after Kohli run Root out with a brilliant direct throw and made the gesture of dropping a mic as the England skipper departed. Root had made the same gesture at the end of the ODI series last month that England won after trailing 0-1, thanks to the batsman's back-to-back centuries, by dropping his bat like a mic. Kohli's act in Birmingham was a payback of sort although English opener Keaton Jennings felt it was "cool".
Root out

👊
🎤#ENGvIND pic.twitter.com/ftm9vgHnsD

— ICC (@ICC) August 4, 2018
Angry Indian fans
But the Indian fans did not find the ICC's act cool enough. Some of them came up with serious objections, calling the act as "foolish" and even likened it with something that "trollers" and "stupid fans" do.
One of the users even used a flurry of negative adjectives against the ICC as "cheap, mean, despicable, immoral, unscrupulous, unsavoury, distasteful, disgusting."
Kohli was seen to be talking to match referee Jeff Crowe ahead of the play on Day 3 and speculation was rife that it could be something about the mic drop episode.
Root himself was not complaining against Kohli's reciprocation over it and rather felt things like those made Test cricket more attractive.
"I actually think it adds to the whole spectacle of Test cricket, it gives a bit of humour to it, and it makes for a very entertaining series for something like that to happen so early on, so we'll see how things pan out over the course of the five test matches," Root told Sky Sports on Thursday
Kohli was in the limelight for the most part of the first Test. After the mic drop incident following the runout, he belted 149 in India's first innings and followed it up with a 51 in the second. Although all his efforts went to vain as India eventually fell 31 runs short of the target and allowed England to go one up in the five-match series.
The second Test begins at Lord's on August 9.
Here are some of the trolls:
@ICC we donot lost the series we lost a match and i believed in my team we will come back hard

— Virat Kohli die hard fan (@ViratKo41183179) August 4, 2018
@Twitter @TwitterIndia @TwitterSafety @TwitterSupport this is a troll account. This doesn't represent International Cricket.

— kak (@kakiswak) August 4, 2018
'Raj' long gone, but, despite being an intl body, u still hv tt mindset..
Reconcile sooner o/w handlers f this accnt may need to go to mental asylum.. #INDvENG #ENGvIND #ViratKohli #Root

— Ajay Kumar (@CaptAKJ) August 5, 2018
Hey 'Inglish' Cricket Council , are you ECBs proxy ? Manohar to 'Pushover' Nikla.. Picture to abhi Baaki hai…

— harish (@ram_se_pyaar) August 5, 2018
I think that 🎙️Mic🎤 is Photoshoped !!!

— Sumit Dutta (@SDutta987654321) August 5, 2018
shame being a governing body, you must show maturity in your activity! lets see next match, you scratched Lion, sure will hear it roar 🙂

— Starpoints Hotel (@Starpointshotel) August 5, 2018
It's a just a first match.. don't wry icc.. soon england will be ROOT OUT in this test series and in the world cup as well which England is hosting.. but this was cheap troll frm u….

— $ubhashini $hreem (@subhashini_shri) August 4, 2018
In poor taste ……that too coming from ICC

— Sanjay Saxena (@sunjay_saxena) August 4, 2018
How can icc tweet that's kind, icc is international body, not for England as well root
Very disappointed with this tweet

— Paras Radadiya (@parasumpire28) August 4, 2018
Is it ICC or ECC( English Cricket Council)
Or Idiot Cricket Club!!😠

— 🇮🇳SoSaidRavi🇨🇦 (@jagindiajag) August 4, 2018
Are you ICC or anti Virat Kohli.
Put some respect or learn from other great organizations in the world like NBA, FIFA, MLB, NHL, Premier league and other organizations how to respect legends and best players in the game.

— venkat (@dheerajvarma2) August 4, 2018
@ICC I would call it a foolish post. BCCI didn't post anything stupid when India defeated England in T20.

Personally I would like to shove this mike in your ***.

We whitewashed you here in India and hopefully @imVkohli would be able to defeat you in remaining matches.

Cheers!

— Kumar Abhishek (@krabhishek1984) August 4, 2018
What a stupid tweet. You represent the world's highest governing body of cricket. Act like it, please.

— Aroudra Outtandy (@Aroudra) August 4, 2018
When International Cricket Council tweets like a Stupid Fan.. Raise your standards, please.

— Ranjith Kumar J (@RanjithJKumar) August 5, 2018
Really foolish from @ICC , not sure whether u are an administrator or a troller. Go get a life, to be fair u need to be smacked hard on the ass for this tweet

— LakshmiNath Yaswanth (@ilny0017) August 4, 2018
@icc is a shit

— Vivek Singh (@11d819a663af434) August 4, 2018
Keep following CricTracker for more news and updates
Follow us on Google News