Indian T20 League 2019: Match 7, Mumbai vs Bangalore – Dotball Fantasy Cricket Guide
There is no reason the game shouldn't be full of runs tomorrow night when Mumbai take on Bangalore.
Updated - Mar 27, 2019 11:29 pm
5.5K Views
Bangalore's season got off to a disastrous start as they surrendered meekly in Chennai, while Mumbai were stunned by a Rishabh Pant blitz at the Wankhede. Now as they clash at the Chinnaswamy, both teams seek a rebound in arguably the best venue in the league for batsmen.
Venue: Chinnaswamy Stadium, Bengaluru.
Conditions
Rarely does the Chinnaswamy pitch play truant and it is always a belter of a deck for the batsmen. There is no reason it shouldn't be full of runs tomorrow night, although it might be a tad slower than usual.
Injury updates:
Jasprit Bumrah is recovering from his injury and is not likely to feature. Crucially, with the World Cup in mind, he might undergo extended rehabilitation and rest, something you may want to note for Mumbai games. Incidentally, Lasith Malinga, who has been specially allowed by SLC to play the IPL, is likely to feature for Mumbai.
Head to Head: Last five matches – Bangalore 1 win | Mumbai 4 wins
Fantasy Tips
If you are looking for possible captain choices for a head to head contest, you could go with these 'Safe Captain Choices'
Quinton de Kock: An opener plus a wicketkeeper should always be an easy pick for a safe captain, but deKock, with the glimpses of his form he showed in the last game is doubly so.
AB de Villiers: He May have played a poor shot on a slow and turning pitch in Chennai, but if there is one truth in T20 it is that one cannot keep ABD down for too long, especially if the South African is batting in Bengaluru.
Yuvraj Singh: Chris Gayle is not the only one who is partying like it is 2009. Yuvraj Singh rolled the years back with a valiant effort for Mumbai in a stiff chase the last game, and once again a venue like Bengaluru is tailor made for a Yuvi special.
However if you are willing to take a bit more risk in a grand league contest, maybe consider these 'Risky Captain Choices'
Navdeep Saini: He was picked up by Bengaluru at the auction last year with the need of more spinning options in mind and he may be the key against Mumbai's heavy hitting batsmen.
Umesh Yadav: He is usually overlooked because he is expensive, but Umesh Yadav has 4 wickets at an economy of less than 8/over in the last two matches he has played against Mumbai and could be the surprise package in this match.
Mohammed Siraj: Mohammed Siraj is another bowler who flies under the radar but puts in tidy performances both in terms of economy and wickets which could make him the differential among squads.
Expert Advice
At Chinnaswamy, batters might rule the night, but it is often also an opportunity for risk-taking spinners and slower bowlers to rack up points despite leaking runs because of their wicket taking ability. Yazuvendra Chahal (figures of 1/6 in 4 overs in his last outing) is one such candidate you may want to keep an eye on.
The Prediction
Bengaluru's batting will need to recover fast to square up against Mumbai's hitting might, but this is possibly the best venue they could be chosen for that. With Bumrah out of action, Bengaluru are likely to nick a high scoring affair.

Likely XIs
Bangalore:
Wicket Keeper: Parthiv Patel
Batsmen: Virat Kohli (C), AB de Villiers, Shimron Hetmyer
All-Rounders: Moeen Ali, Shivam Dube, C de Grandhomme
Bowlers: Yuzvendra Chahal, Navdeep Saini, Mohammed Siraj, Umesh Yadav
Mumbai:
Wicket Keeper: Quinton de Kock
Batsmen: Rohit Sharma (C), Suryakumar Yadav, Yuvraj Singh, Kieron Pollard
All-Rounders: Hardik Pandya, Krunal Pandya, Ben Cutting
Bowlers: M McClenaghan, Mayank Markande, Jasprit Bumrah
Fantasy Team Preferred for Dotball Head or Tails/Small Contests:
WicketKeeper: Quinton de Kock (C)
Batsman: Rohit Sharma, AB de Villiers, Yuvraj Singh (VC)
All Rounders: Hardik Pandya, Moeen Ali
Bowlers: Yazuvendra Chahal, Mohammed Siraj, Lasith Malinga.
Fantasy team for Dotball Rumble/Big Contests: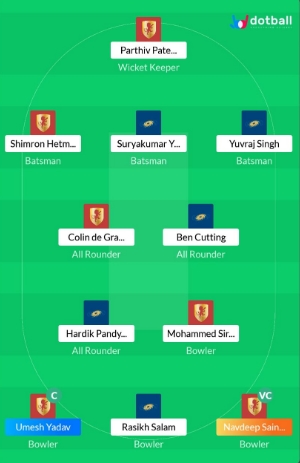 WicketKeeper: Parthiv Patel
Batsman: Shimron Hetmyer, Suryakumar Yadav, Yuvraj Singh
All Rounders: Colin deGrandehomme, Ben Cutting, Hardik Pandya
Bowlers: Umesh Yadav (C), Mohammed Shami, Rasikh Salam, Navdeep Saini (VC)
Play Dotball Fantasy for this T20 season and stand a chance to win big!