IPL 10: Jasprit Bumrah and Mitchell Johnson show mutual admiration after MI's Qualifier win
"I was very impressed with Bumrah at that age. I think he has come along a long way," Johnson quoted.
Updated - May 20, 2017 2:01 pm
2K Views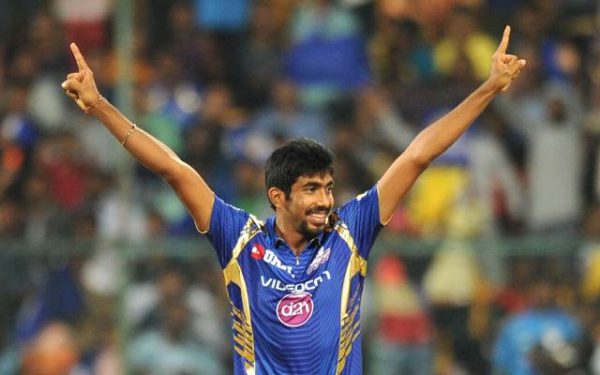 The Mumbai Indians have managed to reach the finals of the IPL 10 after an emphatic win over the Kolkata Knight Riders. Their bowling might clicked on the night of the Qualifier 2. Jasprit Bumrah and Mitchell Johnson bowled in tandem to wreak havoc with the new ball. After the game, the two pacers were seen having a healthy discussion. Johnson interviewed Bumrah for the IPLt20.com.
It was heartening to see the two pace bowlers exchanging pleasantries in the discussions. Jasprit Bumrah noted that it is an amazing feeling to see Mumbai Indians play the finals of the tournament yet again. He recalled that he was youngster when the team had last played the finals. Since then, he has evolved a lot and is a much-improved player now.
"It's always a good feeling after an amazing performance. It is the third time the Mumbai Indians is playing the final. To contribute today in this manner is a great feeling. Back in 2015, when Mumbai Indians last played the final, I was just a youngster coming out of U-19 cricket. To play with you people is always special, and to learn a lot as well. Therefore, I have learned a lot, and hopefully, with what I have learned, I will probably be able to use it in the final as well," said Jasprit Bumrah.
Mitchell Johnson asked him about how he managed to turn into a thinking bowler. Earlier, Bumrah was all about sheer pace and aggression. Replying to this, Jasprit Bumrah noted that the U19 days make the youngsters believe that bowling is all about coming up with rapid speeds.
"Usually, when you are coming out of U-19 cricket, you think you know you have pace. Therefore, you try to experiment it on bowlers, as if you hit the batsmen, they do not like it. Consequently, I thought I would try it on the bowlers, and it was a good day. Isn't it?" he noted.
Johnson impressed with Bumrah
Mitch Johnson also expressed his happiness over having played with Bumrah. He noted that he has been very impressive with the way Bumrah has come of ages in the last couple of years. Both bowlers are looking forward to the all important finals now.
"I was very impressed with Bumrah at that age. I think he has come along a long way. Highly impressed with his performance throughout this season. Also looking forward to playing a final with him. Just a game to go, and hopefully it is a win. I really love seeing him bowl," Johnson quoted.