IPL 2018: Here's what teams resort to bring good luck
The team will play their next game against the Rajasthan Royals (RR) in Indore.
Updated - May 6, 2018 3:06 pm
993 Views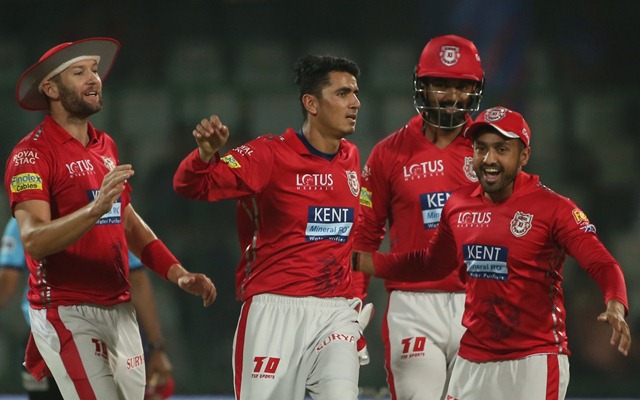 Follow us on Google News
The Indian Premier League (IPL) is a contest between bat and ball, where teams try and outclass each other with their cricketing abilities. Meanwhile, prayers and rituals are being conducted in order for the teams to ensure victory. However, any such activities conducted at the venue might turn out to be a major headache for the ground authorities.
Kings XI Punjab (KXIP), back in 2015, resorted to the antics outside the Maharashtra Cricket Association (MCA) Stadium in Pune. A bunch of Hindu priests, with religious markings on their foreheads, carried out a 'havan' outside the venue at the command of Preity Zinta, the co-owner of the franchise. Quite naturally, which irked the staff at the stadium.
The tactic by Punjab
Things went out of control when the priests ordered that those who had consumed meat or egg in the breakfast, shouldn't come to the place where the 'havan' is conducted. Ajay Shirke, an industrialist and a businessman, supported people's beliefs but also talked about the obstacles, which might be a detriment to a smooth conduct of the game.
"You may have your beliefs, but they should never inconvenience other people's work. We had to intervene that day since our work was held up for hours," Shirke, the then boss of the MCA mentioned. The sacred ritual didn't work for KXIP as they slumped to defeats in all three matches at the venue. Nevertheless, they were able to earn over INR 10 crores, which was greater than their earnings at the PCA Stadium in Mohali.
The franchise has done reasonably well in this season having won five out of their eight matches and are currently placed on the fourth position in the points table. KXIP will play their next game against the Rajasthan Royals (RR) at their new home venue in Indore.
Watch: Preity Zinta takes blessings at a temple in Indore
*_?जय गणेश?_*दिनाक 4-5-18 को पंजाब किंग की आनर प्रीती जिन्टा ने गुप चुप तरीके खजराना के दर्शन करके आशीर्वाद प्रप्त किया।वे सर पर चुन्नी ओड मुँह ढक कर खजराना पहुँची ??? *_पु. अशोक भट्ट खजराना_* *?_* https://m.facebook.com/ashokbhattonline/

Posted by Ashok Bhatt on Friday, May 4, 2018
[interaction id="5aeddaa469f1ea80ef6f5eb9″]
Follow us on Telegram