IPL 2018: Match 1, Mumbai Indians vs Chennai Super Kings – 10 best memes/gifs
These memes will make you go ROFL.
Updated - Apr 8, 2018 10:50 am
12K Views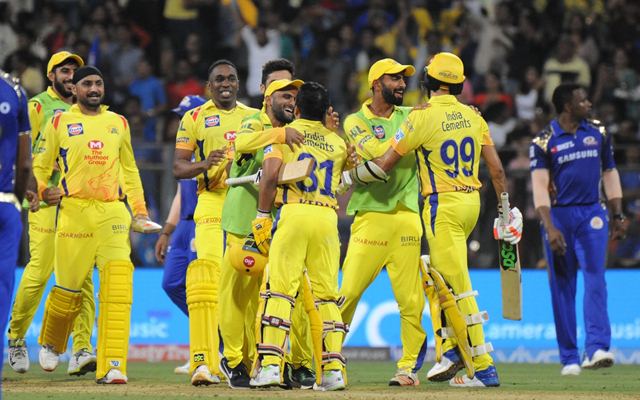 The fans who were anticipating the thrill of the IPL opener for days and weeks couldn't have asked for anything more last night as two of the fiercest IPL rivals, Chennai Super Kings and Mumbai Indians, put on a grand show at the Wankhede Stadium and took everyone though roller-coaster of emotions in a humdinger of a match.
The pendulum swung dramatically towards the end as the match which looked to be done and dusted and was in Mumbai's grab suddenly turned corners and went in the favour of CSK at the end, putting a lot of people in complete state of shock, thanks to an absolutely masterful piece of T20 batsmanship by Dwayne Bravo.
The twitter went absolutely mad dishing out lots of fun memes right through the course of the contest. While, initially the CSK fans got trolled for rating their team too highly ahead of the tournament when their middle order collapsed chasing a target of 165, the whole scenario changed within a matter of half an hour and at the end of the night, it's the MI fans who found themselves on the target of the trolls.
It would have been an incredibly tough pill to swallow for everyone supporting Mumbai as they wouldn't have foreseen this loss coming when they had dismissed 8 CSK batsmen with still a lot of runs in the bank. But the Champion Bravo had other ideas. The West Indian veteran didn't give up the hopes at any stage as he kept going and smashed everything which came his way, including 3 sixes off the 19th over bowled by Jasprit Bumrah, arguably the best T20 bowler in the world.
The frustration of the MI players in the dugout, the owners sitting on the side-lines and the fans in the stands was evident as they couldn't believe what just happened. Some of the memes on Twitter reflecting the emotions of the MI fans at the conclusion of the game were just hilarious to say the least.
Here are the 10 best memes/gifs of the game
How CSK fans thinks themselves vs Reality! ?#MIvCSK pic.twitter.com/47wZPnwwia

— IPL Trolls (@trolls_ipl) April 7, 2018
CSK fans watching the match.#MIvCSK pic.twitter.com/93umcFKW9A

— PhD in Bakchodi (@Atheist_Krishna) April 7, 2018
Mumbai indians right now.#IPL2018 #MIvCSK pic.twitter.com/M80bXUpMp3

— Aditii? (@Sassy_Soul_) April 7, 2018
That CSK return to IPL…#MIvCSK pic.twitter.com/244Fgcfhuh

— Vinayakk (@vinayakkm) April 7, 2018
#MIvCSK
MI fans
Pic1: Expectations
Pic2: Reality pic.twitter.com/xlHvbDtFci

— Rohit ForD? (@Next_Abraham) April 7, 2018
"We Prepared For MS Dhoni, DJ Bravo And Kedhar Jadhav Came Out Of Syllabus"- Rohit Sharma ??? #MIvCSK #MIvsCSK #IPL2018 pic.twitter.com/mgGdr5i7sf

— Sir Ravindra Jadeja (@SirrrJadeja) April 7, 2018
MI fans right now #MIvCSK pic.twitter.com/1t4QdiNNbq

— shobhit_99 (@shobhit_99) April 7, 2018
#MI fans
Pic 1: Before the match
Pic 2: After the match#MIvCSK pic.twitter.com/lbrXpw1kFi

— Mast Malang ^_^ (@sanket_daksha) April 7, 2018
MI fans condition now ??#CSKvsMI pic.twitter.com/8bzdWos8Xo

— மெய்யர் (@Meyyardoss) April 7, 2018
MI supporters to CSK Fans: pic.twitter.com/afik9llF5H

— अभी_shake (@aao_twist_kare) April 7, 2018