IPL 2018, Match 3: Kolkata Knight Riders vs Royal Challengers Bangalore – 10 best memes/gifs
When Twitter decided to take humor to the next level when RCB played KKR at the Eden Gardens.
Updated - Apr 9, 2018 10:24 am
5.2K Views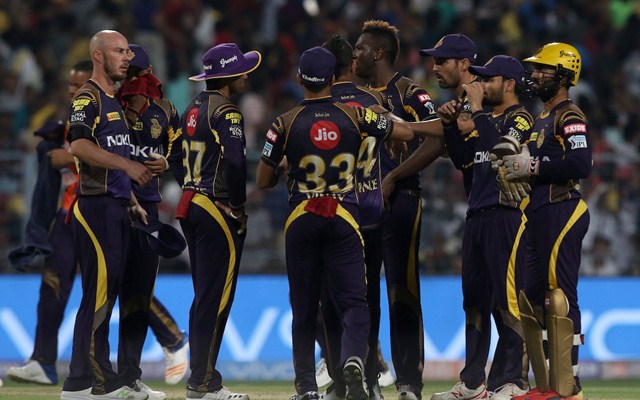 The Match 3 of IPL 11 which was played between the Kolkata Knight Riders and the Royal Challengers Bangalore at the Eden Gardens last night was nothing short of drama and thrill as the hosts eventually managed to clinch it by 4 wickets to add the first 2 points to their tally under the new skipper Dinesh Karthik.
While numbers-wise, Sunil Narine made a significant contribution for KKR with both bat and ball by first bowling a fairly economical spell before slamming a 17-ball 50 opening the batting, it was actually Nitish Rana's 1-over which proved to be the most crucial in the context of the game as the part-time off-spinner removed two of the tournament's biggest superstars AB de Villiers and Virat Kohli on consecutive deliveries, shocking everyone watching the game.
Both de Villiers and Kohli were looking good at that time, de Villiers, in particular, was going great guns and was smashing everything out of the park before he mistimed one off Rana and got caught at midwicket and on the very next ball, Kohli yorked himself. It was a huge gamble played by the KKR skipper Dinesh Karthik which might have lost KKR the game, had it gone wrong, but luckily it paid off and there were memes all around twitter trolling both Rana and Karthik for that fluke over.
However, the hilarious memes came out when RCB lost the game. It just seemed to be an extension of the horror run that Virat Kohli's boys had in the past as they suffered yet another loss with their bowlers failing yet again. It was sort of a Déjà vu and the Twitterati were having a chuckle anticipating the reaction of the RCB fans at the conclusion of the match. There was a meme suggesting RCB should actually show its palms to an astrologer and ask him if there is a "victory line" in it somewhere.
Here are the 10 best memes/gifs from the game-
KKR fans to Nitish Rana right now#KKRvRCB pic.twitter.com/3fJuzUw49C

— ANSHUMAN? (@RohitsAvenger) April 8, 2018
Pic 1 : How everyone saw Nitish Rana yesterday
Pic 2 : How RCB saw him #IPL2018 #KKRvRCB pic.twitter.com/55IRTtB14x

— Gangadhar Shastri (@PtGangadhar) April 9, 2018
WTF? WTF really? Ab de Villiers. Nitish Rana? pic.twitter.com/d6YJq5S98Y

— Nikhil ? (@CricCrazyNIKS) April 8, 2018
When DK realises he brought Nitesh Rana too late for dismissing ABD and Kohli #KKRvRCB pic.twitter.com/arFB6vgGCW

— Tweetilicious (@tweetilishius) April 8, 2018
RCB supporters #KKRvRCB pic.twitter.com/Wf8HwRR4Rd

— Maithun (@Being_Humor) April 8, 2018
Meanwhile RCB???#KKRvRCB pic.twitter.com/KO1pKjCH3n

— SHAH RUKH KHAN ᶻᵉʳᵒ ᴮᵃᵘᵃᵃ (@IamSRKsFanBoy) April 8, 2018
This duo ??? #KKRvRCB pic.twitter.com/L8A7nDU02P

— Freelance 007 (@James_Beyond) April 8, 2018
virat koli when someone says "aaj RCB jeetegi"#KKRvRCB pic.twitter.com/QWhp5FVSYl

— ㅤ ㅤ ㅤ ㅤ ㅤ ㅤ ㅤ ㅤㅤ ㅤ ㅤ ㅤ (@firkiii) April 8, 2018
" RCB fans to RCB team" #RCBvsKKR pic.twitter.com/7vWgZoKLCJ

— ANSHUMAN? (@RohitsAvenger) April 8, 2018
RCB fans after every defeat ????? #ipl2018 #RCB pic.twitter.com/L7YoATFX5V

— Mask ishan (@Mr_LoLwa) April 8, 2018
[interaction id="5aca2dc20b450df577763135″]
Stay updated on 'today's cricket news' with CricTracker.com.