IPL 2018: It is not a great thing sitting out on the bench, says MI veteran
"IPL is not the end of everything," he noted.
Updated - May 16, 2018 12:53 am
1K Views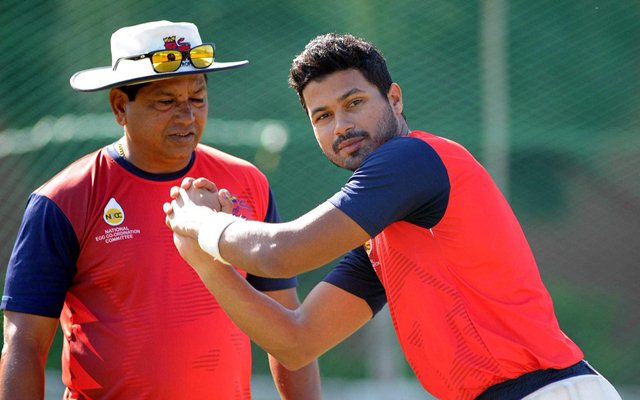 Follow us on Google News
The Mumbai Indians are pretty much down and out in the ongoing edition of the tournament. But the defending champions are not giving up just yet. They are keen to perform well in their final two games of the season. Recently, one of their veteran players, Aditya Tare, spoke at length about his game plans and the plans of his side in the competition this Tare.
Aditya Tare, who has also played for Delhi Daredevils and the Sunrisers Hyderabad in the IPL over the years, was once an integral part of the MI starting eleven. This season, he has not got a single game to play. The only time he took the field was when Ishan Kishan had hurt his eye in a fixture earlier this season. However, there are no hard feelings for Ishan from Tare's end. In fact, Tare hailed Ishan as an enormously talented cricketer.
"He is pretty young. 19-20 years old and the talent that he has is enormous. That's the reason Mumbai Indians have backed him as the first choice. It is the start in his career, so it is a great opportunity for him playing for MI. A couple of games back he won a game for us, so it shows the amount of ability he has with the bat. This experience of playing all the games for a franchise like MI is going to help him going forward in his career," Aditya Tare quoted.
On MI's chances
When asked to comment on how the Mumbai Indians are planning to take their final two games of the season, Aditya Tare remarked that they will try to give their best shot and let destiny decide their fate in the competition this year.
"It is an important stage for us, we know that if we win (the next) two games, we will make it (to the play-offs). We have been in this situation before (in 2014). We are just positive and we want to be fearless, that's what the thinking is," noted the veteran cricketer.
On warming the bench
Lastly, he spoke in detail about how it feels to warm the bench for almost the entire season. Aditya Tare rightly cited that the IPL is not the be all and end all of things in life and cricket. He showed optimism by saying that the things could certainly change at any moment of time. He could get his chance and he needs to be ready to take it with both hands.
Furthermore, he thanked the Mumbai Indians for having played a major role in shaping his cricket career. Tare also cited that there are other positives in his life to keep him going, like being the captain of Mumbai in the First Class cricket.
"It is not a great thing sitting out on the bench. This is my ninth season in the IPL and I have sat a lot of games on the bench, so by now I know how to deal with it," Tare said before adding, "IPL is not the end of everything. I am still a first class captain and have got lot of positive things to look forward to. Even if I am sitting out now, you never know how things can change and next season I will be a very important player, so that is the thinking I have. It's not the end of my career (or) end of life if I am sitting out for the entire season."
"I feel fortunate that I am back with MI, a franchise which has helped me in my career. I have spent six seasons growing up and the way (my) career got groomed, MI (has) played a massive role in it," he added further.
For the latest cricket news, follow CricTracker.
Follow us on Telegram