IPL 2018: Twitter shell-shocked by AB de Villiers' stunner
Only Superman de Villiers could've prevented the leather from sailing into the stands.
Updated - May 18, 2018 10:22 am
5.7K Views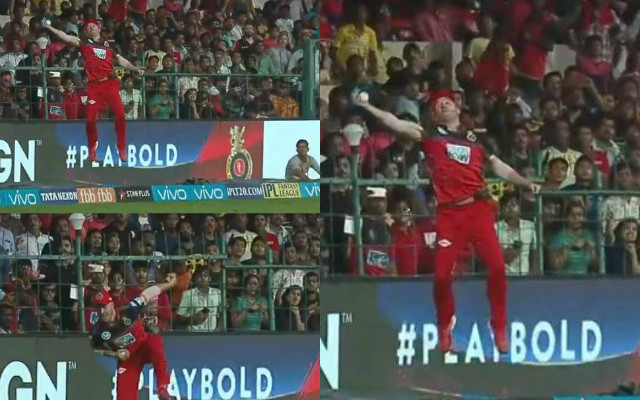 The eleventh edition of the Indian Premier League (IPL) has been a witness to some jaw-dropping pieces of fielding in the outfield. The likes of Trent Boult and Sanju Samson pulled off some blinders, which left everyone in utter shock. The tournament is inching towards the playoffs and the intensity is escalating with every passing match.
The Royal Challengers Bangalore (RCB) weren't in the greatest of positions prior to their match versus the Sunrisers Hyderabad (SRH). The franchise was desperate to turn over the table-toppers, which didn't seem to be a cakewalk by any stretch of the imagination. Virat Kohli lost the toss and the RCB batsmen didn't get the privilege of chasing on what seemed to be a bowler's graveyard.
Right from the outset, they threw the kitchen sink at everything and outdrew anyone and everyone who stumbled onto their path. They scored a colossal 218 runs, which seemed like a bridge too far for an SRH team who doesn't possess the firepower as that of the home team. However, the Orange Army looked determined to trace down the gigantic score by Virat's men who were oozing confidence.
The sheer brilliance by de Villiers
Alex Hales and Shikhar Dhawan opened the batting and the duo took the bowling by the scruff of their necks. Yuzvendra Chahal struck first blood as Hales was bamboozled by the tweaker's trajectory. Hales, at the other hand, went on his own merry way and smacked the leather with ferocity. However, his knock was cut short by a superhuman act by AB de Villiers.
Moeen Ali dished out a harmless delivery and the Englishman flung with willow with all his might. The ball didn't quite find the middle of the bat but headed for one direction- over the boundary hoardings at the mid-wicket region. Nevertheless, de Villiers had other ideas in mind. From the blues, he leapt full length up in the air and plucked the ball out of thin air.
The stunner defied the laws of physics and only Superman de Villiers could've prevented the leather from sailing into the stands. Even Kohli couldn't believe the miraculous catch which was pouched by the South African cricketer. Quite expectantly, Twitter couldn't hold themselves back and hailed the herculean effort by the Proteas superstar.
Here are the fans' reactions
Saw #SpiderMan Live today! ?@abdevilliers17#RCBvsSRH #IPL2018 pic.twitter.com/mUuGVKuTn4

— Virat Kohli (@imVkohli) May 17, 2018
This is unreal Super de Villiers! ? pic.twitter.com/uOk7yQakxc

— R P Singh (@rpsingh) May 17, 2018
Spent ten minutes thinking of a tweet for that AB catch. Couldn't think of anything to match that effort .. In the words of every fan – Kya bandaaaaaa hai yaaar! Absolutely Boombastic DeVilliers ! Freak & genius go together for him #RCBvSRH

— Jatin Sapru (@jatinsapru) May 17, 2018
Whatttaaaa catch, That to me was THE CATCH of this #IPL2018 and that too… by a mile….#ABD #RCBvSRH #Mr360

— subramani badrinath (@s_badrinath) May 17, 2018
Just seen the replay of that catch; What the Duck was that @vikramsathaye @ABdeVilliers17

— Jonty Rhodes (@JontyRhodes8) May 17, 2018
If any one asks why we call ABD a superman just show them this catch of hales… #ABD #SRHvsRCB #IPL11

— Irfan Pathan (@IrfanPathan) May 17, 2018
this is one of the best catch which i have seen in my cricket life of 42 years

— Chandrashekar (@jmcshekar21) May 17, 2018
If #ChrisGayle is #universeboss then @ABdeVilliers17 comes from other universe….What a catch??What an innings today??…#RCB can still make it in top 4

— Sahil Bhole (@SahilBhole2) May 17, 2018
This has to be krish,even spider man cannot jump this high without his spider web.

— Rajnish Dwivedy (@rajnishdwivedy) May 17, 2018
Actually that was not easy catch which @ABdeVilliers17 had taken. really he is a good sportsman and my respect is crossing the all limits for him. keep catching like that #Mr360° He hit only one six but hit that out of the ground. @imVkohli @MoeenAli @RCBTweets #RCBvSRH #IPL2018

— Ankush Kumar Jha (@Ankushjha99) May 17, 2018
Incredible. But then it's @ABdeVilliers17 https://t.co/J24s2ekrdM

— Kumar Sangakkara (@KumarSanga2) May 18, 2018
Ridiculous behaviour!!!

— Brendon McCullum (@Bazmccullum) May 17, 2018
Great pic! Incredible abbas https://t.co/s3N8MKhqjp

— Graeme Smith (@GraemeSmith49) May 17, 2018
Personal Fielding coach of #ABD . MIND IT #RCBvSRH pic.twitter.com/wzgqhbSDUJ

— Gurmeet Chadha (@connectgurmeet) May 17, 2018
The kid to the left of ABD might just have taken the best video clip/pic of his life ??

— Ranganath Prabhakar (@commonmanithan) May 17, 2018
If there is someone who can challenge the Newton's law of Gravity it is @ABdeVilliers17 . Scintillating catch by MR.360 @RCBTweets @IPL_Tweets@IPL @ipl#IPL #RCBvSRH #ABD https://t.co/sbmqfoa5TC pic.twitter.com/lMaK5sJRsX

— Adnan Husain (@adnan_ranger15) May 17, 2018
Told you, ABD is a Superman. He can fly.@ABdeVilliers17 can do anything and everything. pic.twitter.com/3fHYDMx62f

— Archit Kapoor (@HereIs_Archit) May 17, 2018
Breaking News – Superman spotted in Bengaluru at the Chinnaswamy Stadium… @ABdeVilliers17 @RCBTweets pic.twitter.com/nE74YliYgf

— Deepak Gowda (@DeepakCG) May 17, 2018
#Emotions ?❣❤ #RCB@imVkohli @ABdeVilliers17 ❤? pic.twitter.com/ruMZoexLKA

— Ayan ❤ (@Ayan111213) May 17, 2018
The man who never failed to entertain, The man who can turn a six into a wicket and There is nothing that this guy can't do on the cricket field and the name is AB De Villiers. pic.twitter.com/i91QwEhdJK

— रजत बघेल (@RajatBaghel) May 17, 2018
Stay updated on 'today's cricket news' with CricTracker.com.