IPL 2019: BCCI announces Schedule and Fixtures, all league matches to be hosted in India
The tournament begins on March 23 and the final league game will be played on May 5.
Updated - Mar 19, 2019 4:11 pm
13.8K Views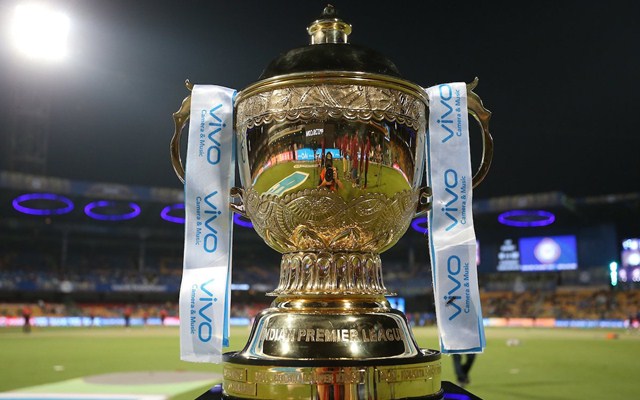 Follow us on Google News
The Board of Control for Cricket in India (BCCI) today (March 19) announced the schedule for all the league matches of Indian Premier League (IPL) season 12. Defending champions Chennai Super Kings will host Royal Challengers Bangalore in the IPL 2019 season opener on March 23 at the MA Chidambaram Stadium in Chennai. As per the update, all the matches in the league phase of the tournament will be played in India.
The league matches conclude on May 5 and the BCCI is expected to announce the schedule for the playoffs in the coming days. Earlier the board was waiting for the dates of the Indian general elections, ever since the Election Commission declared the dates, it was up to the board to finalize the fixtures based on the same. They've stuck to the initial plan of hosting all the matches in the country and have worked out the schedule accordingly as well.
IPL 2019 – Full schedule:
Saturday, March 23: Chennai Super Kings vs Royal Challengers Bangalore at 8 pm IST in Chennai
---
Sunday, March 24:
Kolkata Knight Riders vs Sunrisers Hyderabad at 4 pm IST in Kolkata
Mumbai Indians vs Delhi Capitals at 8 pm IST in Delhi
---
Monday, March 25:
Rajasthan Royals vs Kings XI Punjab at 8 pm IST in Jaipur
---
Tuesday, March 26:
Delhi Capitals vs Chennai Super Kings at 8 pm IST in Delhi
---
Wednesday, March 27:
Kolkata Knight Riders vs Kings XI Punjab at 8 pm IST in Kolkata
---
Thursday, March 28:
Royal Challengers Bangalore vs Mumbai Indians at 8 pm IST in Bengaluru
---
Friday, March 29:
Sunrisers Hyderabad vs Rajasthan Royals at 8 pm IST in Hyderabad
---
Saturday, March 30:
Kings XI Punjab vs Mumbai Indians at 4 pm IST in Mohali
Delhi Capitals vs Kolkata Knight Riders at 8 pm IST in Delhi
---
Sunday, March 31:
Sunrisers Hyderabad vs Royal Challengers Bangalore at 4 pm IST in Hyderabad
Chennai Super Kings vs Rajasthan Royals at 8 pm IST in Chennai
---
Monday, April 1:
Kings XI Punjab vs Delhi Capitals at 8 pm IST in Mohali
---
Tuesday, April 2:
Rajasthan Royals vs Royal Challengers Bangalore at 8 pm IST in Jaipur
---
Wednesday, April 3:
Mumbai Indians vs Chennai Super Kings at 8 pm IST in Mumbai
---
Thursday, April 4:
Delhi Capitals vs Sunrisers Hyderabad at 8 pm IST in Delhi
---
Friday, April 5:
Royal Challengers Bangalore vs Kolkata Knight Riders at 8 pm IST in Bengaluru
---
Saturday, April 6:
Chennai Super Kings vs Kings XI Punjab at 4 pm IST in Chennai
Sunrisers Hyderabad vs Mumbai Indians at 8 pm IST in Hyderabad
---
Sunday, April 7:
Royal Challengers Bangalore vs Delhi Capitals at 4 pm IST in Bangalore
Rajasthan Royals vs Kolkata Knight Riders at 8 pm IST in Jaipur
---
Monday, April 8:
Kings XI Punjab vs Sunrisers Hyderabad at 8 pm IST in Mohali
---
Tuesday, April 9:
Chennai Super Kings vs Kolkata Knight Riders at 8 pm IST in Chennai
---
Wednesday, April 10:
Mumbai Indians vs Kings XI Punjab at 8 pm IST in Mumbai
---
Thursday, April 11:
Rajasthan Royals vs Chennai Super Kings at 8 pm IST in Jaipur
---
Friday, April 12:
Kolkata Knight Riders vs Delhi Capitals at 8 pm IST in Kolkata
---
Saturday, April 13:
Mumbai Indians vs Rajasthan Royals at 4 pm IST in Mumbai
Kings XI Punjab vs Royal Challengers Bangalore at 8 pm IST in Mohali
---
Sunday, April 14:
Kolkata Knight Riders vs Chennai Super Kings at 4 pm IST in Kolkata
Sunrisers Hyderabad vs Delhi Capitals at 8 pm IST in Hyderabad
---
Monday, April 15:
Mumbai Indians vs Royal Challengers Bangalore at 8 pm IST in Mumbai
---
Tuesday, April 16:
Kings XI Punjab vs Rajasthan Royals at 8 pm IST in Mohali
---
Wednesday, April 17:
Sunrisers Hyderabad vs Chennai Super Kings at 8 pm IST in Hyderabad
---
Thursday, April 18:
Delhi Capitals vs Mumbai Indians at 8 pm IST in Delhi
---
Friday, April 19:
Kolkata Knight Riders vs Royal Challengers Bangalore at 8 pm IST in Kolkata
---
Saturday, April 20:
Rajasthan Royals vs Mumbai Indians at 4 pm IST in Jaipur
Delhi Capitals vs Kings XI Punjab at 8 pm IST in Delhi
---
Sunday, April 21:
Sunrisers Hyderabad vs Kolkata Knight Riders at 4 pm IST in Hyderabad
Royal Challengers Bangalore vs Chennai Super Kings at 8 pm IST in Bangalore
---
Monday, April 22:
Rajasthan Royals vs Delhi Capitals at 8 pm IST in Jaipur
---
Tuesday, April 23:
Chennai Super Kings vs Sunrisers Hyderabad at 8 pm IST in Chennai
---
Wednesday, April 24:
Royal Challengers Bangalore vs Kings XI Punjab at 8 pm IST in Bangalore
---
Thursday, April 25:
Kolkata Knight Riders vs Rajasthan Royals at 8 pm IST in Kolkata
---
Friday, April 26:
Chennai Super Kings vs Mumbai Indians at 8 pm IST in Chennai
---
Saturday, April 27:
Rajasthan Royals vs Sunrisers Hyderabad at 8 pm IST in Jaipur
---
Sunday, April 28:
Delhi Capitals vs Royal Challengers Bangalore at 4 pm IST in Delhi
Kolkata Knight Riders vs Mumbai Indians at 8 pm IST in Kolkata
---
Monday, April 29:
Sunrisers Hyderabad vs Kings XI Punjab at 8 pm IST in Hyderabad
---
Tuesday, April 30:
Royal Challengers Bangalore vs Rajasthan Royals at 8 pm IST in Bangalore
---
Wednesday, May 1:
Chennai Super Kings vs Delhi Capitals at 8 pm IST in Chennai
---
Thursday, May 2:
Mumbai Indians vs Sunrisers Hyderabad at 8 pm IST in Mumbai
---
Friday, May 3:
Kings XI Punjab vs Kolkata Knight Riders at 8 pm IST in Mohali
---
Saturday, May 4:
Delhi Capitals vs Rajasthan Royals at 4 pm IST in Delhi
Royal Challengers Bangalore vs Sunrisers Hyderabad at 8 pm IST in Bangalore
---
Sunday, May 5:
Kings XI Punjab vs Chennai Super Kings at 4 pm IST in Mohali
Mumbai Indians vs Kolkata Knight Riders at 8 pm IST in Mumbai
More to follow…
Follow us on Telegram