IPL 2019: Twitter slams umpires for not spotting no-ball in RCB-MI game
Kohli and Rohit also criticised the umpires.
Updated - Mar 29, 2019 12:59 pm
5.8K Views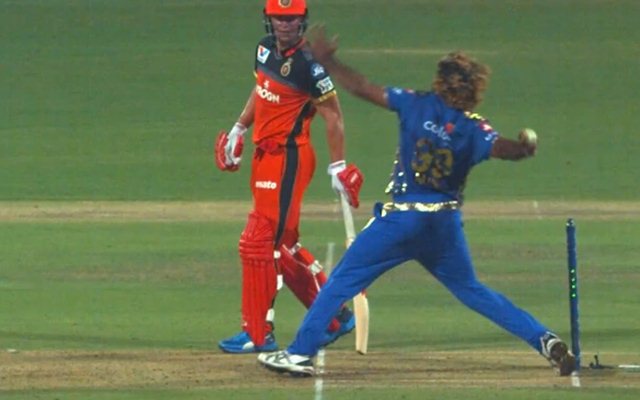 Follow us on Google News
The seventh match of this year's Indian Premier League saw a major umpiring howler taking place. The thrilling game between Royal Challengers Bangalore and Mumbai Indians (MI) was more or less overshadowed by what happened on the very last ball of the game. Chasing 188, the Royal Challengers (RCB) needed 7 runs off the final delivery to cross the line and 6 to send the match to a super-over.
However, debutant Shivam Dube failed to score off Lasith Malinga's bowling, thus Mumbai Indians won the game by 6 runs. TV replays then showed that that the veteran pacer had overstepped which was missed by the on-field umpires. The players had no option but to walk off the field as a superb game of cricket ended in a disappointing manner. Both umpires C Nandan and ICC Elite Panel's S Ravi bungled completely leaving Virat Kohli seething in anger.
Following the game, a livid Kohli did not refrain from speaking his mind out. The furious RCB skipper made it clear that such kinds of umpiring errors at such a high level of the game were not acceptable.
"We are playing at the IPL level and not playing club cricket. The umpires should have had their eyes open. That is a ridiculous call at the last ball. If it is a game of margins, I don't know what is happening. They should have been more sharp and careful out there," said Kohli.
In fact, Mumbai Indians skipper Rohit Sharma also lashed out at the error, saying that the umpiring errors like these are not good for the game.
"I just got to know when we crossed the rope. Somebody just told me it was a no-ball. These kind of mistakes are not good for the game of cricket, it's pretty simple, the over before that. Bumrah bowled a ball which wasn't a wide ball. Those are game-changers," said Rohit.
The defeat meant Royal Challengers' losing start to the season continued. RCB had lost their first game to defending champions Chennai Super Kings. Mumbai Indians, on the other hand, bounced back from the defeat in their tournament opener to Mumbai Indians.
But the result of the game was not the talking point at all as the cricketing world slammed the umpiring error.
Here are some of the reactions:
I've been saying this for years . All deliveries should be adjudged by the third umpire . Each and every delivery .

— Rohan Gavaskar (@rohangava9) March 28, 2019
Sorry.. but umpires are missing too many no balls these days.. time for another umpire on the ground to call no balls! #fedup

— Dean Jones (@ProfDeano) March 28, 2019
We will solve the problem at breakfast! Good call tonight bud! I enjoyed it! https://t.co/SOQ2WSkLoq

— Dean Jones (@ProfDeano) March 28, 2019
Spot on by Virat, that last ball blunder is unacceptable. quite possibly could have changed the result #RCBvMI

— Deep Dasgupta (@DeepDasgupta7) March 28, 2019
Unfortunate call at the end there, last ball should always be checked.

Very entertaining game MI vs RCB #IPL2019

— Lungi Ngidi (@NgidiLungi) March 28, 2019
In an era of so much technology and with so much at stake NO BALLS should never ever be missed …. #JustSaying #IPL2019

— Michael Vaughan (@MichaelVaughan) March 28, 2019
Oh that no ball…

— Irfan Pathan (@IrfanPathan) March 28, 2019
No ball. 1 Run
ABD on strike
5 to win (with a free hit)
1 ball remaining

Game changer 😅

— Lungi Ngidi (@NgidiLungi) March 28, 2019
It is at times like these the third umpire should intervene. That's the purpose and poor calls like these are not a good advertisement for a big tournament like IPL #RCBvMI

— Hemang Badani (@hemangkbadani) March 28, 2019
Technology should be used much more often in cricket … so many front foot no-balls missed all the time in all formats and only checked on dismissal. Should be as simple as 3rd umpire telling the umpire through ear piece that a no ball has been bowled.

— Faf Du Plessis (@faf1307) March 28, 2019
In the world of technology that we live in, a NO BALL like that should NOT happen!

End Of Story!

— Kevin Pietersen🦏 (@KP24) March 28, 2019
Absolutely, been an advocate of giving the front foot no-ball to the 3rd umpire

— Deep Dasgupta (@DeepDasgupta7) March 28, 2019
It would have been better if Shivam Dube was out on the last ball, seems like that is the only way umpires would have checked the #noball

— Mohammad Kaif (@MohammadKaif) March 28, 2019
High quality cricket tonight. Wow!
Yuvi, Hardik, Chahal, Umesh, Virat, AB, Bumrah & Malinga all taking the game to great heights, before it all came crashing down with that last ball no ball miss. Unforgivable mistake.#VIVOIPL2019 #RCBvMI

— Sanjay Manjrekar (@sanjaymanjrekar) March 28, 2019
Shame that a wonderful game like that had to end with a controversy, my take, on @ESPNcricinfo #RCBvMI #IPL2019 pic.twitter.com/rcs8DvjEif

— Deep Dasgupta (@DeepDasgupta7) March 28, 2019
Huge miss!!!! This has just got to stop. https://t.co/ejOl0gegH4

— Dean Jones (@ProfDeano) March 29, 2019
If my team had Dre Russell. And we had a 3rd umpire on the ground to call a no ball. Russell on strike. No ball is called by 3rd umpire who is on the ground. Dre stays on strike so he faces free hit! We need INSTANT calls. Technology won't do this.

— Dean Jones (@ProfDeano) March 29, 2019
A tweet from 2013. If an experienced bowler like Malinga could overstep on the last ball of the match, I'm wondering how many are going unnoticed. Perhaps, even in the 20th over itself yesterday. 🙈 pic.twitter.com/BTpSI3p8SR

— Aakash Chopra (@cricketaakash) March 29, 2019
I believe with the technology that's being used in cricket for different things what happened in the #MIvsRCB match highlighted that more should be done.

A quick call from the third umpire on the #noball would have been the right way to go and must be implemented going forward. pic.twitter.com/58lGfHJKJu

— Brian Lara (@BrianLara) March 29, 2019
Follow us on Telegram