IPL 2020: 10 Hilarious memes from KKR vs DC game
Here are the best memes from KKR vs DC game.
Updated - Oct 24, 2020 7:23 pm
4.3K Views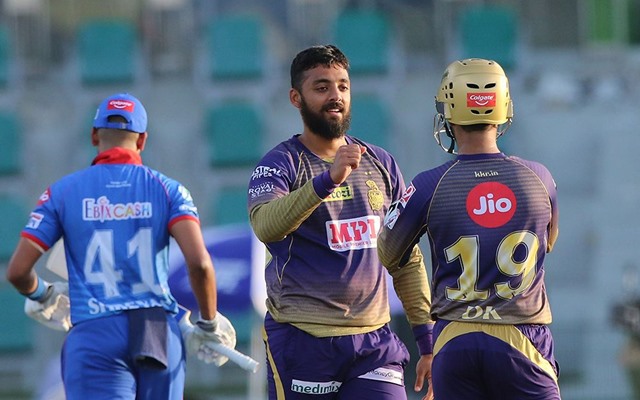 The two-time champions Kolkata Knight Riders (KKR) registered a clinical victory in a thrilling afternoon affair with Delhi Capitals (DC) at the Sheikh Zayed Cricket Stadium in Abu Dhabi on October 24, Saturday. It was a comprehensive win for the Knight Riders as they excelled in all three departments be it batting, bowling or fielding. As the tournament is heading towards its business end, this was a much-needed victory for KKR after they were absolutely ravaged in their last game against the Royal Challengers Bangalore (RCB).
Invited to bat first, Eoin Morgan-side had a low start as Delhi's Anrich Nortje took his first wicket of the afternoon by sending the opening batsman Shubman Gill back to the pavilion after scoring just 9 runs. Gill was soon followed by right-hander Rahul Tripathi in the sixth over as Nortje bowled a perfect yorker to uproot the off-stump of Rahul.
With Dinesh Karthik getting out on 3 off 6, KKR was reeling at 42/3 in the eight over. However, Nitish Rana and Sunil Narine stepped up to take the team towards a par total of 194 in the 20 overs. Rana shined in the game after scoring 81 off 53 deliveries while Narine also made an amazing comeback by smashing a quickfire knock of 64 runs in 32 balls.
Varun Chakravarthy scripted victory for his KKR
Chasing a mammoth target of 195, Delhi received the first shock on the very first ball of the innings as Ajinkya Rahane, who came as a replacement for Prithvi Shaw, was lbw by Pat Cummins. The Australian pacer then took the main wicket of Shikhar Dhawan in the third over to make his team the favourites in the match. The captain Shreyas Iyer and wicketkeeper-batsman Rishabh Pant tried to rebuild the innings from the scratch, but a breathtaking spell by Varun Chakravarthy completely destroyed the batting line-up of Capitals.
Chakravarthy was on a roll as he took the wickets of Iyer, Pant and Shimron Hetmyer followed by Marcus Stoinis and Axar Patel. It was a cakewalk for the Knight Riders after that as they leaked only 135 runs in 20 overs and registered this important victory by 59 runs. With this win, KKR has strengthened their grip on the fourth spot with 12 points.
Here are the best memes from KKR vs DC game
This is how narine made his re-entry in the IPL #KKRvDC pic.twitter.com/ud5sfYPPw8

— तूफ़ान का देवताᵀʰᵒʳ 🚩 (@iStormbreaker_) October 24, 2020
Narine to KKR team when they were 3 down for 42 #KKRvDC pic.twitter.com/PXqmHbmZJ5

— Rahul Agarwal (@RahulAgarwallll) October 24, 2020
Shikhar Dhawan got bowled out by Pat Cummins today in #DCvsKKR match after making 2 consecutive centuries in the previous 2 matches.

Pat Cummins be like : pic.twitter.com/736MK0OQGw

— Akhil Sahal (@akhil_sahal) October 24, 2020
Batsman: I will get to know the spin of bowl by looking at bowler's hand😎

*le Sunil Narine : #KKRvDC pic.twitter.com/dxT2yHmgiw

— Akshit Sharma (@ShrmaGka_Ladka) October 24, 2020
KKR fans to Sunil Narine today… pic.twitter.com/8Y64sk1ja0

— JordaN (@iamraaaaaj) October 24, 2020
Narine scored 24 ball 50.
KKR fans to narine: pic.twitter.com/Dg4HpRQw8H

— Sai Teja (@csaitheja) October 24, 2020
#KKRvsDC after Narine came on pitch: pic.twitter.com/kP8QKr4ghR

— sam martin (@sammemartin) October 24, 2020
Sunil Narine to DC ballers pic.twitter.com/VDfQAGfkMH

— irony_boi (@ironical_10) October 24, 2020
Narine and Rana not played good innings under captaincy of DK
DK to Narine & Rana – pic.twitter.com/NJGrJod8bo

— irony_boi (@ironical_10) October 24, 2020
Sunil Narine
was Suspected for Illegal Bowling Action.
Umpire after seeing Sunil Narine's
bowling action. : pic.twitter.com/mlq1j3GJ8p

— ︎ ︎ ︎ ︎ ︎ ︎ ︎ ︎ ︎ (@pataakha__) October 24, 2020