IPL 2020: Fans unhappy after Harbhajan Singh responds with 'laughing emojis' at MS Dhoni's wide controversy
Paul Reiffel didn't signal a wide after preparing to outstretch his arms for the decision.
Updated - Oct 16, 2020 9:48 am
18.3K Views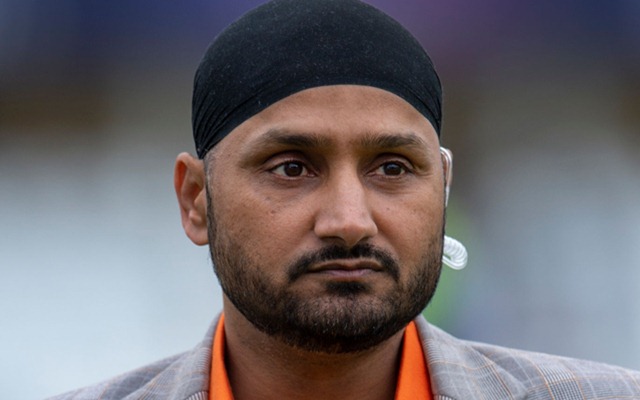 Sunrisers Hyderabad's (SRH) match against the Chennai Super Kings (CSK), on Tuesday, October 13, was marred with controversy. At the fag end of the game at the Dubai International Cricket Stadium, umpire Paul Reiffel went under the scanner after he refrained from signalling a wide. It took place when the Sunrisers needed 25 runs off the last 11 deliveries of the game.
Shardul Thakur bowled a wide yorker and Rashid Khan failed to make any sort of connection. The ball seemed to have been outside the tramline. Subsequently, Reiffel was preparing to outstretch his arms to signal the wide. But he didn't do so, raising a few eyebrows if not a whole lot. The Super Kings' skipper MS Dhoni, from behind the wickets, didn't seem a happy man either.
Later, former West Indies fast bowler Ian Bishop reckoned that Dhoni's reaction, most probably, prompted Reiffel to alter his decision. As per the laws, Reiffel, also a former Australian cricketer, wasn't wrong. The rule-book says that an umpire is allowed to change a decision provided it's done promptly. David Warner, the SRH captain expressed his anguish after the decision.
Harbhajan Singh has his say
The Orange Army went on to lose the match by 20 runs to keep straining at the bottom half of the points table. It was also their second defeat on the trot after the one against the Rajasthan Royals (RR) at the same venue. For CSK and Dhoni, the victory came as a breather as the Yellow Brigade had lost five out of their first seven matches of the cash-rich T20 extravaganza.
In the meantime, Harbhajan Singh, the veteran Indian cricketer, had his say on the matter. In one of the videos of the wide-controversy, the legendary off-break bowler responded with laughing emojis, seeing the funnier side of what happened on the field.
However, the fans weren't happy with him for some reason. The netizens gave Harbhajan's reaction a controversial angle, seeming to blow the issue out of proportion. One of them even slammed him for mocking Dhoni and helping out Shahid Afridi, the former Pakistan all-rounder.
Here's how the netizens reacted:
The biggest mistake CSK did is picked Harbhajan Snake Singh in IPL 2018. Should have let him stick to Sports Tak when MI kicked him out.

— Silly Point (@FarziCricketer) October 14, 2020
@harbhajan_singh paaji helps Afridi but mocks Dhoni. *SLOW CLAPS* https://t.co/YXACP3DNpM

— पुडी सिंह 🇮🇳 (@vernon_4136) October 14, 2020
If Betrayal has a human form, it is @harbhajan_singh 💔

I'm not sure what's going on within the CSK team cuz Raina and Bhajji left for unknown reasons but he shouldn't have trolled his own team and his captain. Absolutely cheap sportsmanship. #CSK #WhistlePodu @msdhoni https://t.co/m4ksDzenZs

— A N B A A N A • F A N ˢᵒᵒʳᵃʳᵃⁱ ᵖᵒᵗᵗʳᵘ (@anbaana__fan) October 15, 2020
Bhajji sir…u dont laugh..because u have the history of slapping your team mate….u can not even say a single word about spirit of cricket…
And every player can object the decision of umpire….if it was like that…there would not have DRS system… pic.twitter.com/m6gRhvSRSZ

— Acha Aalo™️~CSK 💛 (@Desi45188793) October 15, 2020
Cricket is a gentleman game and @ImranTahirSA is one of the gentleman not you @harbhajan_singh pic.twitter.com/nlO3aRgg1n

— Sridhar (@urstrulySB) October 14, 2020
CSK took him in IPL when other team throwed him in dust bin. And also he got an opportunity to act in tamil movie. Now he is showing his true colour.

— Arif (@ARIFAMEENUDDIN) October 14, 2020
What can we expect from someone who give funds to Pakistan 😂 https://t.co/ExnHcBtt1Y

— Raj (@error_407_error) October 14, 2020
Play Harbhajan next season. Make him warm bench. Ask for drinks and then refuse when he reaches midway pitch. Repeat this every five over each game.

— Silly Point (@FarziCricketer) October 14, 2020
Even though he is not playing this season he supported his team!

Bhajji ki kya hi baat kre..jal gyi inki🤧 https://t.co/4BItntlCbz pic.twitter.com/aHJUQCllBx

— me_अparichit (@VishalK891) October 14, 2020
Sportsmanship??
Why so much hatred towards dhoni ?
At least he didn't donate funds for Pakistan that too asked by AFRIDI ! https://t.co/htMcS4k2kA

— Priya Singh ✨ (@priyaaarajput) October 14, 2020
@harbhajan_singh paaji helps Afridi but mocks Dhoni. *SLOW CLAPS* https://t.co/YXACP3DNpM

— पुडी सिंह 🇮🇳 (@vernon_4136) October 14, 2020