IPL 2020: Has Jasprit Bumrah's bowling lost the bite post his injury?
Bumrah's bowling is certainly lacking the bite that made him such a lethal weapon in his team's arsenal.
Updated - Sep 22, 2020 2:48 pm
1K Views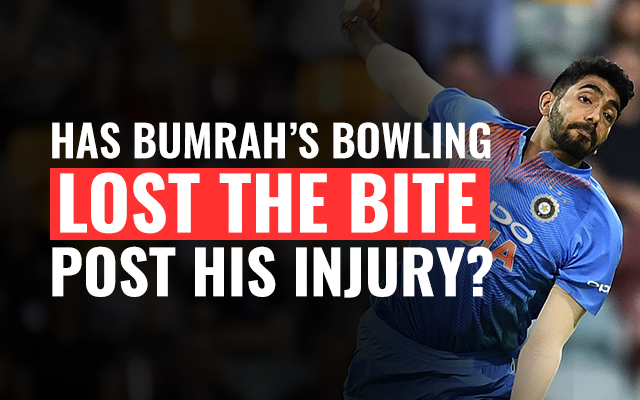 2020 has definitely not been a pleasant year for Jasprit Bumrah. The bowling sensation has not been at his best, and this is surely a year that has not been kind to him. And, in the first game of the 13th edition of the IPL, Bumrah was smashed to all parts of the ground by the Chennai Super Kings' batsmen as he recorded unimpressive figures of 1/43 from his 4 overs.
In fact, ever since the speedster returned from his injury layoff, he has been off-color. The Mumbai Indians have pinned a lot of hopes on Bumrah to deliver the goods, and their prospects in the tournament rest on how their bowling lynchpin fares with the ball in hand.
So, what has happened to Bumrah post his injury layoff?
2020- A year to forget for Bumrah
Bumrah has had a torrid time with the ball in 2020 in limited-overs cricket.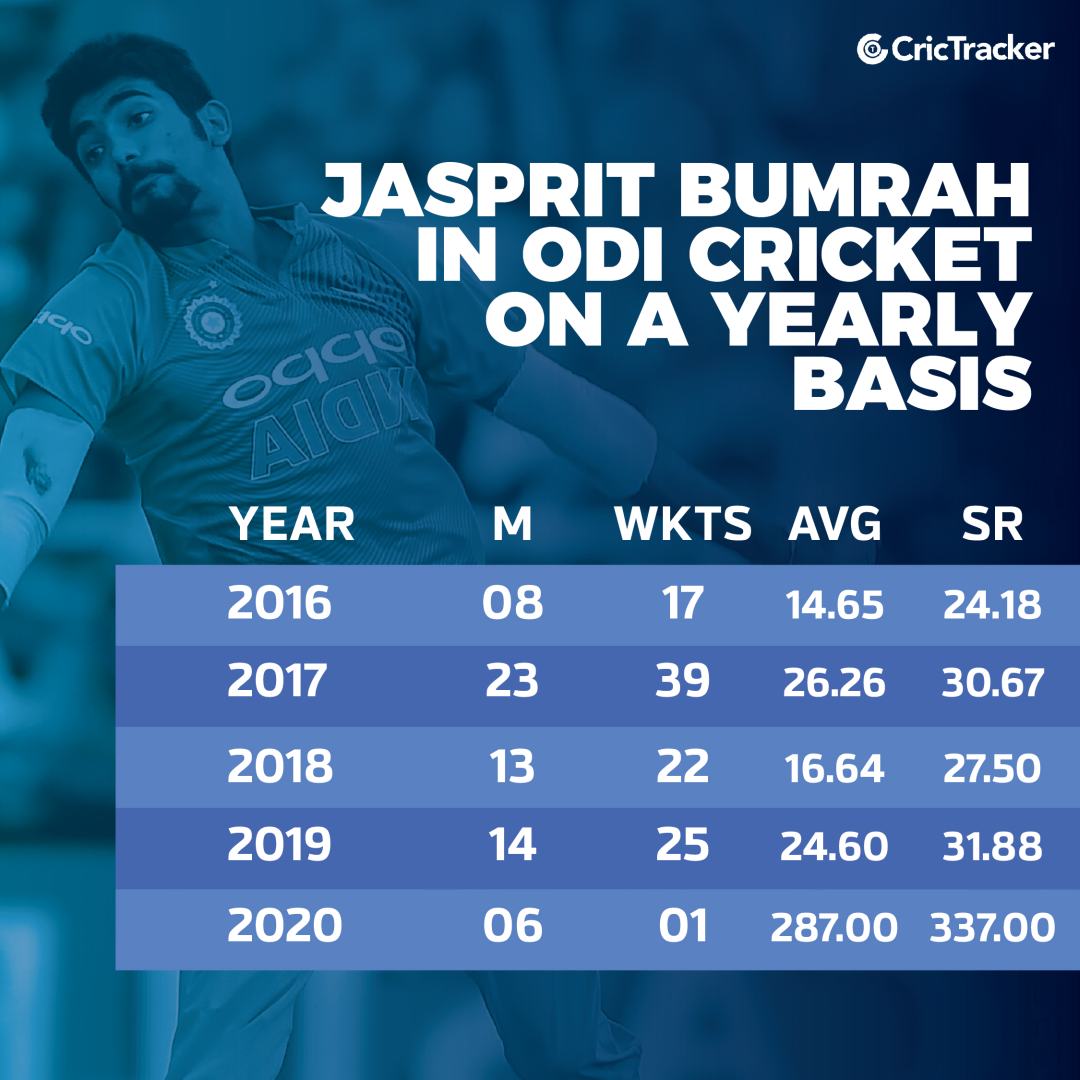 From the above table, we can see that Bumrah's abysmal record in 2020 stands out like a sore thumb. After he suffered a stress fracture to his back, Bumrah has been nowhere close to his best in ODI cricket. He averages 287.00 this year and his strike rate too is an astonishingly high 337.00. He has been unable to pick up wickets and this is something that has hurt the Indian side.
Even in T20 cricket too, Bumrah has not been at his best this year. In fact, his average and strike rate in T20I's in 2020 are his second-worst numbers in his career, after 2018. Also, post his injury, Bumrah has managed to pick up just 8 wickets in 8 matches in 2020, and these are returns that he would definitely not be proud of.
Is there too much pressure on Bumrah?
Are we expecting too much from a 26-year-old who has played just five years of international cricket? Is Bumrah expecting too much from himself that he is becoming a victim of his own lofty expectations?
In fact, former Indian pacer Ashish Nehra had opined after India's tour of New Zealand that there is too much pressure on Bumrah to handle. This is what Nehra had to say about the speedster.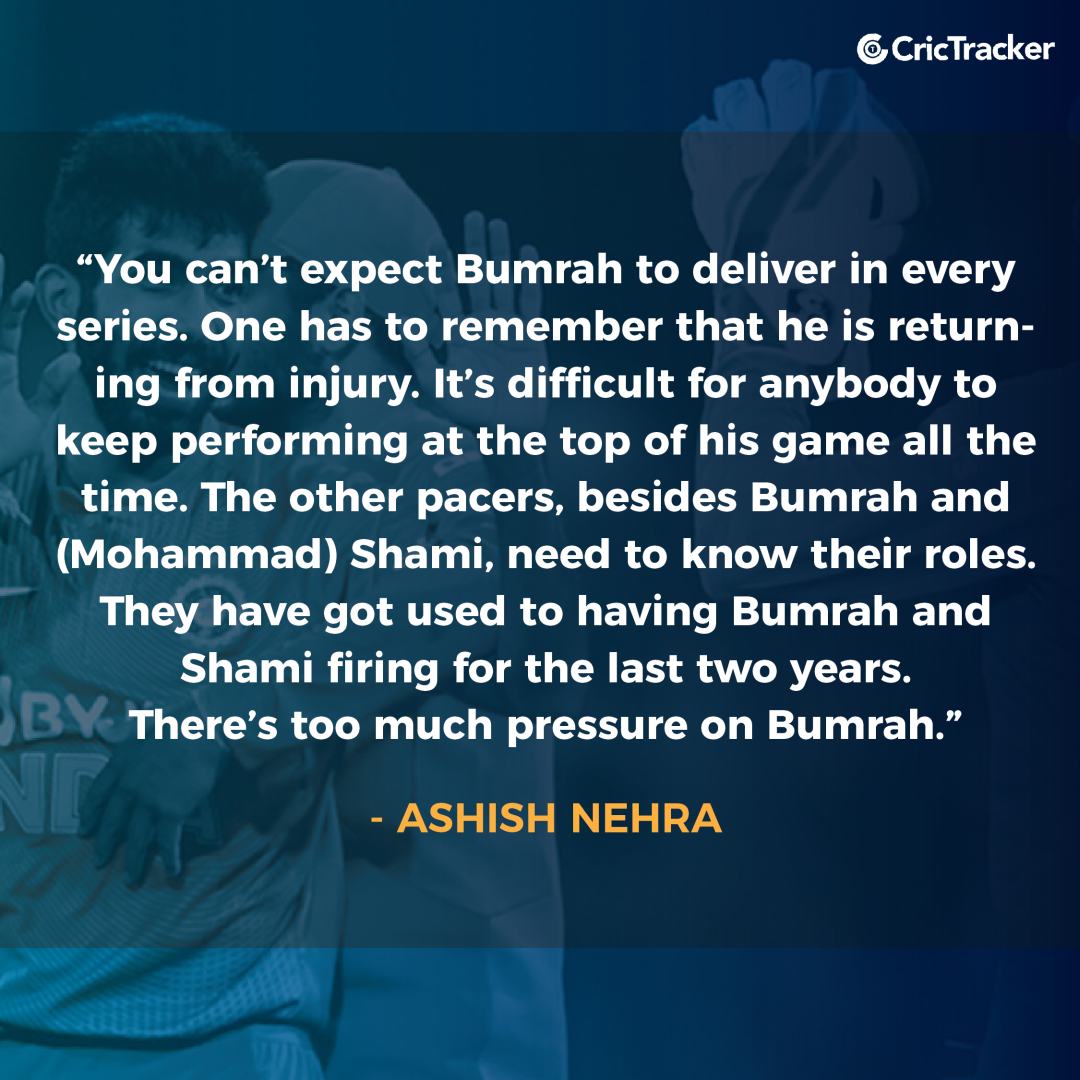 Bumrah's bowling is certainly lacking the bite that made him such a lethal weapon in his team's arsenal. And, the best thing for Bumrah to do is not to bother about all the expectations around him and just go out and enjoy the game. He needs to shut out all the external noise around him and concentrate only on the job at hand.
And without question, Bumrah's form will play a pivotal role in the success of the Mumbai franchise in the 13th edition of the IPL.
Can Bumrah rediscover his lost mojo from here on?
The Mumbai Indians will be desperately hoping that he does.
Note: All the stats have been taken from Howstat cricket and have been updated as on 20th September 2020
Follow us on Google News