IPL 2020: Match 21, KKR vs CSK – Russell's success against CSK pacers and Narine's dominance over CSK batters
Will CSK be able to script a plan for Andre Russell in KKR vs CSK?
Updated - Oct 7, 2020 2:09 pm
706 Views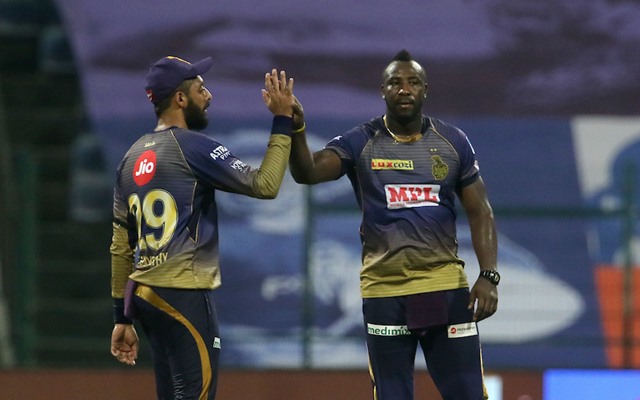 Follow us on Telegram
Chennai Super Kings and Kolkata Knight Riders, the two consistent sides in the past decade, have been struggling for consistency in IPL 2020. Super Kings, who have been on the chasing side in all five matches, managed to win only two which includes a 10-wicket win on Sunday. KKR, on the other hand, has won two of the four matches played and lost two games while chasing huge targets. The KKR vs CSK in Dubai could well be dominated by the match-ups between the individuals on both sides.
Narine's success against the CSK batsmen:
Sunil Narine could be the kingpin for Kolkata Knight Riders during the KKR vs CSK as the CSK's top-order struggled against the off-spinner. Shane Watson, who is fresh of a man of the match effort, got out as many as four times in six IPL innings against Narine. Ambati Rayudu, well known to tackle the spinners, got out twice against Narine and scored under 90 strike rate. MS Dhoni's numbers are even worse against the KKR's leading wicket-taker as he scored only 29 runs in 59 deliveries.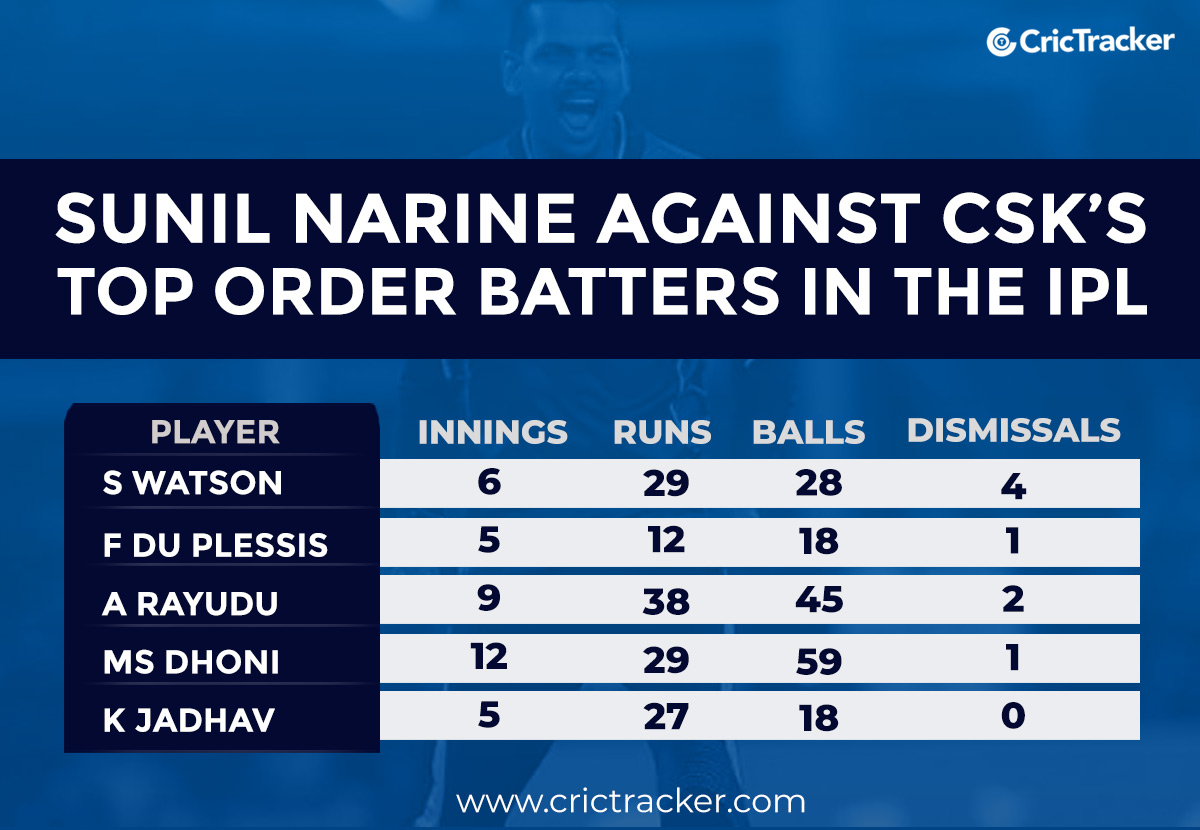 Can CSK handle the threat of Russell?
Andre Russell batted between 16th and 20th overs against Chennai Super Kings on two occasions in last two seasons. In those two games, the Caribbean all-rounder smashed as many as 98 runs with help of 12 maximums in just 40 deliveries without being dismissed. The bowling line-up of CSK in the last two years is no different from the current one and Russell could find some big hits in their bowling yet again.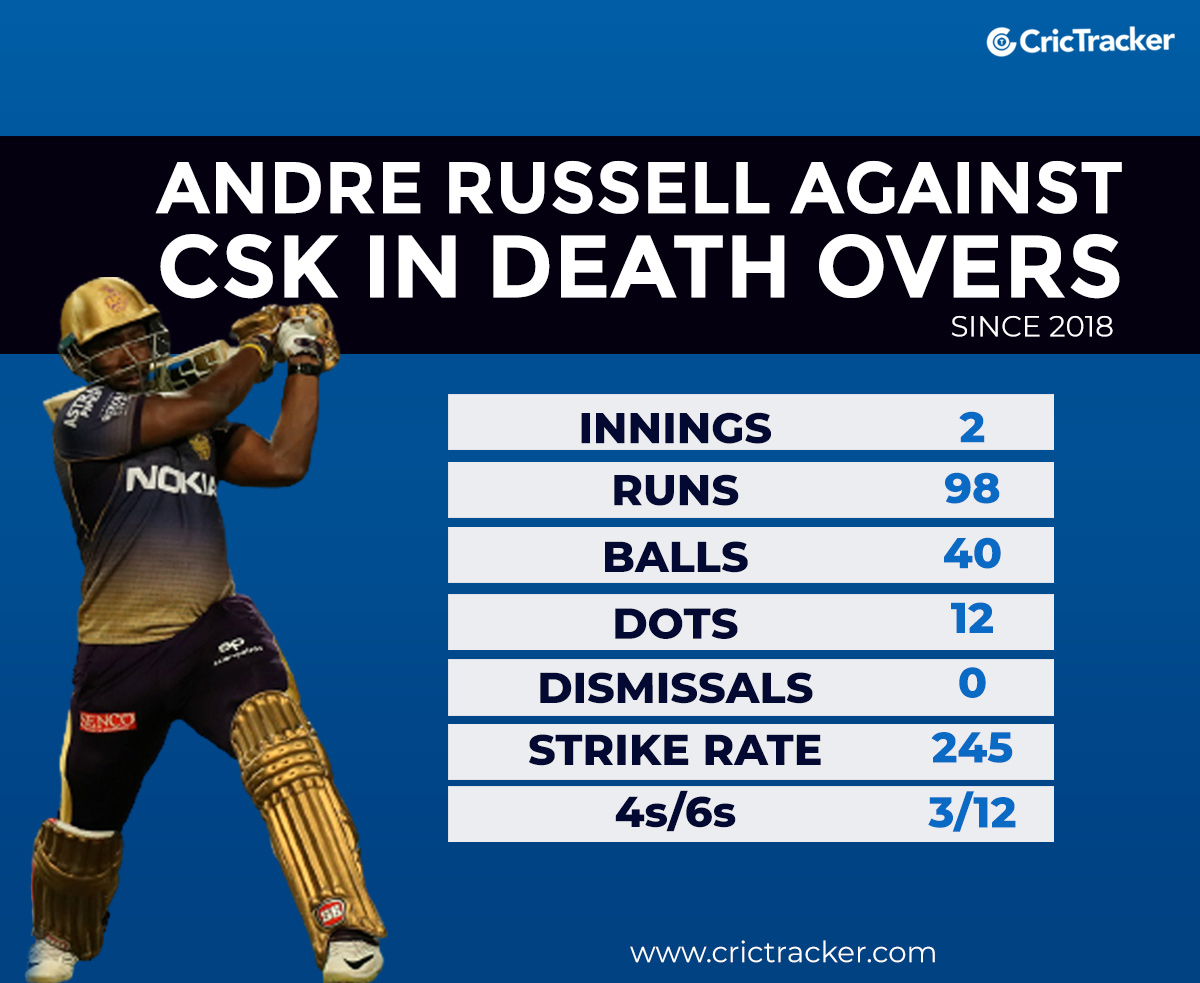 Across all IPLs, Russell has smashed a total of 78 runs at 260 strike rate against Dwayne Bravo and 27 runs at 385.7 strike rate against Shardul Thakur. The duo of Bravo and Thakur being death bowlers will surely frighten the CSK ahead of the match. Tahir has got Russell twice in the IPL and two times more in other T20 matches. This could inspire the CSK management to bring in Tahir and have a go with longer boundary on leg-side.
Can Karthik find some form against CSK?
Dinesh Karthik has not able to find his feet in the IPL 2020 and his record against Chennai Super Kings and their bowlers isn't an inspiring one. Karthik has been coming slightly up the order compared to the previous two seasons and twice got dismissed by leg-spinners. If he walks during the middle overs in KKR vs CSK, he could be up against Chawla and Jadeja who dismissed him twice each in the IPL.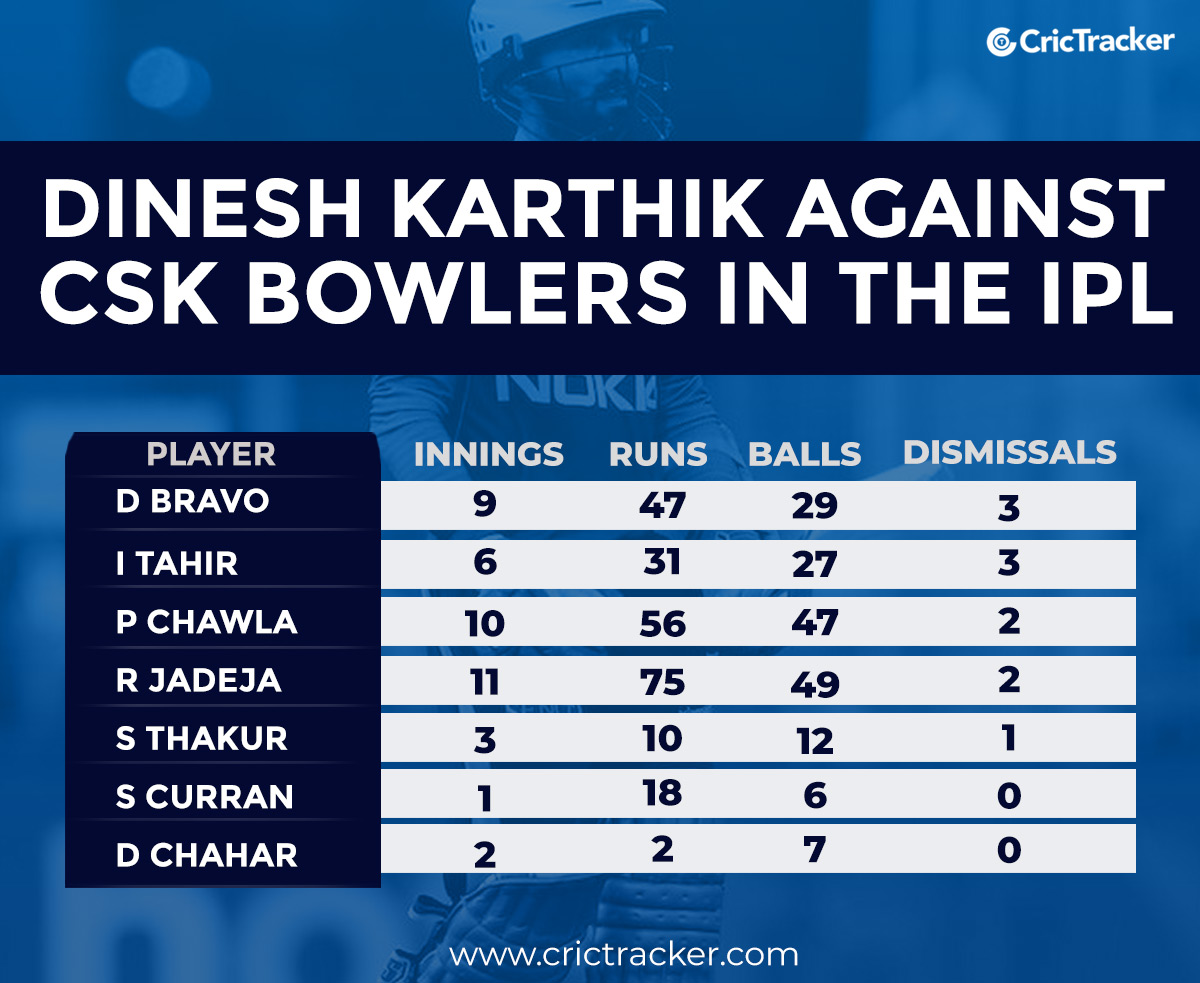 He has got a miserable record against Imran Tahir who could find a spot if CSK thinks the South African be a useful option against the likes of Eoin Morgan and Andre Russell. It will be ideal for Karthik to come in based on the bowling attack of CSK. In all probability, CSK will field only one of Tahir and Bravo. The leg-spinner, if plays, covers the middle overs and when Russell walks in while Bravo is reserved for the death.
(Stats as on October 6, 2020)
Follow us on Google News