IPL 2020 Points table, Orange and Purple cap holders after DC vs CSK game
After DC vs CSK game, Delhi Capitals have sealed the top slot in points tally again with 14 points.
Updated - Oct 19, 2020 2:33 pm
353 Views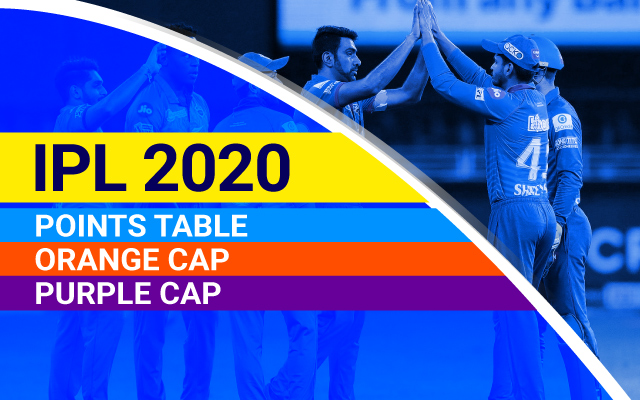 The 34th match of the Indian Premier League (IPL) was played between Chennai Super Kings and Delhi Capitals in Sharjah. It was Shikhar Dhawan's breath-taking century that stole all the limelight and handed a five-wicket victory to DC. Choosing to come up with bat first, CSK posted a respectable 179 on the board. Faf du Plessis (58 off 47) and Ambati Rayudu (45 off 25) played prolific knocks to push CSK to post a fine total.
Dhawan was named as the player of the match as he owned the night in Sharjah by playing an unbeaten knock of 101 off 58. Shane Watson and Ravindra Jadeja added 36 and 33 runs respectively from their ends in CSK's score. Axar Patel was successful in his spell as he conceded just 23 runs. Though Anrich Nortje remained expensive for DC, he picked two wickets for his team.
Sikhar Dhawan- DC's man for the night
Hunting down the total, Prithvi Shaw returned to the pavilion on a duck. The game started turning in Delhi's favour the moment Dhawan began flaunting his class. It was Axar Patel (21 off 5) in the end who hit three sixes in Jadeja's over to gift Delhi a brilliant victory. Deepak Chahar showed his best form with the ball again as he conceded just 18 runs off his spell to pick two early wickets.
Who has Orange and Purple Cap?
After DC vs CSK game, Delhi Capitals have sealed the top slot in points tally again with 14 points. Next in line are Mumbai Indians at 2nd position. The 3rd and 4th positions are held by Royal Challengers Bangalore and Kolkata Knight Riders respectively.
Orange Cap continues to be in KL Rahul's possession as he has 448 runs in his account in IPL 2020 so far. Next in line is another KXIP star Mayank Agarwal with 382 runs. 3rd and 4th slots in the Orange cap race are sealed by Faf du Plessis, and Shikhar Dhawan.
Kagiso Rabada has 19 wickets to his name as he currently keeps the purple cap. Yuzvendra Chahal has 13 wickets under his belt in IPL 2020 so far. Jasprit Bumrah, Trent Boult, Jofra Archer, Mohammed Shami, and Anrich Nortje have 12 wickets each on their name.
List of top run-scorers in IPL 2020 – Orange Cap Holder
| | | | | | | | | | | |
| --- | --- | --- | --- | --- | --- | --- | --- | --- | --- | --- |
| Sr No | Player | Team | Matches | Innings | Runs | Average | SR | 4s/6s | 100/50s | Best |
| 1 | KL Rahul | KXIP | 8 | 8 | 448 | 74.66 | 133.33 | 38/15 | 1/4 | 132* |
| 2 | M Agarwal | KXIP | 8 | 8 | 382 | 47.75 | 161.18 | 38/15 | 1/2 | 106 |
| 3 | Faf du Plessis | CSK | 9 | 9 | 365 | 52.14 | 142.57 | 35/10 | 0/4 | 87* |
| 4 | S Dhawan | DC | 9 | 9 | 359 | 51.28 | 143.02 | 39/7 | 1/2 | 101* |
| 5 | V Kohli | RCB | 9 | 9 | 347 | 57.83 | 127.57 | 18/9 | 0/2 | 90* |
| 6 | S Iyer | DC | 9 | 9 | 321 | 40.12 | 132.09 | 24/12 | 0/2 | 88* |
| 7 | D Padikkal | RCB | 9 | 9 | 296 | 32.88 | 122.82 | 28/6 | 0/3 | 63 |
| 8 | AB de Villiers | RCB | 9 | 9 | 285 | 57 | 190 | 21/19 | 0/4 | 73* |
| 9 | D Warner | SRH | 8 | 8 | 284 | 35.50 | 121.88 | 22/8 | 0/2 | 60 |
| 10 | J Bairstow | SRH | 8 | 8 | 280 | 35 | 129.03 | 19/12 | 0/3 | 97 |
List of most wicket-takers in IPL 2020 – Purple Cap Holder
| | | | | | | | |
| --- | --- | --- | --- | --- | --- | --- | --- |
| Sr No | Player | Team | Matches | Innings | Wickets | Average | Best |
| 1 | K Rabada | DC | 9 | 9 | 19 | 14.42 | 4/24 |
| 2 | Y Chahal | RCB | 9 | 9 | 13 | 20 | 3/18 |
| 3 | J Bumrah | MI | 8 | 8 | 12 | 20.33 | 4/20 |
| 4 | J Archer | RR | 9 | 9 | 12 | 20.66 | 3/19 |
| 5 | T Boult | MI | 8 | 8 | 12 | 20.91 | 2/26 |
| 6 | M Shami | KXIP | 8 | 8 | 12 | 22.33 | 3/15 |
| 7 | A Nortje | DC | 9 | 9 | 12 | 23.25 | 3/33 |
| 8 | Rashid Khan | SRH | 8 | 8 | 10 | 17.10 | 3/12 |
| 9 | S Curran | CSK | 9 | 9 | 10 | 28.30 | 3/33 |
| 10 | C Morris | RCB | 4 | 4 | 9 | 9.33 | 4/26 |
Here's the IPL 2020 points table in detail:
| | | | | | | | |
| --- | --- | --- | --- | --- | --- | --- | --- |
| Position | Team | Matches | Won | Lost | NR | Points | NRR |
| 1 | DC | 9 | 7 | 2 | 0 | 14 | 0.92 |
| 2 | MI | 8 | 6 | 2 | 0 | 12 | 1.35 |
| 3 | RCB | 9 | 6 | 3 | 0 | 12 | -0.09 |
| 4 | KKR | 7 | 4 | 3 | 0 | 8 | -0.57 |
| 5 | SRH | 8 | 3 | 5 | 0 | 6 | 0.009 |
| 6 | CSK | 9 | 3 | 6 | 0 | 6 | -0.38 |
| 7 | RR | 9 | 3 | 6 | 0 | 6 | -0.77 |
| 8 | KXIP | 8 | 2 | 6 | 0 | 4 | -0.29 |